National Crime Records Bureau has released its annual crime data report titled 'Crime In India 2015', which shows a sharp 17% increase in cases pertaining to Section 377 in India. The report was released on Tuesday and shows a 3.4% overall increase in crimes in 2015 when compared to 2014. Crimes related to Human Trafficking have seen the sharpest increase at 42%, followed by crimes related to extortion at 30%. NCRB releases the annual crime report after obtaining data from State/UT Police based on the number of FIRs filed.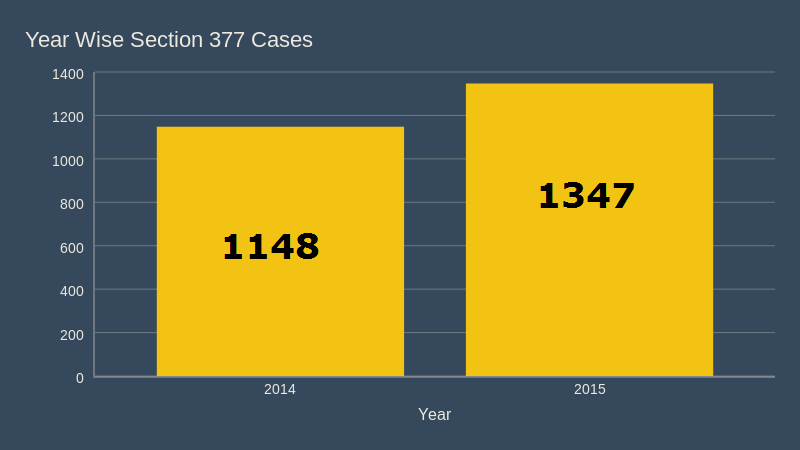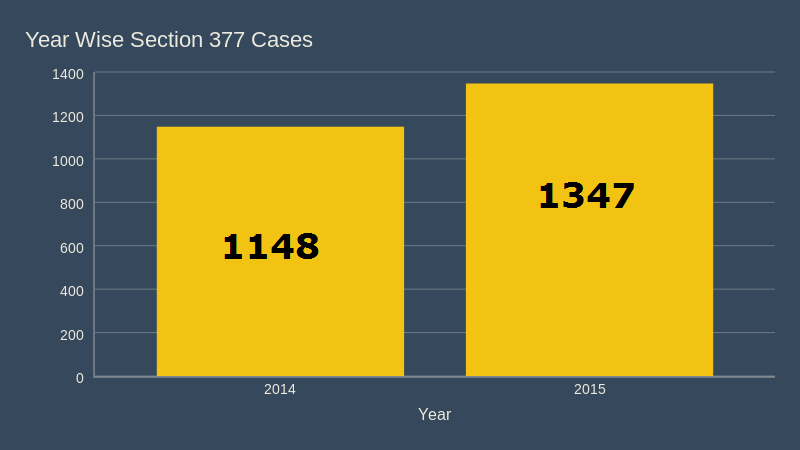 2014, when NCRB had started collecting data on Sec 377 related police cases, had seen 1148 FIRs filed under "Unnatural Offences". In 2015, 1347 FIRs were filed under "Unnatural Offences". Of the 1347 cases, trials were held for only 378, of which 175 ended in conviction while 203 ended in acquittal or discharge of the accused. 814 of the cases under Section 377 were crimes committed against children. 154 cases against juveniles too were booked under Section 377, for which 207 boys were arrested, of which 96 boys were in the age group 16 -18 yrs. A total of 1475 males and 16 women were arrested under Section 377 in the year 2015. Of these 1475 men, only 44 were released or freed by Police or Magistrate before Trial for want of evidence or any other reason.
With 239 registered cases, Uttar Pradesh saw the maximum number of criminal cases under Section 377, and was followed by Delhi with 172 cases. Maharashtra and Kerala had 159 cases each of Section 377, and Haryana had 111. Madhya Pradesh followed next with 102, while Punjab, West Bengal and Rajasthan registered 81, 65 and 50 cases respectively.
Citywise, Delhi had the maximum number of crimes reported under Section 377 at 142, followed by Mumbai with 59, Malappuram with 19 and Pune with 17 cases. Kolkata had 9, Chandigarh 12 and Ludhiana 13.
It must be noted that the report just gives the total number of cases filed under Section 377, and doesn't reveal how many of these cases were filed against gay or trans persons. Often, police invokes Section 377 in child sexual abuse (CSA), rape or complaints of sodomy by women.
The complete report can be downloaded from NCRB website.

Latest posts by Sukhdeep Singh
(see all)