A handful of queer groups and allies in Kolkata plan to celebrate the 20-year anniversary of what is often billed the 'first rainbow pride walk' in South Asia with a variety of events in and around the city on June 29-30. A public gathering with speeches, songs and dance at Park Circus Maidan early evening on June 29, where the first walk had commenced in 1999, will be followed by a symbolic walk, leading on to cultural performances and conversations with the first time walkers and current-day pride organizers in eastern and north-eastern India. The evening events will be held at Tata Centre. June 30 will see Chandannagar hosting its 7thpride in solidarity with Kolkata pride's 20thanniversary.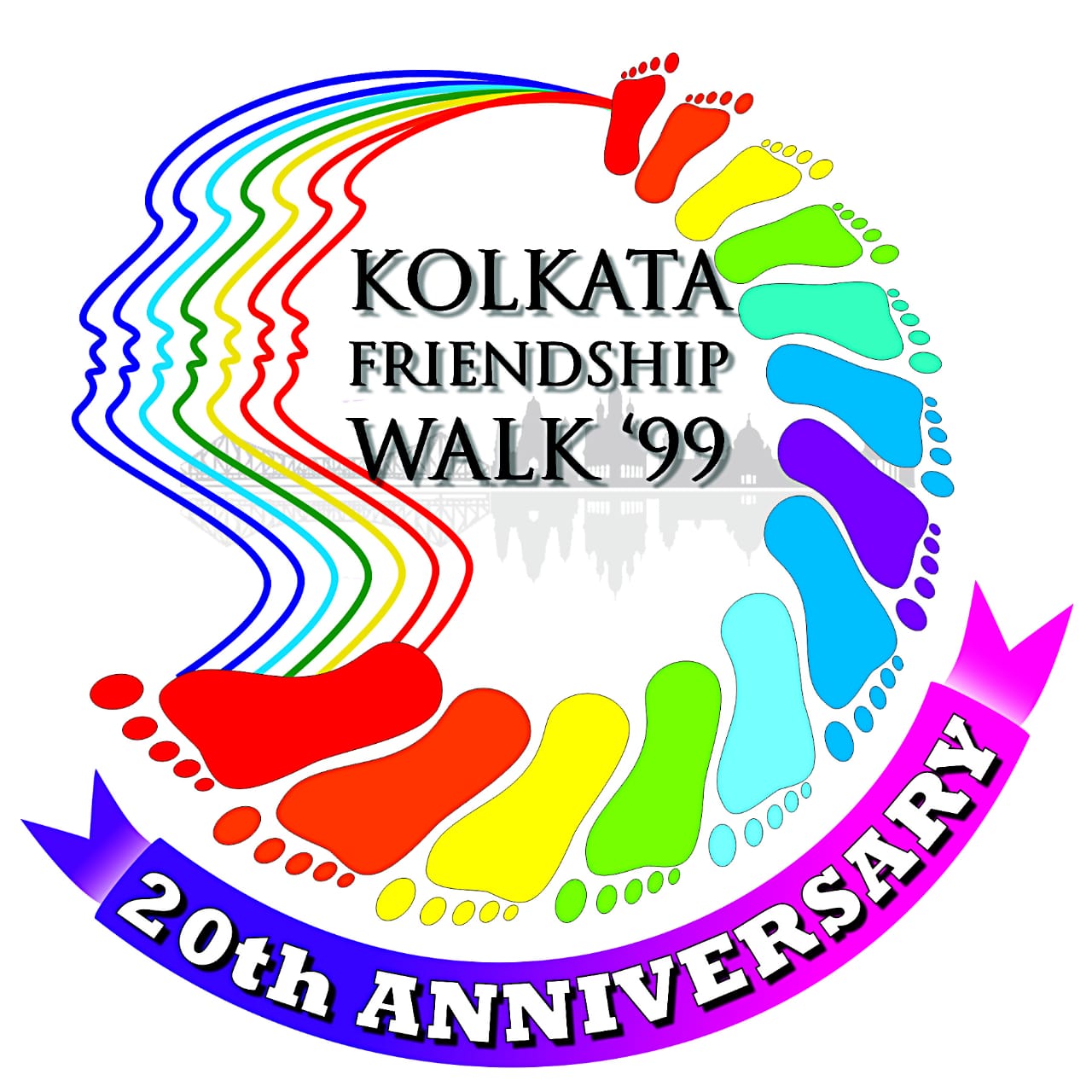 Twenty years ago, on July 2, 1999, Kolkata saw 15 people from different corners of India and abroad match their steps together on the streets of Kolkata and begin a new journey of visibility. The event was named 'Friendship Walk '99' – in many ways, this was the first rainbow pride walk in India and South Asia. One key objective of the event was to remember the 'Stonewall Riots' that took place in New York on June 29, 1969. Just as Stonewall Riots Day turned into queer pride day across the world, 'Friendship Walk '99' initiated rainbow pride marches in India.
After the first walk in 1999 in Kolkata, it was revived in 2003, and 2008 onwards it spread rapidly across the country to become a multi-city affair. What was started so many years ago by a few queer support groups has now become a mammoth community affair, bringing in allies of queer people as well as other human rights movements. From 15 to 50 and then a few hundreds, thousands of people participate in dozens of pride marches across India now. The last two editions of the 'Kolkata Rainbow Pride Walk' itself saw a participation of 3,000-5,000 people.
'Kolkata Rainbow Pride Walk' serves as a platform to mobilize queer communities and their allies in celebration and solidarity as well as to protest the discrimination and violence faced by queer people and other marginalized sections of society. In keeping with this spirit, the 20th anniversary events are also likely to see protests against the government's neglect in passing appropriate legislation on trans rights. The Centre is expected to propose a new Transgender Rights Bill in Parliament, but queer communities fear that it may not be any better than the 2018 version that violated the Supreme Court's 2014 NALSA verdict on trans rights.
The 20th anniversary event organizers include both individuals and organizations, which so far include Amitie' Trust, Belur; Dumdum Swikriti Society, Kolkata; InterPride, Toronto; Queer Ink, Mumbai; Wings Employee Resource Group, Tata Steel, Kolkata; and Varta Trust, Kolkata.
'Friendship Walk '99' Remembrances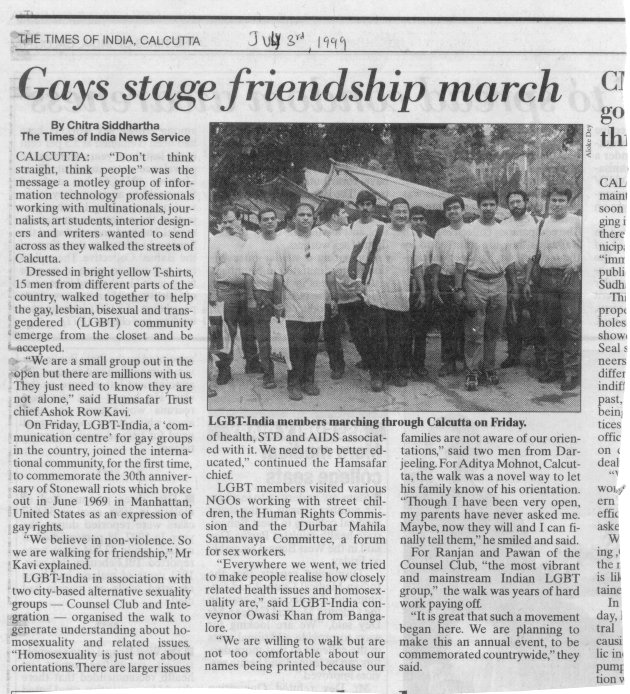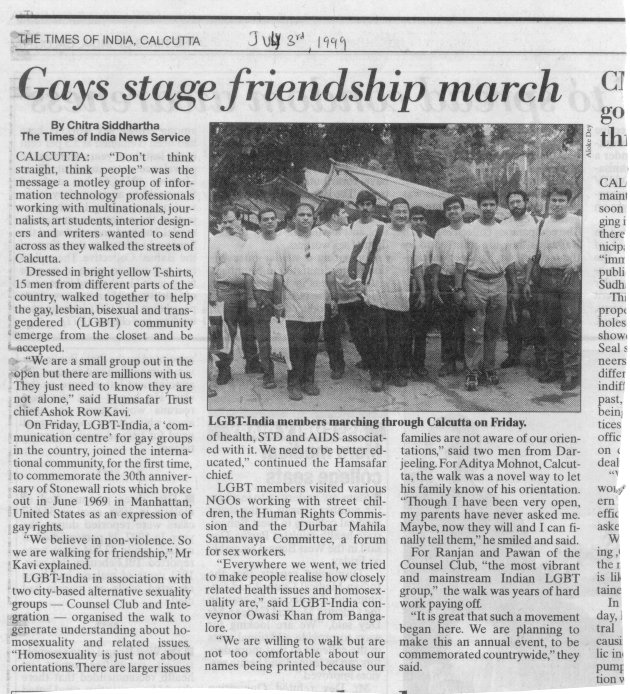 Owais Khan, 56, who first proposed the idea of a rainbow pride walk in Kolkata, says about the 1999 effort, "We felt that we Indians could never go wrong in emulating Mahatma Gandhi, and that emulating the seminal event with which the great Mahatma began the non-violent struggle for Indian independence, 'Dandi March', culminating in the 'Salt Satyagraha' was the way to go. That was the reason the Kolkata walk was specifically billed the 'Friendship Walk', and it involved bridge building meetings with individuals and agencies both supportive and not so supportive of queer communities. The 15 walkers split into two teams to cover North and South Kolkata and spent the day visiting human rights activists, lawyers, doctors, civil society organizations and government agencies like the West Bengal Human Rights Commission and the West Bengal State AIDS Prevention & Control Society."
Rafiquel Haque Dowjah, now 47, one of the key organizers who gave shape to the 1999 event on the ground, feels, "We did the walk in '99 to create some visibility. Twenty years have passed since. We are significantly more visible today, but there is still a need to assert that we exist, and that we wish to exist with dignity. In the last 20 years, things have changed in many ways, but we are still a long way before we do away with discrimination!"
Pawan Dhall, who turned 50 last year, social activist and writer focussed on queer issues, and also a primary organiser of the 1999 walk, has this to say: "Kolkata pride in 1999 happened when the Indian queer movements were becoming hardier and growing more visible. A lot of water has flown under the bridge since then, and today the movements have transformed in scale and depth. But the 20th anniversary is again happening at a time when the constitutional values that the queer movements have fought for need reaffirmation like never before."
It is worth remembering that several countries around the world have laws guaranteeing equal rights and protect their queer populations from discrimination and violence, something we in India look forward to, especially since the final reading down of Section 377, Indian Penal Code by the Supreme Court on September 6, 2018.
'Kolkata Rainbow Pride Walk' background
'Kolkata Rainbow Pride Walk' (KRPW) is considered by many as the oldest in South Asia. The first march in Kolkata was organised on July 2, 1999 and was called 'Friendship Walk '99'. Kolkata was chosen as the first city to host the march owing to Kolkata's history of movements for human and political rights. KRPW is organized with the intention of making a political statement for equality, tolerance, love and solidarity. The walk is held to strengthen the voice for equality for all – irrespective of gender, sexuality, caste, class or religion. The participants walk in solidarity with all rights based movements – child rights, women's rights, sex workers rights, Dalit rights, rights of the disabled, students groups among others.