June is celebrated as Pride Month. Cities across the world hold events and marches to commemorate the day when LGBT people in America(Stonewall) rioted against police raid and oppression they were facing. Indian cities too hold pride march, some in June and others on different months, in solidarity and to demand the rights of LGBTQ people in India. Pride means different things to different people, for some it is a celebration of their identity, for some a protest site to demand their rights and raise voice against the oppressive laws, while for others it is a place to show the world that we exist, and we exist in all hues, and is probably the only day they are truly themselves, without the fear of judgement or ridicule. In short, it is about reclaiming your spot in the city and society.
However, before and after each pride, there are questions raised on whether Pride is needed at all (straight people don't have pride marches, then why LGBTs?), and the various ways many people express themselves at pride through their loud dressing or make up, or cross-dressing. Many gay people suffer from various levels of internalised homophobia, and much of the discomfort on seeing others express themselves according to their own wish centres around that homophobia. This internalised homophobia often masquerades itself as "What impression are we giving to the straight people?"
Straight people, and the society at large, has had problem with LGBTQ people primarily because we tend to defy the rigid rules of gender (and sexuality) expressions set by them. For many straight people, gay men are tolerable/acceptable as long as they "behave well".
This "behave well" of course means that they act as straight as possible, and do not transgress the gender boundaries. They should not express themselves by wearing jewellery, nail polish, should not walk/act in feminine ways, in short, they should not "act gay" or "dress loud". This same (internalised) homophobia is on display in all the gay dating apps with "No Feminine/Femme" mentioned in the profiles, and "straight acting" man being the desirable and acceptable male form.
But what happens when organisers of pride themselves put up restrictions on how one can dress up and come to pride and how one cannot, all in the name of conservative attitudes? When only "decent clothes" are allowed. What happens when the organisers also tell you that you cannot raise certain kinds of slogans, that you cannot raise "political slogans", that protesting against the Supreme Court (and in essence its botched up verdict on Section 377) is not allowed? Can it still be called a pride, when it is reduced to a mere photo-op opportunity, and stripped of everything that a pride parade stands for?
For those who might not be aware of the happenings, I am referring to the recent brouhaha surrounding Pune Pride, when a few people protested against the weird set of rules set up by the organisers, much of which strikes at the very soul of what a pride march is! When announcement about Pune Pride came out, it had the terms and conditions to participate along with it. These were:
Wear Decent Clothes and Behave Decently
Crackers, Sticks, Band, Dholaks Pipanis etc will not be allowed
No slogans on religion, caste, political parties, politicians, leaders, Supreme Court will be allowed
No obscene or controversial posters will be allowed
Some people who wanted to join the pride objected to these rules, and soon there was a hashtag war that ensued on social media, with #BoycottPunePride and #ISupportPunePride being trended from either side.
However, this is not the first time that Pune Pride has put up such restrictions on the participants. I first came across these rules in 2014, and have always been uneasy about them. In fact, in the previous years' announcement, the organiser would also threaten that he would himself hand over people to police if one was to "misbehave". The organiser (and their supporters) have justified the rules in the name of Pune being a conservative city.
There are multiple problems with these conditions (that strike at the very heart of a Pride march) and the defense that supporters of the organiser have come forward with.
To begin with, LGBTQ people find their bodies being policed by the State, the society, their family and friends, on a daily basis. Every single day of their life, they are told what they should wear, how they should behave, that how they feel and dress up goes against Indian culture and ethos.
In my previous organisation, my colleagues would say that I dress up loud and had nicknamed me "Rangeela Sardar" because I would wear bright coloured turban (colours like red, green) and matching clothes, and according to them, men could only wear colours like black, grey and other dull shades! The mere choice of colours of our clothes can get us termed "loud" and "flamboyant"! A pride march is supposed to be that all welcoming place where people can be themselves without any kind of policing of their bodies and choices. I have friends who like to put up kajal, some who like to apply lipstick, some who wear heels, others who are gender queer and pair a ghagra with a shirt. All of them get called flamboyant and other things and pride is the one place they have let themselves loose. If pride organisers themselves start putting restrictions on what one can wear to a pride march, and start banning "flamboyance" and calling for "decently dressed people only" where do all the non-conforming and flaming homosexuals go then? Are we so ashamed of our not-so-straight-acting LGBTQ members that we need to police their choices and dress at pride march? Who gets to decide what is flamboyant and what is not? What is decent and what is indecent? And if one's dress is termed as too flambyoant/indecent, will they be turned back? (The answer, if you go by the posts of the organiser, is probably yes!)
Coming next to the slogan raising and posters, the organisers have prohibited slogans on religion, caste, political parties, politicians, leaders, Supreme Court. It is funny that slogans against all these things should be banned, when all of them have been the worst oppressors of queer people. Pride by its very nature is the biggest political statement that queer people make. Queer Pride epitomises "personal is political". Religion has been the biggest impediment to LGBTQ rights across the world. In fact, after the Delhi High Court verdict of 2009, it was a milieu of religious organisations of all religions which had challenged the verdict in the Supreme Court! If one cannot raise slogans against such religious leaders and (often misinformed) religious practises/interpretations at a Pride march, where does one go then? Will the organisers allow a "Queer Muslims exist!" poster, which is powerful at so many levels, at the pride, or does it break their ban? When a powerful Yoga Guru goes around telling that he can cure homosexuality with Yoga, is Pride not the platform to carry a poster that denies such a claim, or does that become a controversial poster?
The strangest part is that the organisers will not even allow any kind of slogans against political parties or leaders. Our political parties and their leaders (from all ideologies) are either homophobic, or have done nothing except providing lip service. Even when Shashi Tharoor tried introducing a private bill to amend Section 377, he was vociferously (and in a planned way) opposed by ruling party MPs. Ghulam Nabi Azad, while being the Heatlh Minister during UPA rule, had called homosexuality unnatural and a disease, the Left parties, while supporting repeal of 377, have done little to remove the law in states that it has been in power for so long. Clearly, the battle is a political one as well. So should Pride not be a platform to raise and highlight these concerns, and send out a message to these leaders and parties that their homophobia will not be tolerated? And then again, who decides what is a controversial or obscene poster and what one will be allowed to carry?
Even as the controversy raged, the organiser posted this message on the Facebook page, and in various groups (notice the all CAPS)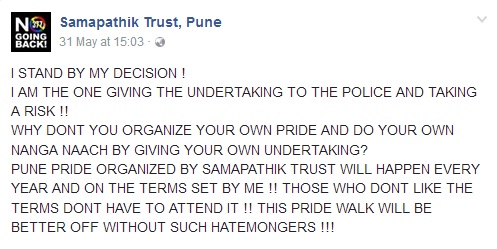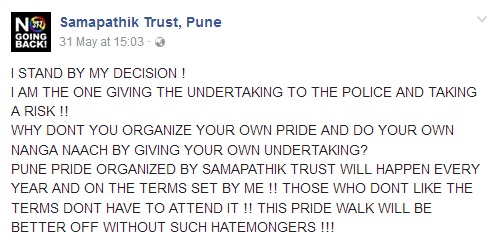 What is more appalling to know is that in a previous pride parade, the organiser has actually prevented people from taking part in the pride march.
In 2015, as the controversy around FTII regarding the appointment of Gajendra Chauhan as the Chairman was at its peak and students of the institute went on a strike, a gay student of FTII institute, who wanted to join the Pune Pride march with a few posters that talked about his apparent fears of being a gay man and suddenly starting to feel vulnerable after the shift in the governing Council, was told not to come with any such slogan and refrain from participating in the pride!!
Also notice in the above post, how pride marches in other cities have been equated with "naanga naach" (nude dancing). Does this not point to some degree of internalised homophobia that the organiser has? Or rather his own conservative nature? One might say that the organisation (and Bindumadhav) have done exemplary work in Pune on HIV/AIDS and queer related issues, but that is no guarantee of not suffering from internalised homophobia. Many of our women leaders (including West Bengal Chief Minister Mamata Banerjee), have often blamed rape survivors and questioned their character, despite being a woman, and hold deeply patriarchal notions that chain and oppress women.
Many people who have defended the organisers, seem to agree that the city is conservative and so the organisers are justified in putting such restrictions. This argument falls flat on the face considering that pride marches have been organised in far more conservative and smaller cities, like Jaipur, Nagpur, Ahmedabad, Guwahati, Lucknow with a far more hostile political climate, without any kind of restrictions being imposed on the participants, their dress or sloganeering. In fact Lucknow, which held the pride for the first time in a very charged (and deteriorating political climate marred with anti-romeo squads and what not!) not only had dhol-tasha, but also people cross dressing, dancing, raising political and religious slogans, and being as flamboyant as they could be! Moreover, Pune Pride started out in 2011. If in these 7 years the city has not been able to get used to a pride walk and queerness, should the members of the community wait for eternity then to express themselves? Is it also not the responsibility of the organisers to bring the city face to face to all aspects of queerness then, how else will the city get used to the "non-sanskaari" queer people? But given that so many other cities have had pride marches with all pomp and gayness, does it not sound more of a conservative attitude of the organiser than the city? That the organiser views any other kind of participation as a "nanga naach" (and the language of the post above) does point to the restrictions imposed more due to the conservative attitude of the organiser than the conservative nature of the city!
The other argument that has been cited in favour of the organisers, even by some well know queer activists, is that getting Police permission is a fraught after exercise, and organisers put themselves at risk when they give an undertaking to the get permission to hold the pride. I am assuming that is something that organisers of pride march in all cities have to do, and that brings us to the bigger question – Should pride organisers accede to police demand if such unreasonable demands are placed that would strike at the the very heart and soul of a pride march? Is holding a sanitised and straightsplained pride march to put a city on the pride map more important than what pride actually means (and should be about)? If such restrictions are indeed being put up by police, then is such a "sanskaari pride" worth it? Can we not raise awareness through other means like film festivals etc which might not need police permissions and can be equally effective? This is a question that organisers of pride march of all new cities should answer before deciding on having a pride march.
Lastly, what do such restrictions and bans mean in a political climate where the government is increasingly dictating not just what kind of sex one can have, but also what one can eat, whom one can date or marry. Are we in that case going on a self-censorship mode? Shouldn't pride marches be a site of resistance against such high-handedness of the State and Police, as the Stonewall Riots were?
No one is trying to under-estimate the work that Samapathik Trust has done in Pune till now, yet one would concede that the way the organisation has gone on to put restrictions on the marchers shows a very flawed understanding of what Pride is. A pride march needs to be an all inclusive place, where people of all political, religious, caste and other beliefs can come together and put their demands, without the fear of censorship, least of all by the organisers. This also needs to reflect in the language of the organisers. Threats of police action if one defies their diktat is not the way forward. In a multi-cultural and multi-religious country like India, we are not just LGBT, but also Sikh, Hindu, Christian, Muslims, Jains, Buddhists, Dalits, Upper Class, Lower Class and probably many more identities. When organisers put restriction like "no slogans on religion, caste" they are in essence telling one to keep away their other identities, which is not possible.
Pride Marches across various cities in India as well as the World are increasingly talking about intersectionality for a reason. Queer people undergo enough repression in their daily lives by straight people, society, government and police, let them not face more repression and policing of their bodies and desires at pride marches.
Update:After this post was published, the organiser issued a clairfication that cross-dressing at Pune Pride will be allowed

Latest posts by Sukhdeep Singh
(see all)