"Yeh toh hona hi tha sab saaf karne ke liye,"mulled Badri Pun as we walked past Kathmandu's iconic buildings now turned to dust and rubble following the earthquake of April 25th. Badri too believed that the killer quake was an accident waiting to happen, just to give Nepal a much-needed fresh start. No more corruption, no illegal structures, no cheap building materials, none of that. Just a country that would rise from its ashes — after all the recovery process was underway.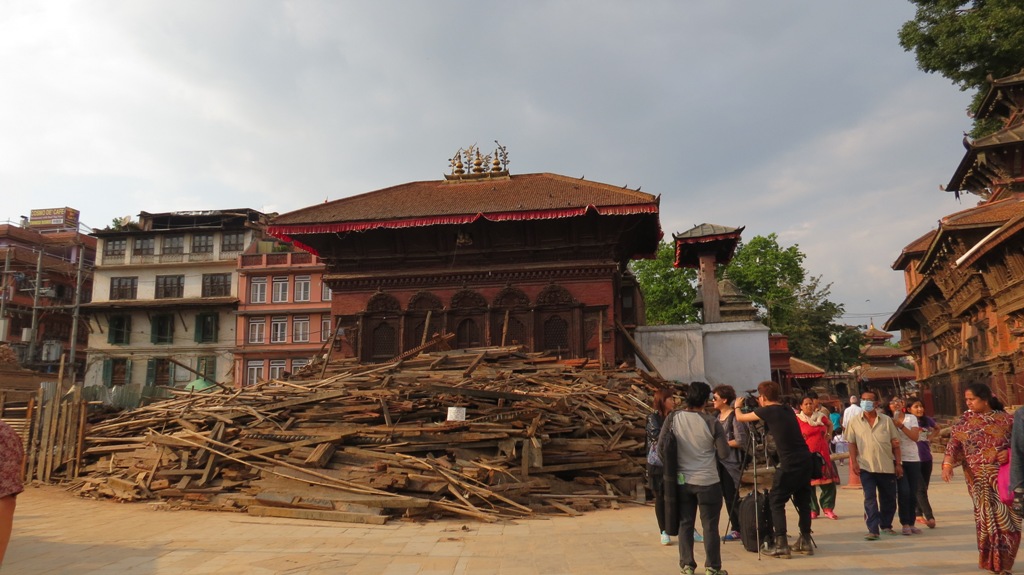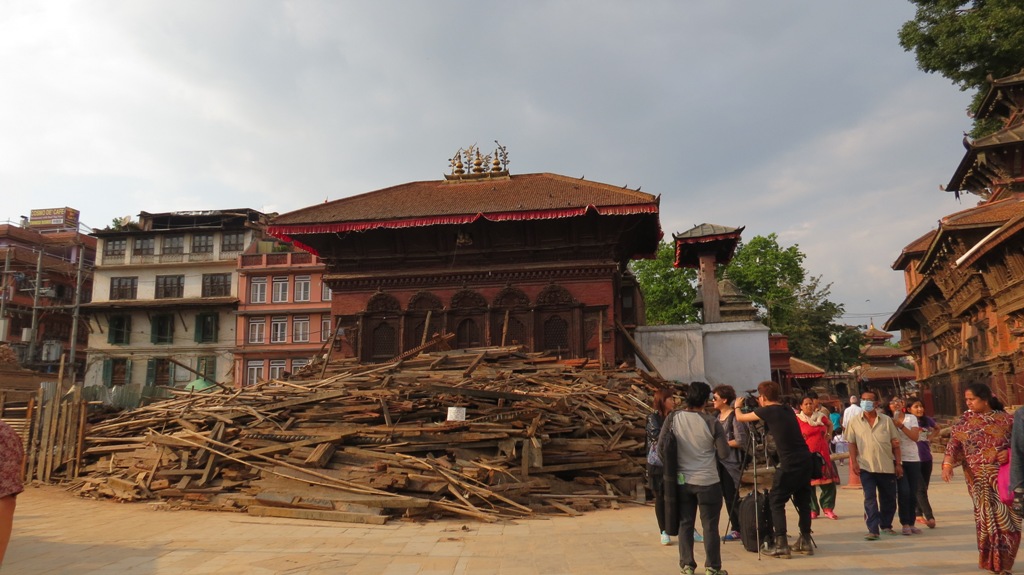 What we didn't know was that another earthquake of magnitude 7.3 lay in wait for us on the 12th of May. That morning, Rita, a volunteer with Badri's NGO Inclusive Forum Nepal, brought a live chicken down to the office and tethered it to a string on the balcony. Meanwhile Badri and I set about working on an article on his citizenship card. Born into a female body only to later reject it after identifying with male, Badri opted for 'teesro' (third gender) on his card to later realize that none of the other so-called LGBT crusaders were interested in following suit. It seemed like they were all aware of the complications involved.
As Badri's passport gender reads F (female) and his citizenship card reads Teesro (Third Gender), he is unable to work in countries which have no provisions for the third gender. Worse still, he cannot afford to start the sexual reassignment surgery process and so, still resembles a woman despite the cropped hair and boyish getup. Government and bank officials and policemen are appalled and confused upon reading his third gender status whenever his ID is checked. He loses energy each time he is obliged to explain. As the morning wore on, I wondered if this third gender option that was hailed as a 'stunning victory' and 'breakthrough' was actually an invitation to jump from the frying pan into the fire.
At noon, the aforementioned chicken was lovingly tucked under Rita's arm, taken to the kitchen and killed off noiselessly, save for a gentle flutter of cascading white feathers. No squawking, no protests. Just silence or was it submission? The meal looked good enough to eat, yet as I sunk my teeth into the succulent flesh, my eyes clouded with visions of this bird who less than an hour ago gazed unblinking into the grey Kathmandu skies.. with the countenance of Buddha.
I tried to make light of a gnawing feeling of impending doom by mocking Rita, 'You are a killer. The chicken will have its revenge. Today'. She laughed and sunk into the sofa for a siesta while Badri worked on the laptop on the pictures we had taken of the cracks in the walls caused by the first earthquake.
As I ate my meal in a hypocritical state of discomfort, the building suddenly began to hurl violently. In less than a second, we all leapt to the main door from our respective spots. This was no aftershock but another earthquake — a big one. As I struggled to turn the key, the door eventually swung upon yet we froze beneath the door frame as the earth roared and heaved around us. The sound of the entire five-story structure rattling above our 1st floor office was enough to paralyze us into immobility. We were going to die.
Badri called upon his God Pashupati several times as I pictured the building coming down on us, bodies crushed and added to the sum total of casualties of Earthquake Number 2. Maybe I should have just flown back home on April 25th like the other chickens did. But here I was in a rattling hellish apartment with no one to blame but myself for chosing to linger on in Nepal.
And how much more could a man-made structure take in the face of a relentless and unforgiving earth watered by the blood of a thousand animals killed during Gadhimai? Besides, a few days ago, a team of engineers had already certified the building as dangerous and unlivable following the structural damage caused by the first earthquake. There was no way we'd be second time lucky.
As images of Jesus, Asia Argento, my mother, Julien and Charsi flashed manically upon my inner eye, I suddenly decided to make a run for it down the stairs when both Badri and Rita screamed in unison, 'Don't!' I muttered, 'We have to!' and started running. If the building eventually collapsed, we had a better chance of survival if we ran out into the open. They luckily followed me and we scrambled down a staircase that was swinging wildly and for what seemed like an eternity.
The next hour was spent barefoot in an open space with the neighborhood residents keeping vigil for the following aftershocks. Women held their babies close and cried — not for fear of losing their lives but out of sheer exhaustion and disbelief. The nightmare was far from over. Why did the Nepali government lie to us three days after the first earthquake saying 'It's now safe to return indoors.'
Even as experts insisted on calling this one an 'aftershock', 'tremblor' and by similar euphemisms, it was enough to terrify most of Kathmandu's residents into seeking refuge in the outdoors again.
Badri, his volunteers and I started the long trek in the scorching sun to the Social Welfare Council ground (relief camp) in Lainchaur. On the way, crowds stood huddled as they waited patiently for a heavily-tilted building to come down upon them. This is the thing with Indians and Nepalis — to stay as close to where the action is even if it could kill you!
We arrived at the camp and set our foam sheets upon the grass. As afternoon wore on, tents sprung up all over the place. We were unable to secure a tent and geared up for a night under the stars.
We lay vigilantly, waiting for that sickeningly familiar roar to return which was immediately followed by a violent shaking. That night, a stranger covered us with plastic sheets and disappeared wordlessly.
The next morning, a Nepali family arrived and pitched a tent near us. They invited us to share it with them and said we could stay there for the next seven days as they were headed out of the Kathmandu valley. Soon, a government tanker arrived with drinking water. A 1000-liter storage drum was filled and we were told it could only be used for drinking and to wash the face. There were no provisions for bathing or washing clothes. On the 14th of May, a special temporary ladies and gents toilet were constructed in an open space. A rudimentary hole dug into earth with heaps of plastic bottles strewn around as there was no provision for water. And we don't use tissues this side of the world, remember? Flies buzzed around the accumulated human waste that could not be flushed.
Unlike several camps I saw in nearby Kirtipur where rice, dal and vegetable were cooked by Red Cross in a community-style setting and served, this camp had no such provisions. In no time, large families with children started to feel the pinch of spending 200-300 Rupees per day on meals. Those who could, brought in their gas cylinders and stoves. An IFN volunteer brought hers too and we started to prepare meals, offering food and shelter to members of the LBT community who stopped by.
With no office to work from, we were content with working offline in the outdoors. Evenings were particularly beautiful as both children and pet dogs waited in earnest for their father/master to return to what had become home. Once dusk fell, cries of Babu pierced the air as mothers called to their children to come back into the tent. By 8 pm, most people called it a night. After all, day light broke at around 4.45am, not to forget the freaky and powerful aftershocks that sent us scurrying in our sleep.
Badri and I spent several hours in cyber cafes trying to see if the international LGBTI community would pull through for their fellow community members in Nepal. Indeed they were. However, all donations were being funneled into the country's most well-known and controversial LGBT organization that has been plagued by allegations of corruption and mismanagement of funds. As if this were not enough, Badri's woes were compounded by a landlady who asked him to vacate ASAP as her relative needed the room. The IFN office building too was declared unsafe for habitation by engineers and Badri's biggest long-time donor wrote saying she could not fund the rent anymore because of a crisis back home. Truly, when it rains it pours.
Late into the night Badri and the volunteers would tell me about Nepal's pitiable situation for lesbians. He said, "The Norwegian Embassy in Nepal and the UNDP donate heavily towards the LGBT cause. But it appears that all funding goes to the one NGO which is overrun by transgender women and gay men. They employ a few token lesbians and transmen because it's essential for them to prove on an international level that lesbians are part of their LGBT identity. Nepal's lesbian community is fighting a lone struggle."
"Even the annual magazine Being LGBT in Asia 2014 mentions the list of target beneficiaries for the country's various LGBT organizations but only Inclusive Forum Nepal's column has been left blank. Is this not a conspiracy to undermine our work? Ed Settle from the UNDP wrote to me and got the document changed and said he would come and visit our offices when he was in Nepal. What about the UNDP staff working here and now in Nepal? Does the LBT community not exist for them? Why are we never invited for UNDP conferences that take place in Nepal or Thailand or anywhere else. LGBT donors from around the world are generously pouring in money assuming we are cared for with their money. Far from it," he continued.
I listen in silence as I know this is the truth. I have been living with them, watching them pool together scanty and fast depleting resources, never knowing what tomorrow would bring. Life? Death? Money? Love? Earthquake?
I eventually flew the coup but kept in touch with the gang. Their tents were blown away twice during an unseasonal storm, and Badri's aging mother in Myagdi district had to be moved to higher ground when the Gandaki River threatened to swallow everything in its way following a massive landslide caused by loose soil. The volunteers continued to stay at the camp for more than a month and eventually moved out as security guards threatened campers to vacate. They claimed, "This time it's really over. The earthquakes are over. You can't camp here forever."
And life goes on. It always does…
Latest posts by Nicola Desouzaa
(see all)