Gender sensitisation is essential for today's world, as we see intolerance on the basis of gender, sexuality and orientation growing high day by day. There is an earnest need to understand how we can teach our youngsters to be more inclusive and aware. Often, people who identity outside the gender binaries are mocked, bullied, molested and abused. This starts from a very young age by other kids, who don't have knowledge about gender. Our education system also fails to educate young kids about gender issue. To create an inclusive society, we need to start from the ground level – from schools and from kids.
As part of Hyderabad Literature Festival 2020 story telling program, performance artist and Drag queen Patruni Chidananda Sastry (drag name S.A.S (Suffocated Art specimen)) started an initiative called as "Drag Tales" – a storytelling session exclusively for kids, adults and bibliophiles who came to the fest- to educate them about gender and sexuality. In Drag Tales, Mohini teaches about gender and sexuality and explains terms like "Male", "Female" and "Trans". She decodes various aspects of orientation such as lesbian, gay, bisexual and transgender. The stories involved gender parity, sexuality and gender expressionism. Using Kajaris and Natkas of North India, S.A.S used folk songs as a way to impart stories of change. The first story she presented was titled "Sita was born, Just like a Man", where she brings the elements of celebration of girl child and how it was celebrated within the context of Marriages, how transgender community were given important role within society and were give the status of demi gods and how they praised Sita, on the day she was born. This story was an anecdote of gender equality.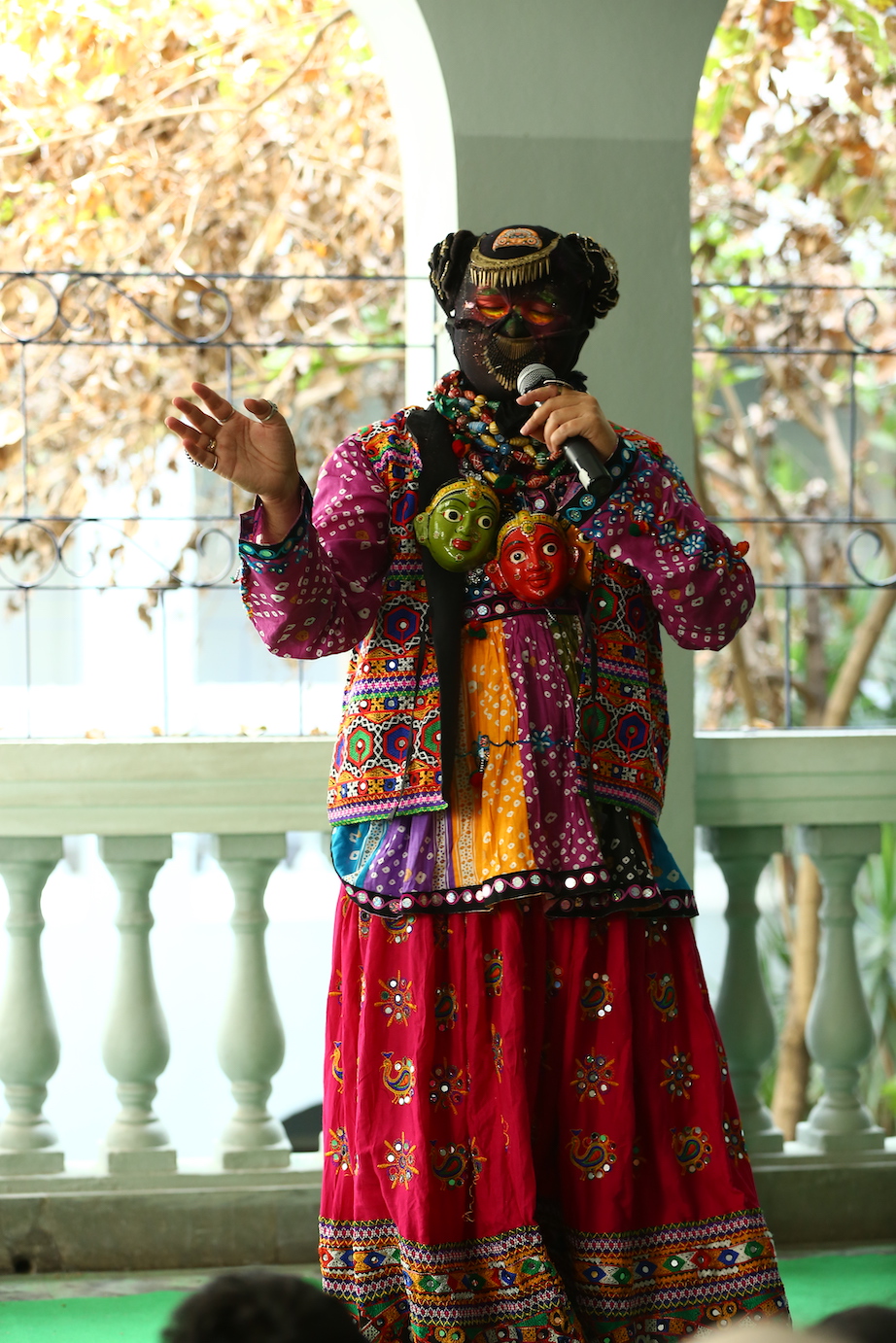 Following the other story in a form of a Kajari, S.A.S talksedabout "Bingo-sexuality (Opposite of Sapiosexuality)" and "Sapiosexuality". The presentation was about how a women embraces her poor intelligence and understanding Sapiosexuality as a sexual orientation. The last piece was "Out of closet" where Patruni presented a story of a young girl, how she identifies her sexual identity and how she takes one step at a time to come out to her parents.
Gender bend rhymes too were taught to kids and were sung together. Soon, S.A.S also educated the kids about consent with an activity called "Touch me Not" and telling "your body is your own and anyone who needs to touch you needs your permission first, without it she is not supposed to touch". The event ended with a quick dance routine for all the participants where all the kids cheered and had fun.
The event was hosted in collaboration with the nations rock beat as part of HLF 2020 at Vidhyaranya school Khairtabad. Patruni is looking forward to conduct more such events in schools and colleges and help in educating the youth with gender sensitisation programs.