Met Gala 2021 might have ended, but that doesn't mean the fashion party is over. The 2021 edition of Met Gala saw some of the flyest looks on the red carpet which got the fashion and style enthusiasts (including us) talking! The theme for this year was American Independence and every attendee interpreted the theme in their own way (Also, they did a fly job at it)
The men of the Met Gala did not disappoint at all and sashayed down the red carpet in some of the exquisite creations making the jaws of those attending the event virtually drop! Here's looking at a few such beautiful men who made us say "Peg The Basic." I hope they make you say or feel the same!
All Images Courtesy: Getty Images
1) Pete Davidson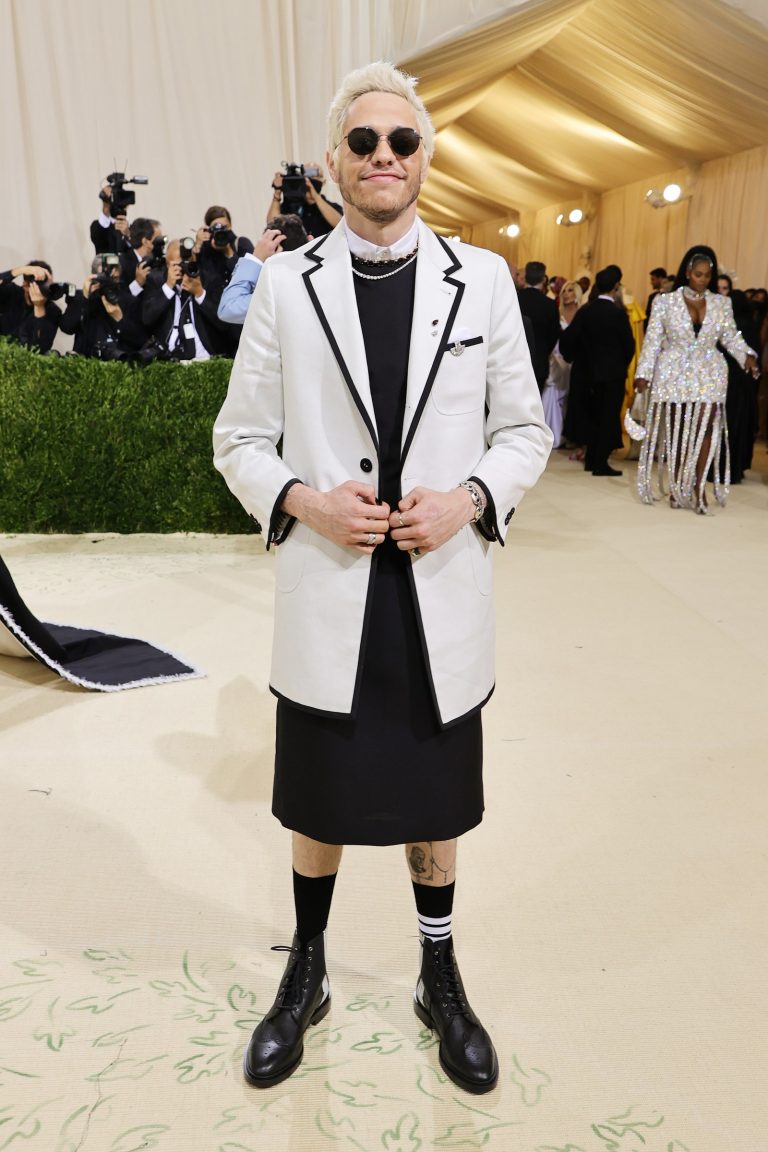 American comedian Pete Davidson's Met Gala 2021 look can be summed up as platinum, diamonds, and a little bit of sass. Pete wore a suit by Thom Browne, his dad's birthstone garnet, a custom pair of sunglasses by Silhouette, and a dazzling smile. This look is as fly as it can be.
2) Dan Levy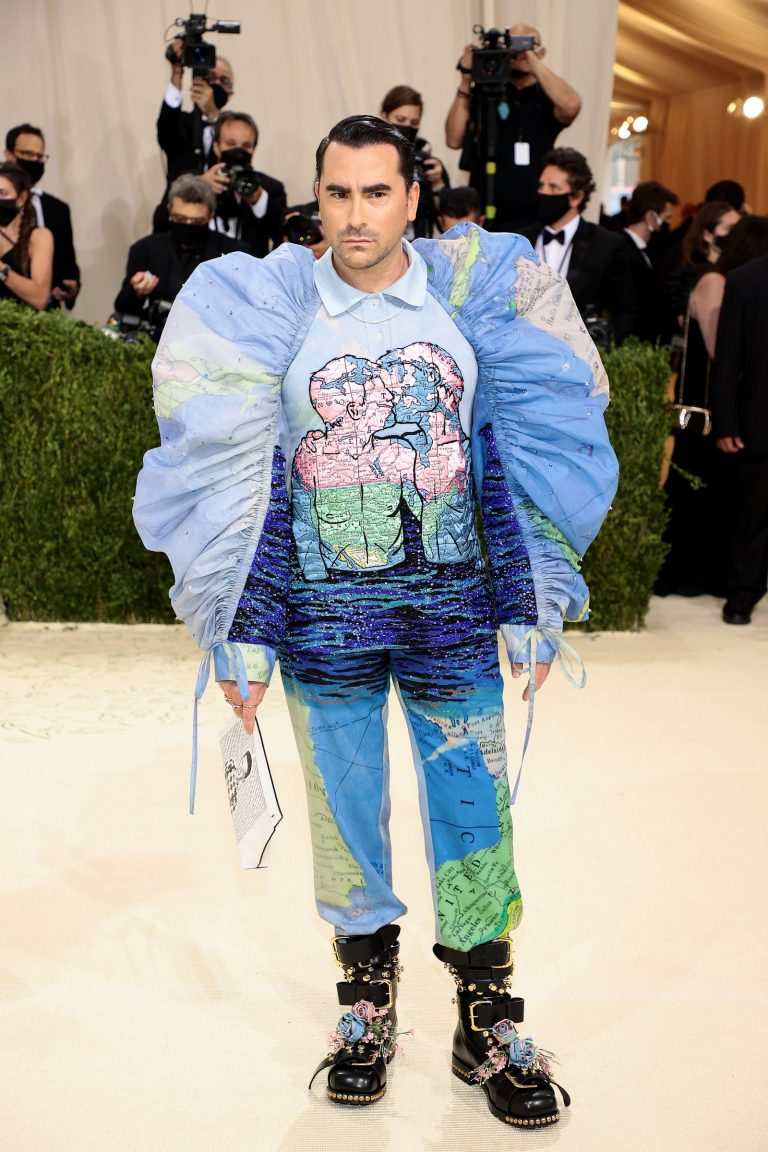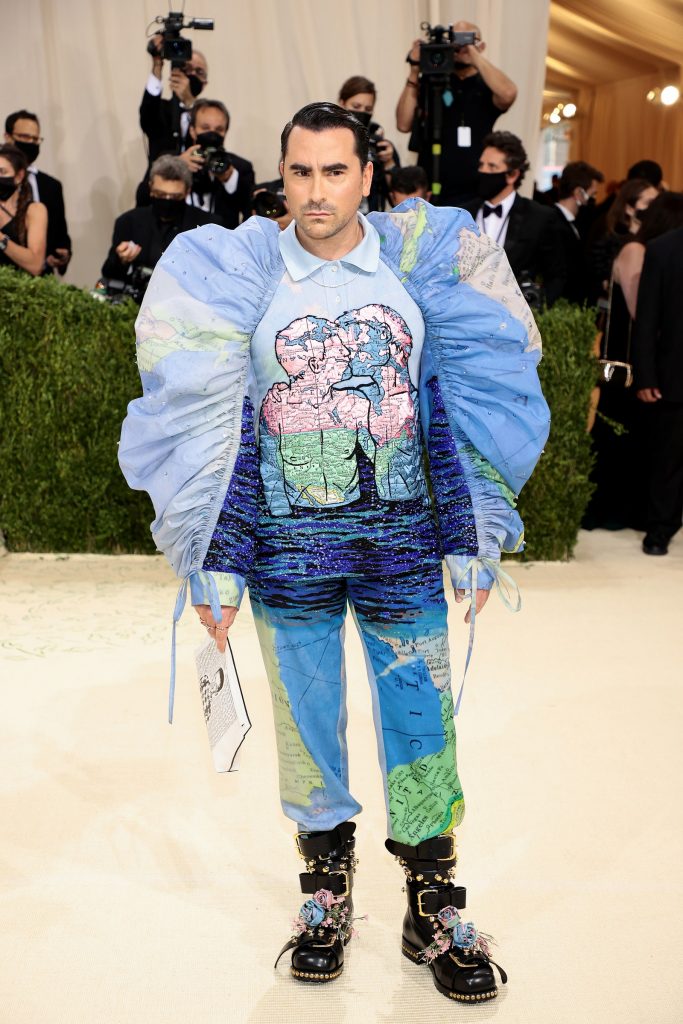 Schitt Creek's David aka Dan Levy is a fashionista in real life and he dresses to make a statement. Quite, literally! Levy paid an ode to the global LGBTQIA+ community in a J W Anderson shoe and an icy blue button up shirt with maximalist sleeves. The shirt featured artwork of two shirtless men in a passionate lip lock. Also, his bushy eyebrows resembled a lot like Johnny Rose; Levy's reel–life dad in Schitt's Creek or is it just us?
3) Finneas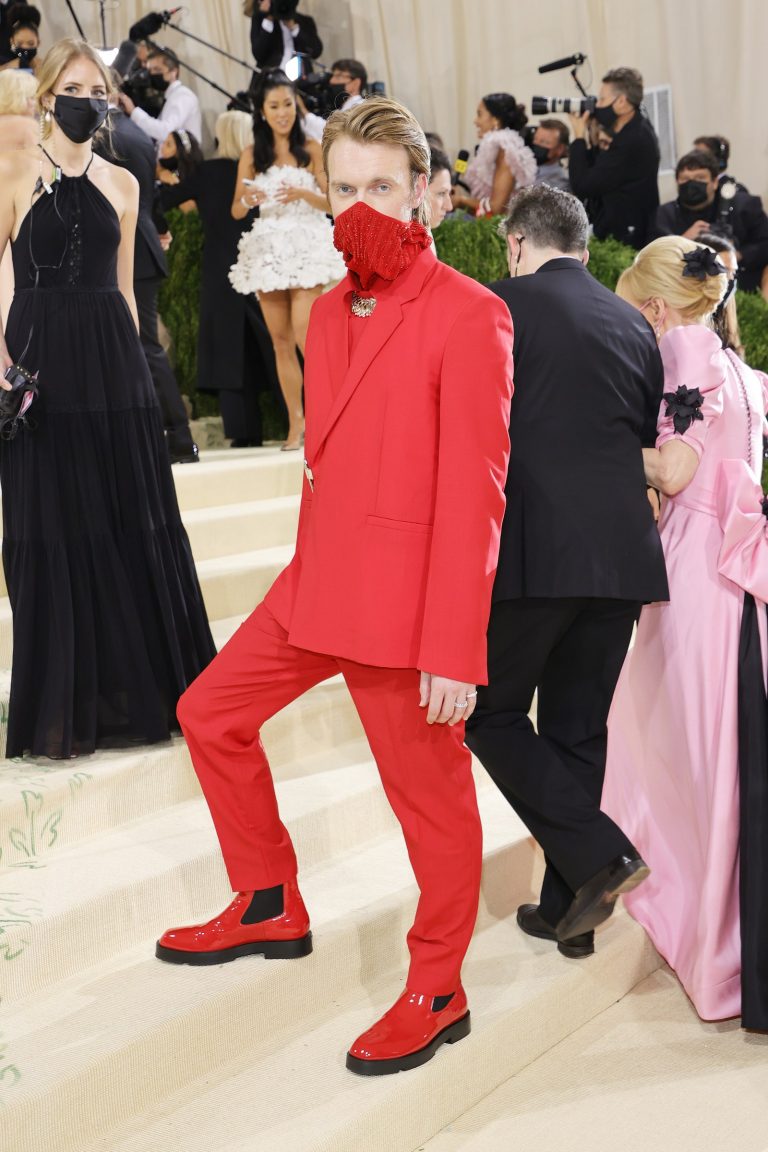 If the grown-up red riding hood was a male; it would have looked like Finneas. We can totally picture Finneas carrying a basket of apples in the woods for his grandma. The red mask adds a dramatic flair to this (or should we say his) all red Givenchy look.
4) Troye Sivan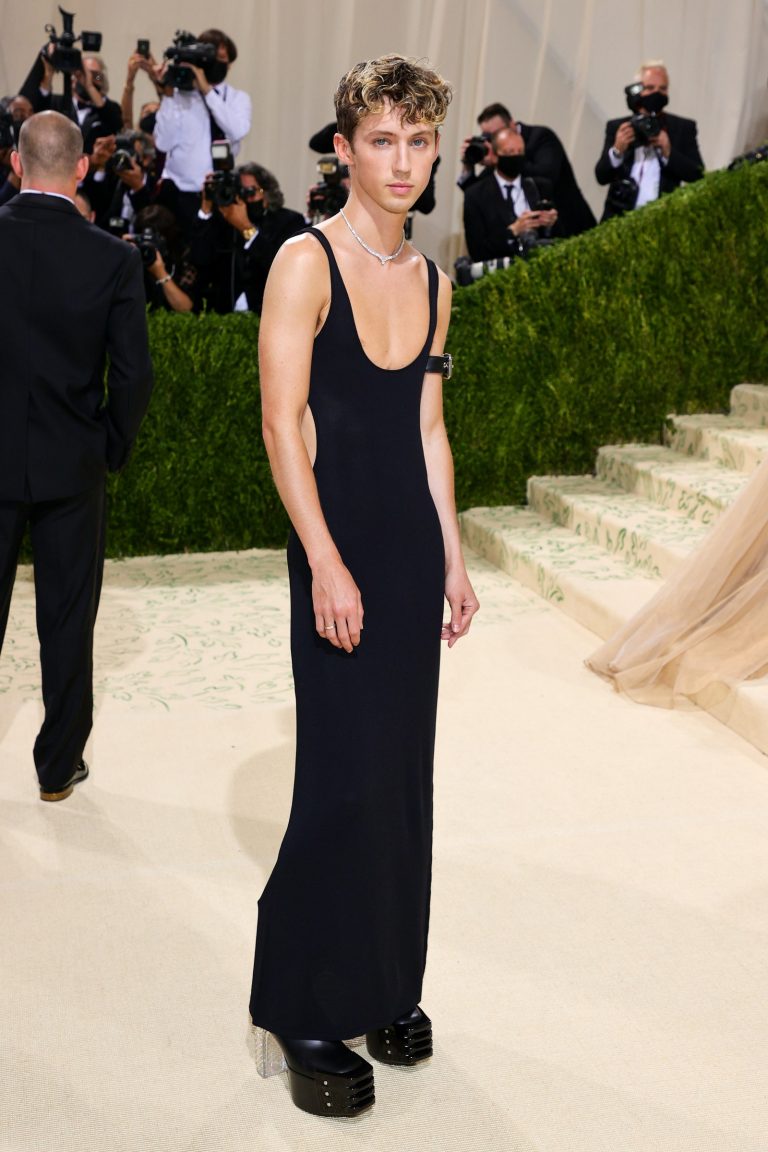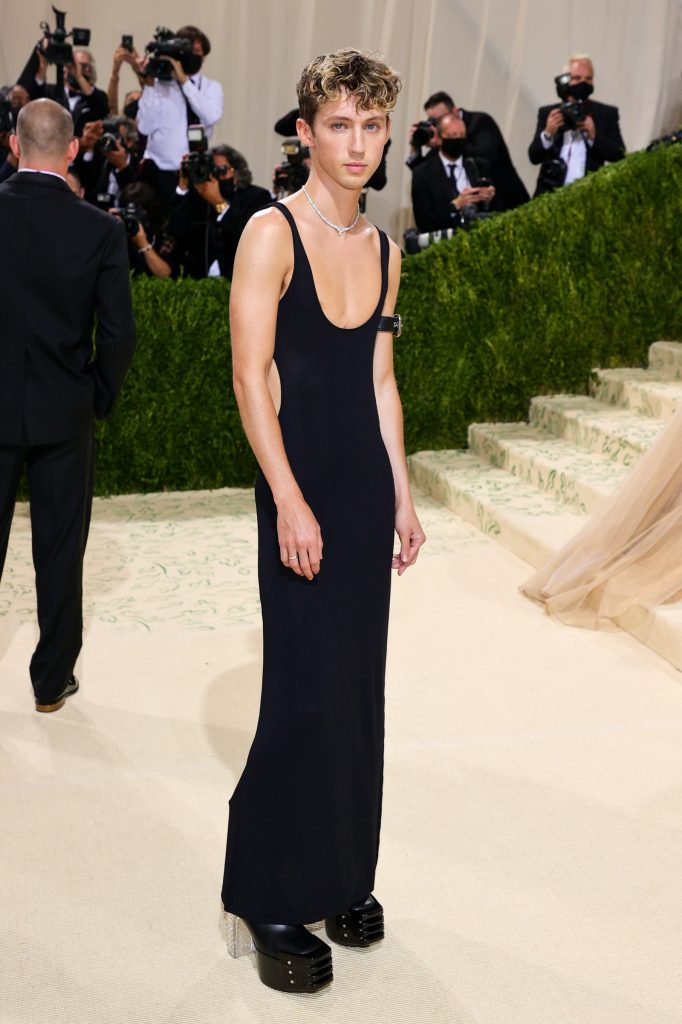 Troye Sivan wore a black slip on dress in Met Gala 2021. He accessorized it with black platform heels (watch out Lady Gaga; you have a new competitor !) and a diamond necklace and ring from Cartier Essential Lines making the case for diamonds is for everyone.
5) Shawn Mendes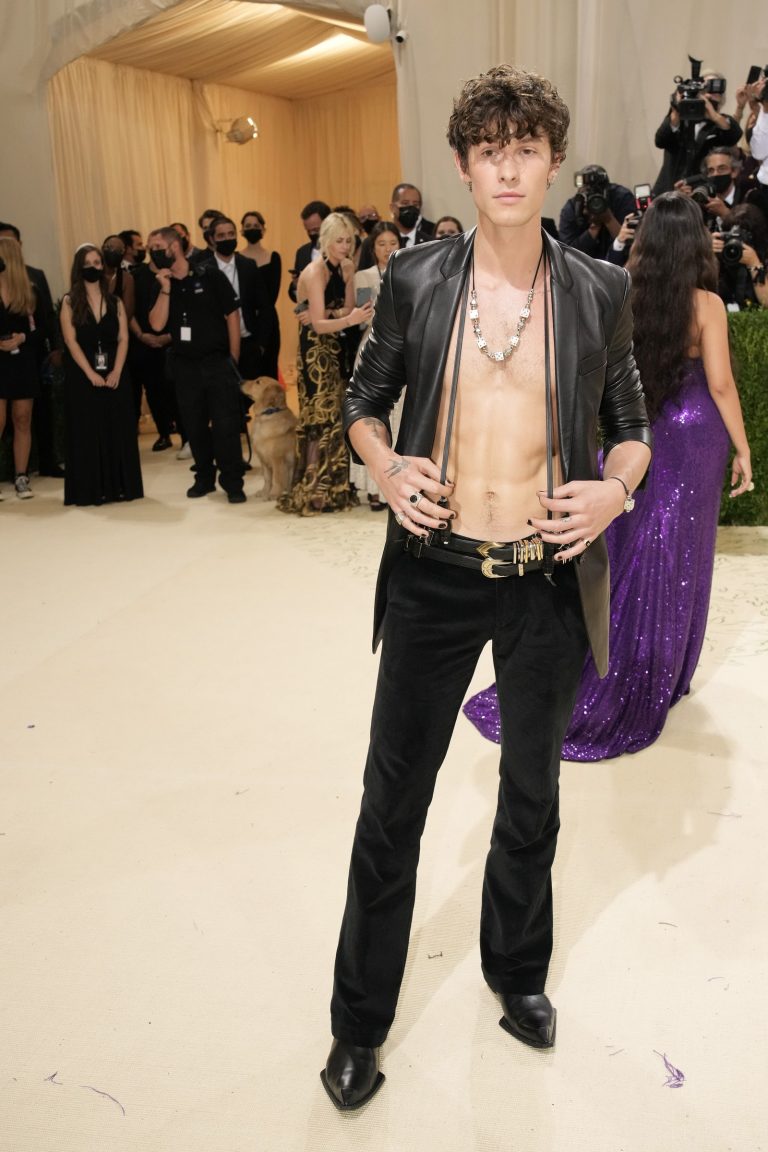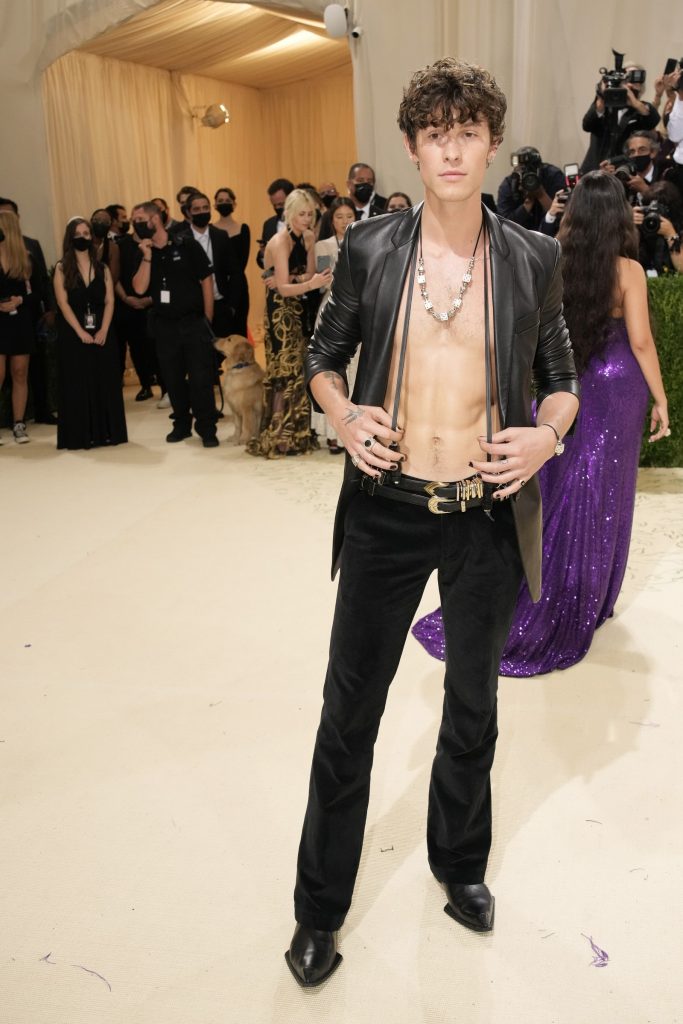 Shawn Mendes raised the hotness on the red carpet by flaunting some skin. Mendes went for an all-black look wearing a black leather jacket and black pants by Michael Kors. The look gave away surfer boy meets emerging rockstar meets frat boy feels. It also had a sexual undercurrent and posed the question 'would you sleep with me' rather not so subtly. Mendes' accessorized his look with black nail paint and two belts as a nod to the multi-hyphenated vibe of the look.
6) Lil Nas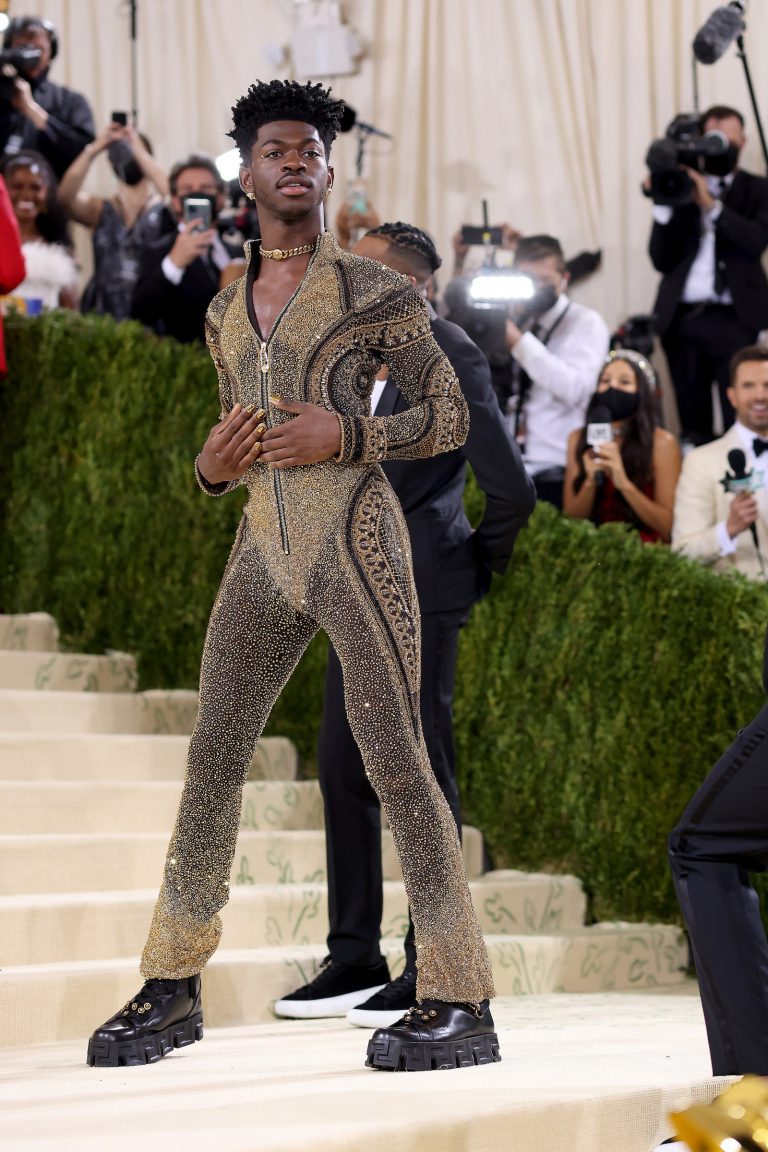 Lil Nas brought the shimmer to the Met Gala. This first time Met Gala attendee was hell-bent on eyeing the title of the most dressed male of Met Gala 2021. Nas wore a shimmery Versace bodysuit which he accessorized with golden jewelry and gold nails. Nas was aiming for that 'golden look' and so he delivered.
7) Maluma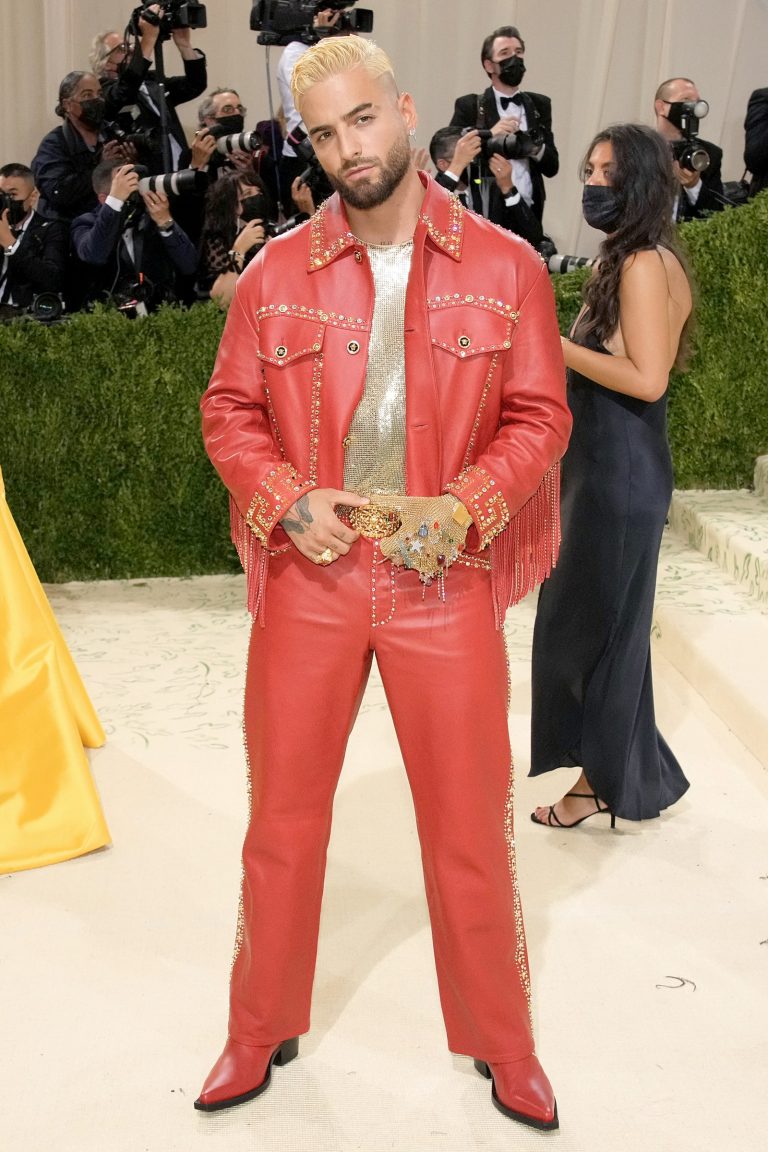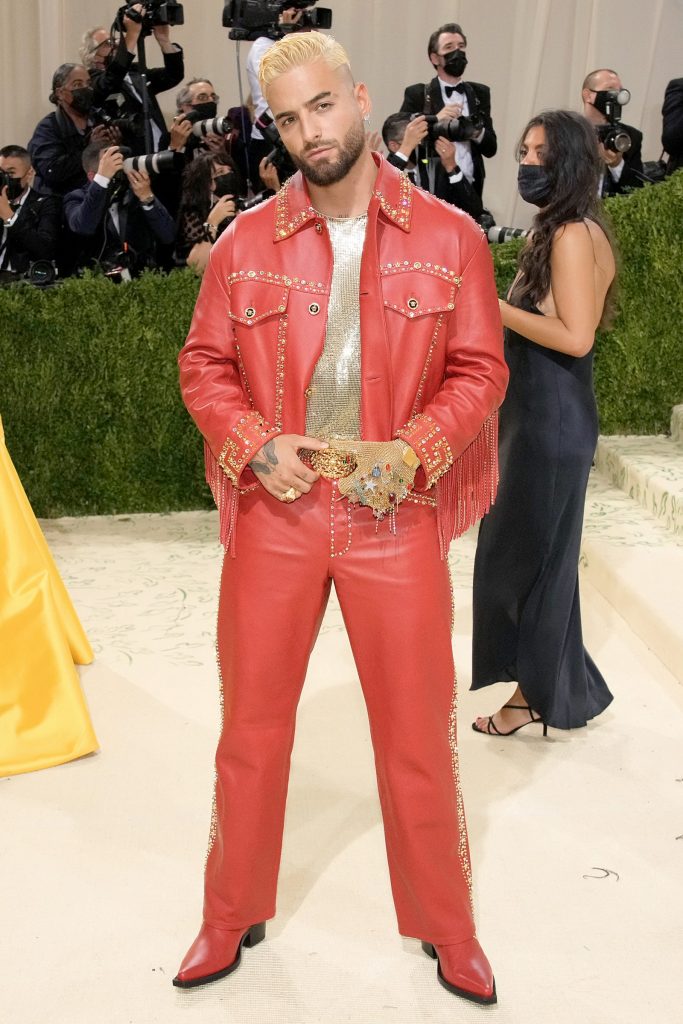 Maluma gave off cowboy vibes in his red Versace look. The gilded mesh undershirt Maluma wore matched the color of his hair. The dishy hunk accessorized his look with a 14 Karat gold chain link glove by CJ Aslan. In all, he looked like a badass grown-up red riding hood.
8) Lewis Hamilton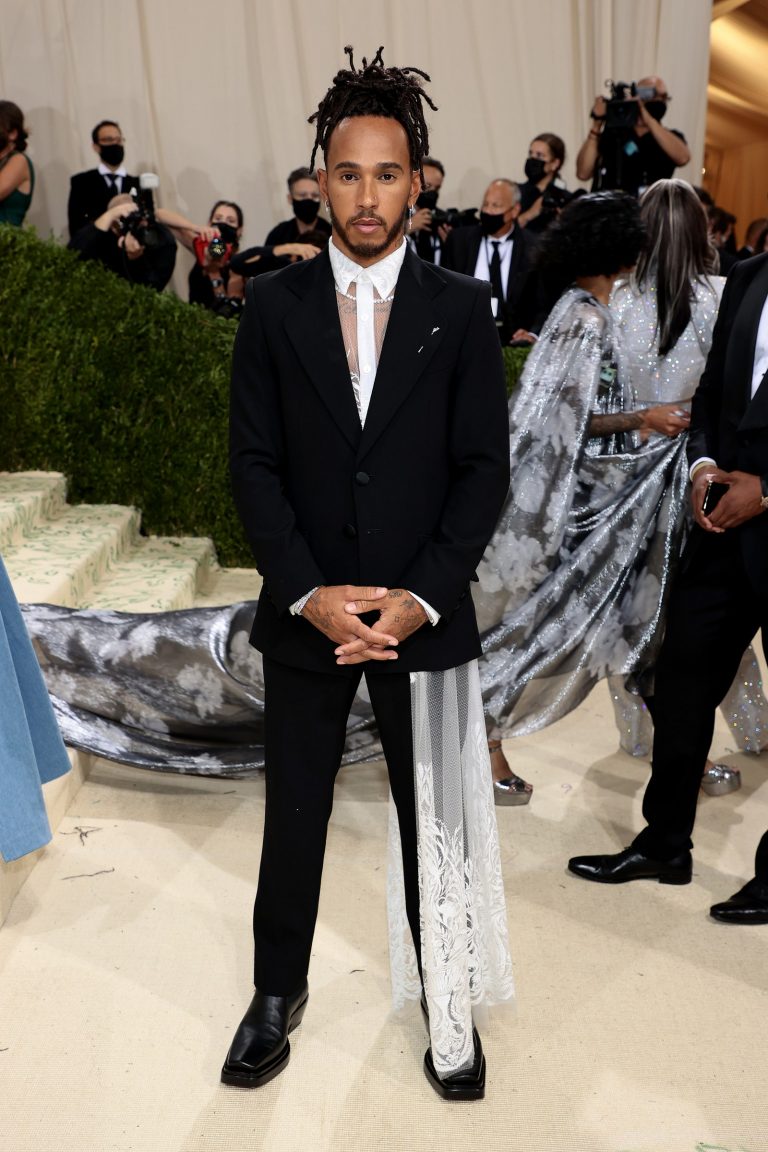 Lewis Hamilton expanded the vocabulary of mundane suits and tuxedos, a large number of male celebrities normally wear on the red carpet. Hamilton's suit was a power suit in the truest sense as it brought together different fabrics and textures to create a stunning effect. Hamilton accessorized the look with a diamond necklace, earrings, and a nose ring. He tied his dreadlocks up in the bun to let his outfit do all the talk.
9) Lee Pace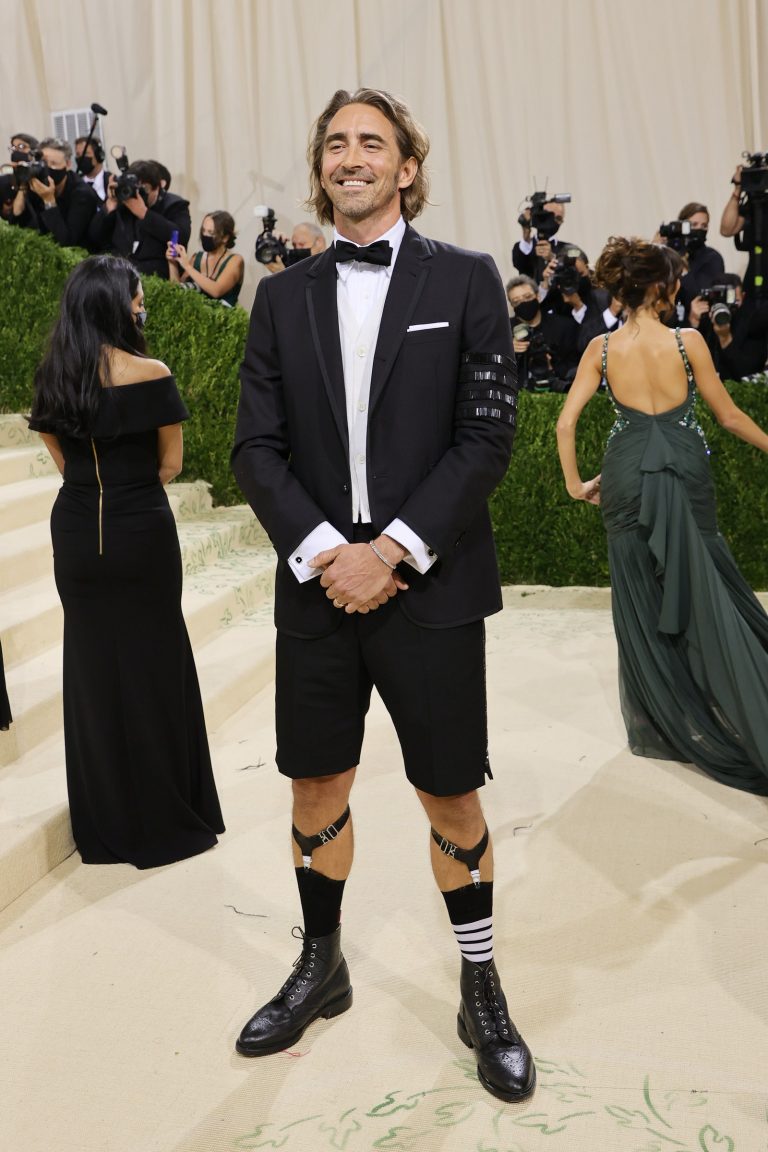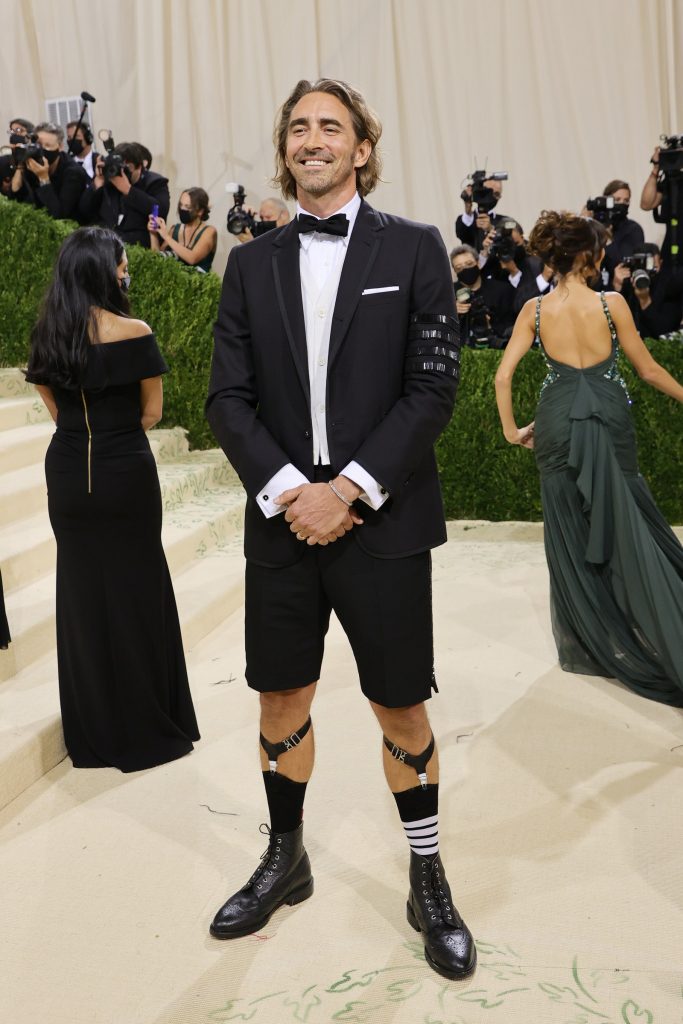 Lee Pace again made a case of how male celebrities can wear suits and tuxedos on the red carpet in a fun and unconventional way. Pace paired the black tuxedo with black shorts, a black and white pair of striped socks that were held in its place by leather straps. Pace again flirted with leather by wearing four shiny leather bands atop the sleeve of his suit. If you think he was one of the rare men to have ditched jewelry; you are partially mistaken as he can be seen wearing a diamond band on his wrist on a closer inspection.
10) A$AP Rocky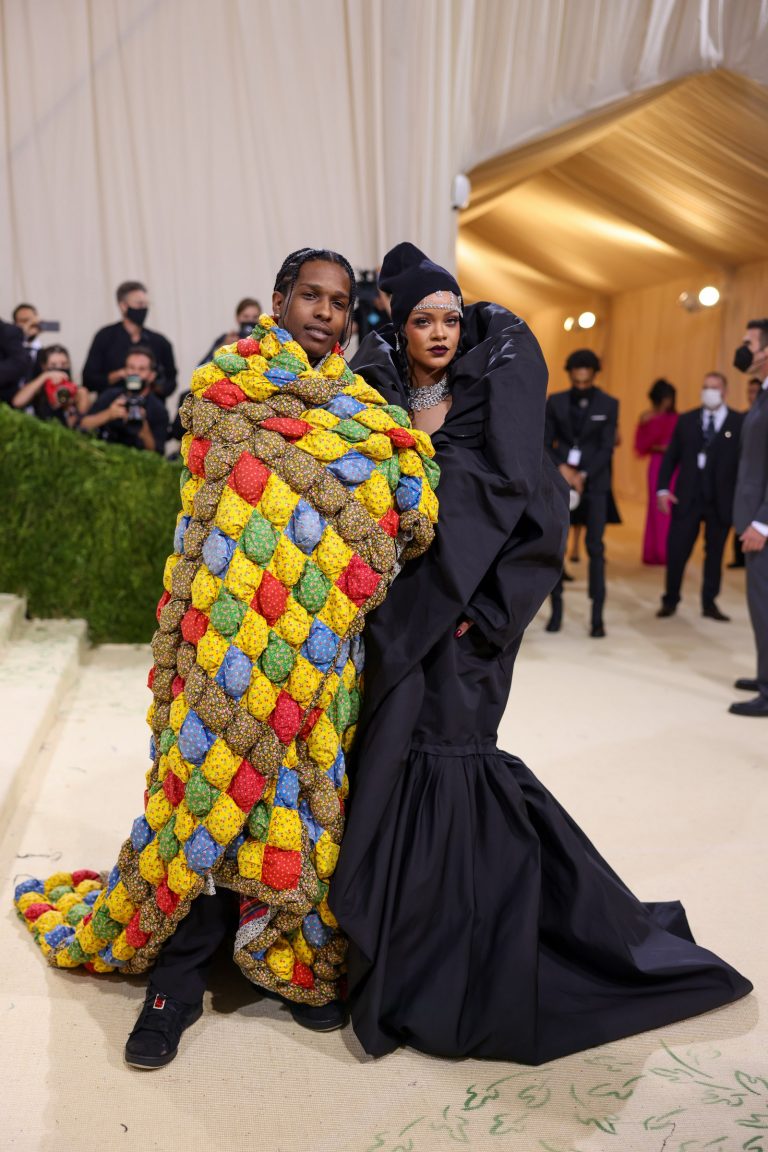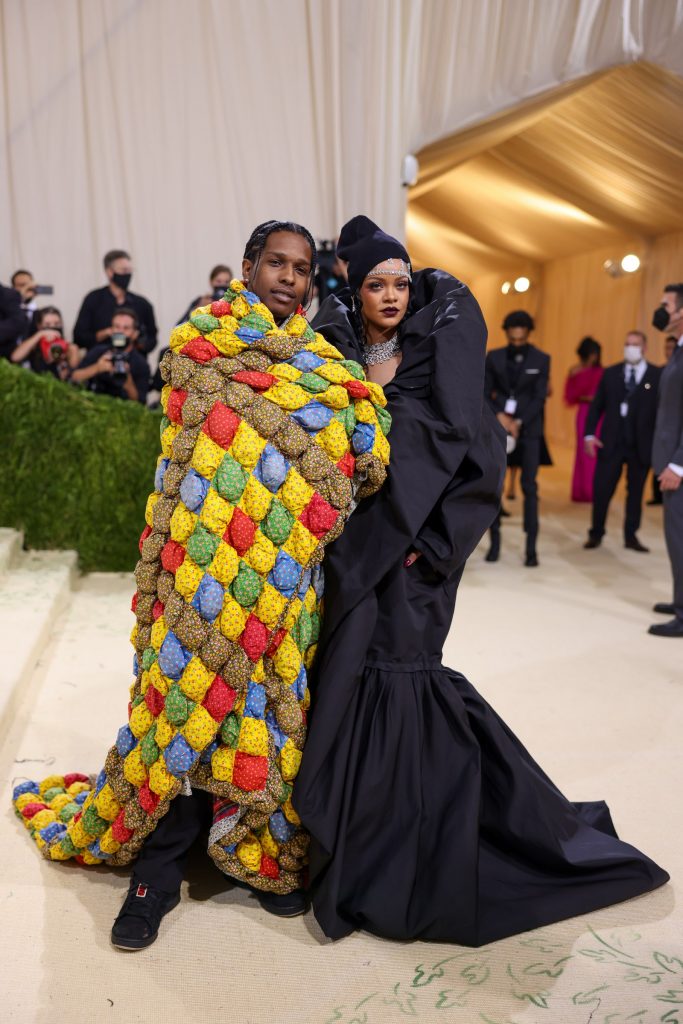 A$AP Rocky made an appearance on the red carpet with Rihanna wearing a Technicolor quilt. He made a convincing case for dressing up lazily and taking even the red carpet looks with a pinch of salt. His look also signaled the fact the winter is coming, and we all should get our comfortable pair of woolens ready.
11) Frank Ocean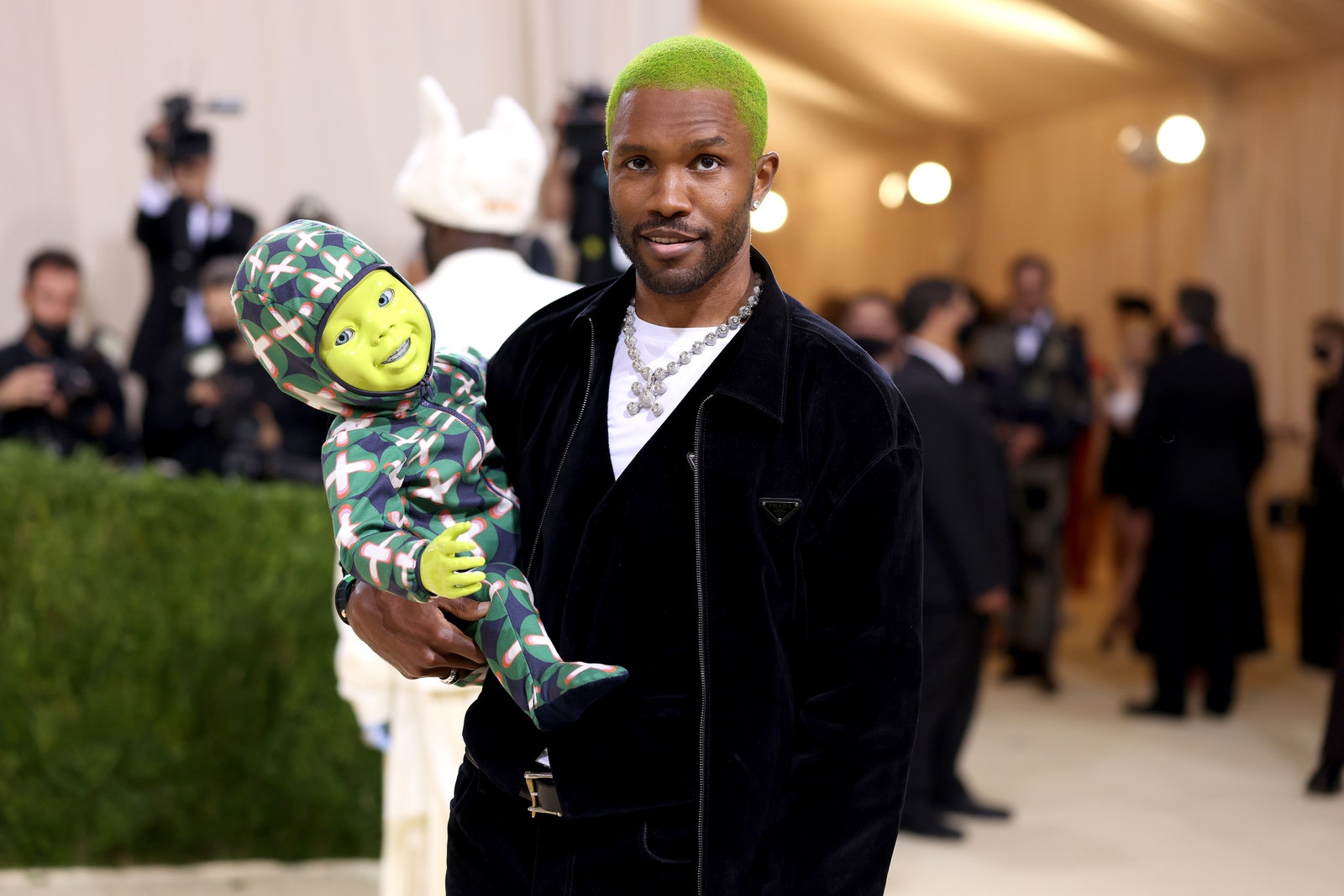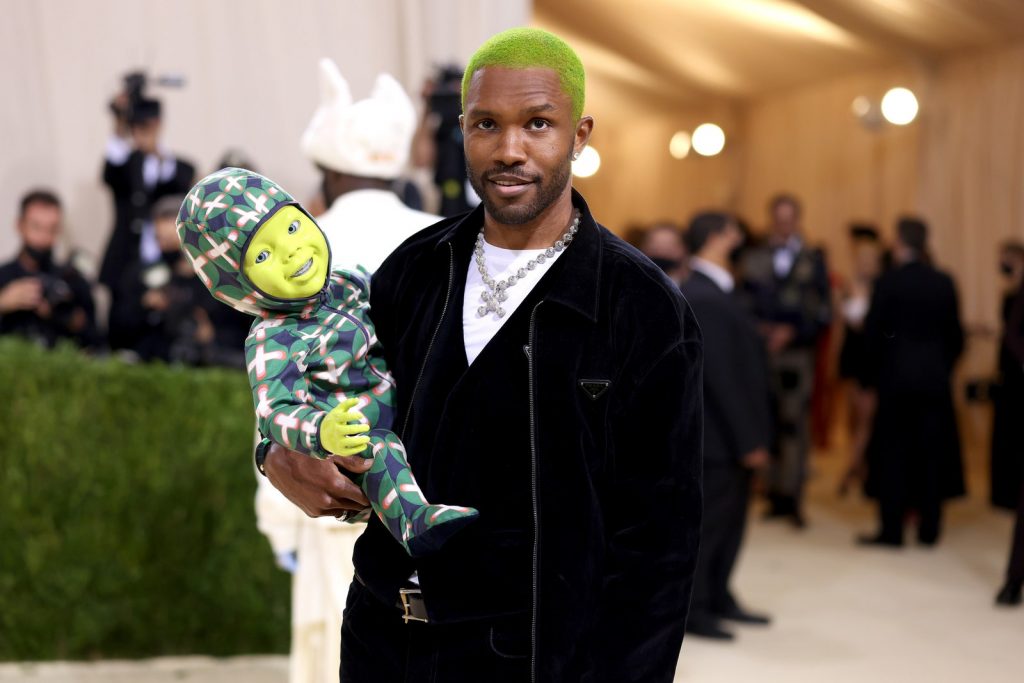 Frank Ocean came with his bedtime partner i.e. a green devilish baby doll. He colored his hair neon green to match the green skin of his doll. The star wore a black Prada jacket and a black Dreamcore cap which he accessorized with a diamond rope neckpiece.
12) Kid Cudi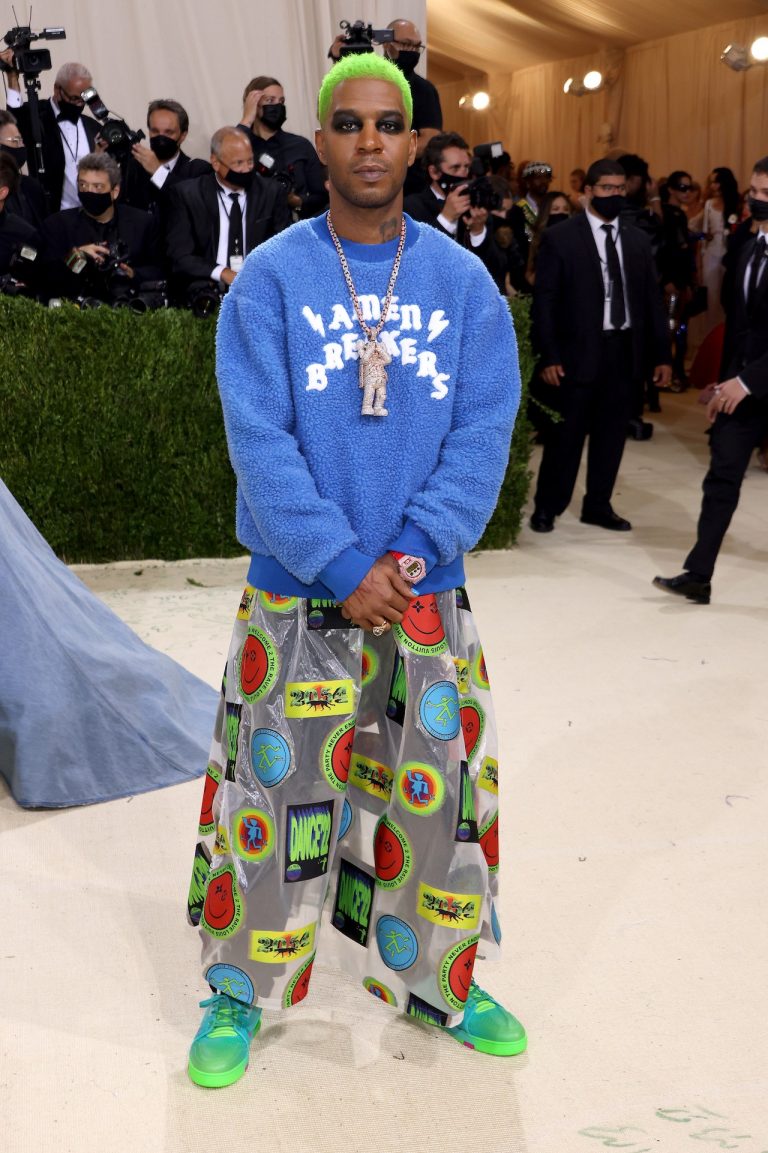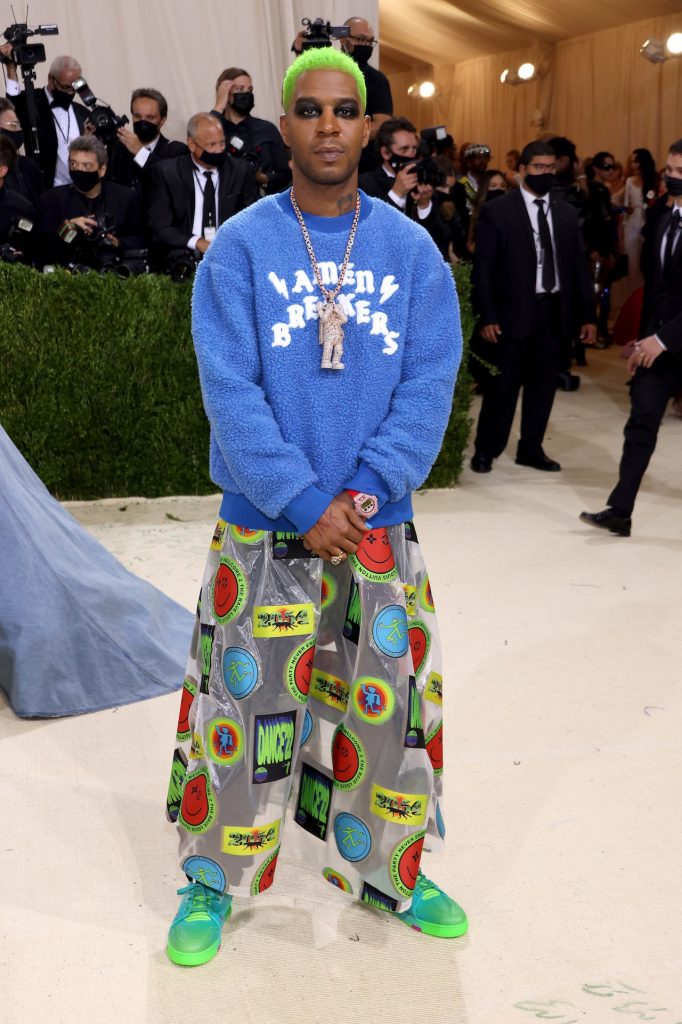 Music artist Kid Cudi delivered a smashing look at the Met Gala 2021 red carpet. Cudi turned up in a head-to-toe Louis Vuitton (LV) look replete with a blue sweater, a floor-length skirt, and a blue and green sneaker. His logo was in a way rooted in the logomania trend as the skirt had giant logos all over it. Cudi also delivered a beauty hit on the red carpet with his lime-green hair and new age smokey eyes (not the dark circles most of us are getting under our eyes from work from home). He further accessorized the look with a bubblegum pink plastic watch and a statement necklace (KAWS X Ben Baller chain) to maximize the overall vibe.
Which one, two, three, or more of these looks did you like? Tell us your favorites in the comments below.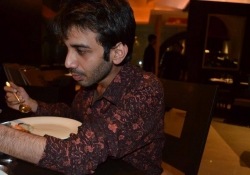 Latest posts by Vinay Agrawal
(see all)