After the verdict against Section 377 being outlawed was broadcast on television screens and across social media, many people were in a jubilant mood. Some came out to their family immediately; others did so gradually, while the rest celebrated inside the closet. I fell in the last category. And I had good reasons for the same.
I did not have the right words to describe the sexual abuse that I faced as a child at the hands of a family member. Nor did I have the right words to comprehend my queerness and my autism. Internet came quite late into my hands and so did mobile phones. But I remember coming across news articles on homosexual men and women as a teenager. To me even then, homosexuality never felt odd.
When Gaylaxy announced production of a new calendar featuring queer persons, I was overjoyed. Armed with Whatsapp updates, it felt good to watch the ideas blossom from the winter of 2018 onwards, brimming with photo shoots and still images of the models, into its final fruition into a calendar in January 2019. I watched the social media news updates announcing dispatch of the first copies of the calendar. And then a thought arose: Did I have the courage to order one?
One must have observed that when a person is about to plunge into a pool, or jump out from a high place (in case of aerial adventure sports such as sky diving and gliding) or even struggling to open a door by force, the person first goes ahead, takes a few steps backward and thereafter takes the next action forward. I had questions assailing me from all sides about the pros and cons of ordering a calendar, and would open the website hosting Gaylaxy webpage, fill in details to order a purchase, only to shut it down a moment later! Finally, I decided that procrastination wasn't helpful and would only increase my guilt later if the production of copies stopped. So I threw all caution to the winds, entered my debit card details and ordered a calendar.
One fine afternoon in February, after 5 days of my order, the post man delivered the calendar. I was lucky to be at home on that day. A sealed cylinder with my name and address was in my hands. For a moment, I felt glorious: it reminded me of the sealed cryptex scene from the movie Da Vinci Code. The next moment, I brought a hammer and iron nails to bore holes over the lid. It took sometime but the calendar finally popped out from the cylindrical package.
To my eyes, it appeared like a colourful butterfly that had emerged from its cocoon, shining on a wall of my room with its myriad hues.
The news of the package reached the ears of my family. Used to flipkart and amazon parcels containing clothes and bags, they were however unprepared for a calendar. I was asked about the price and I answered truthfully. Then all mayhem broke loose. I was mocked for my purchase, and admonished for spending cash on an 'expensive calendar'. Moreover they examined the cylinder package for suspicious items (the return address of the editor in particular was noted) as well as the models for the February and subsequent months carefully scrutinized. I was told that 'you are a mature girl, so stop indulging in boyish habits. Normal girls don't blow up cash on calendars of other girls. If you like something, download for free and save it on your phone instead of spending cash on it frivolously. Better still, return it and buy a dress instead! '
I remained adamant and stoic to all frantic pleas of removing a calendar full of 'creepy women in various dresses'. After all, criticism wasn't new to me – every time I got a haircut, or wore trousers and went out without makeup, I was derided as appearing 'too masculine'. Moreover it was fruitless to point out that not all calendar models in dresses were women (cisgender women to be precise). They fell outside the binaries of sexuality and gender and the calendar was in fact a celebration of diversities under the queer rainbow. And their eyes missed those models who were not in dresses.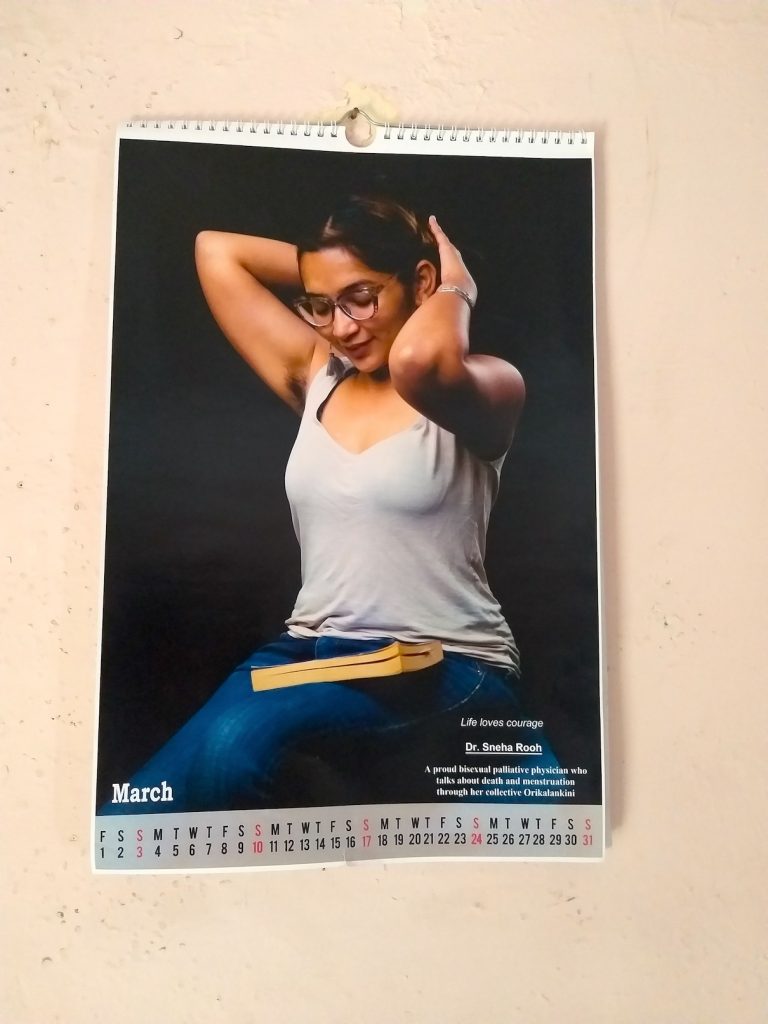 It is easy to download an image and delete it at one's whims and fancies. But tell me, isn't it true that a mass of glossy papers and images held together in a spiral wire of steel, replete with positive quotes, feels far more solid and concrete in one's hands than a pale pixilated version floating in cyberspace?
I had tested the waters before plunging. The calendar is still on my wall, the memory of its exciting arrival now lost in the quagmire of life.