11thDecember (evening): The smell of burnt tyres and columns of black smoke rose in the sky around my neighbourhood. Stray dogs would later guard those half burnt tyres, keeping themselves warm from the embers. News bulletin on television announced that internet would be cut off in Assam, in response to protests over Citizenship Amendment Bill. I use social media to connect with my friends. As a closeted queer cisgender woman living in a small town of Assam and with an orthodox family who do not know about my other life, social media is my lifeline. I braced myself for the next 24 hours without internet and wrote my goodbyes to friends online, letting them know that it would be a while before I saw them again online. Some of them, with whom I chat regularly, were sorry to see me go. But I had no choice……
12thDecember: Newspapers stopped coming to our house. I had bought some e-books on AmazonTMKindle app the previous day in a hurry, and began to read them to curb boredom. By eveningtelevision channels also stopped their transmission.
I feared that an emergency might occur and feared about my periods starting in midst of the mayhem and me being caught without sanitary napkins. So I went out with my dad to the chemist.
Total curfew was in place outside (shops had been burnt and some government buildings torched by mobs during the day). The chemist's shop was the only one open. Even though it was only early evening, the ambience outside was eerily quiet. Not a soul stirred….
I wanted to buy a second packet of sanitary napkins though and therefore began to walk towards the shops at the other end of the neighbourhood. Some young men appeared on motorbikes. Taking advantage of the absence of people in general on the roads, street lights illuminating only certain areas of neighbourhood and the absence of police (who were concentrated only in main town center), these rowdies were laughing loudly and appeared cruising around for entertainment. My father, fearing for my safety as well as his own, angrily rebuked me for dragging him along. He quickly entered a side street and I followed suit, not daring to look back to check whether the men were stalking us. In 2 minutes we entered home and locked our gates. I didn't share my ordeal with other family members. Sometimes it's better to stay silent rather than be blamed for being too naïve and not realizing that it takes a minute to turn a safe space into an unsafe one.
13thDecember: I went to a shop to buy my sanitary napkins and also purchase a packet of biscuits and detergent powder. I was the only woman at the shop, rest were men who were now stuck with boredom and shortage of food. Curfew meant being without work (unless one was a government employee and had to go to and fro work under unsafe conditions or else risk salaries being cut). Absence of internet meant banks were shut and ATM machines didn't work. Many people had no cash with them. The shop I was in, accepted debit/credit cards. Therefore some people bought a lot of items using their cards, while I paid with cash only. Owing to curfew the shopkeeper permitted only trusted customers and kept his shop half closed.
The internet was supposed to come back on 12th, but citing security, the government extended the internet ban for the next 48 hours. At first only mobile internet was gone, then broadband internet vanished as well. (Due to a past affair, My parents have denied me broadband access at home, and I had to stealthily use it and communicate to my friends that I was ok and let them know about the ground realities here. ).
14thDecember: Newspapers arrived and so did the television transmission signals. For the last 2 nights we had heard groups of women marching around our neighbourhood and urging people to come out and protest in solidarity against the Citizenship Amendment Bill. But (recalling my chilling encounter at night) I had refused to go out.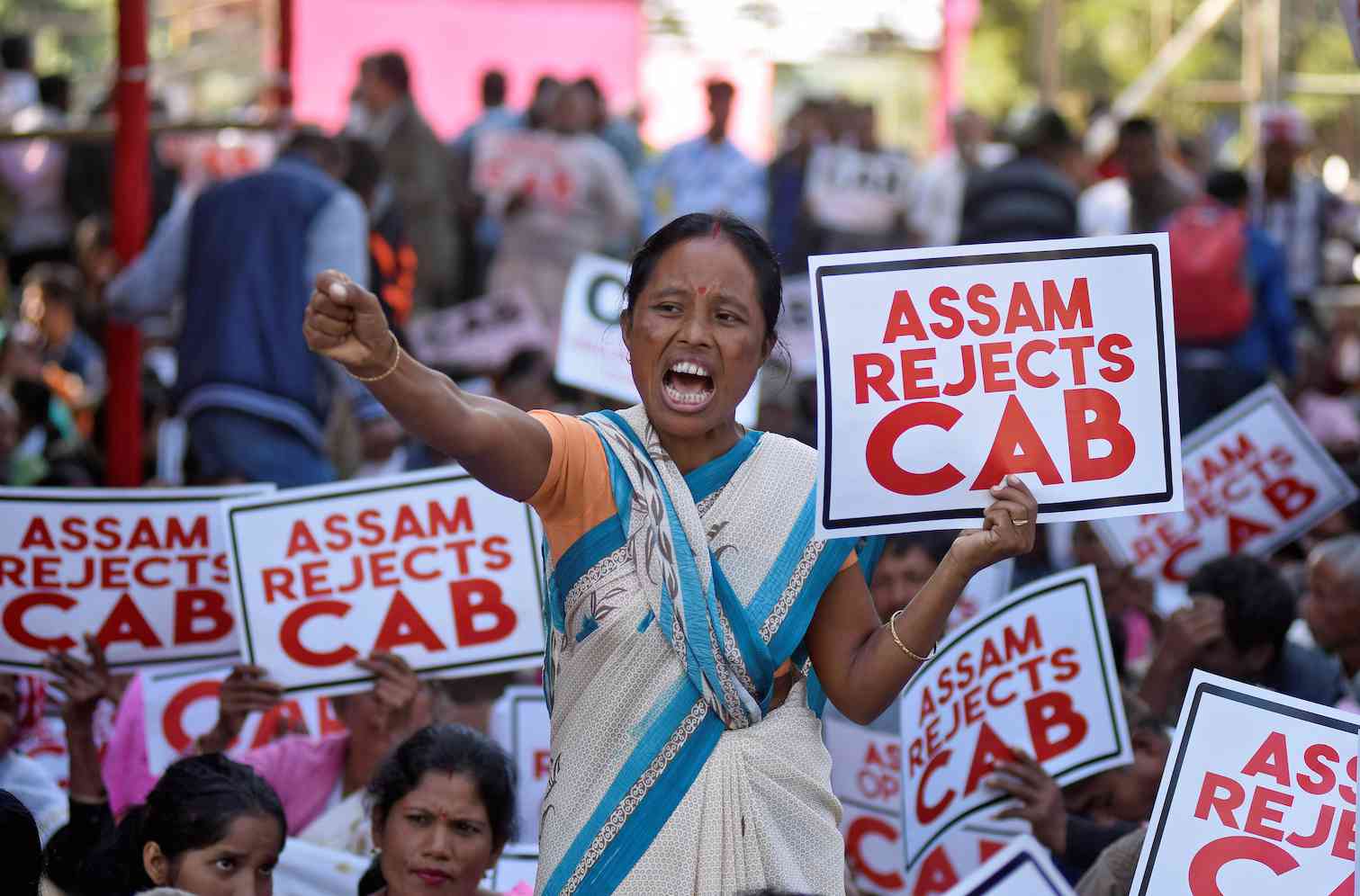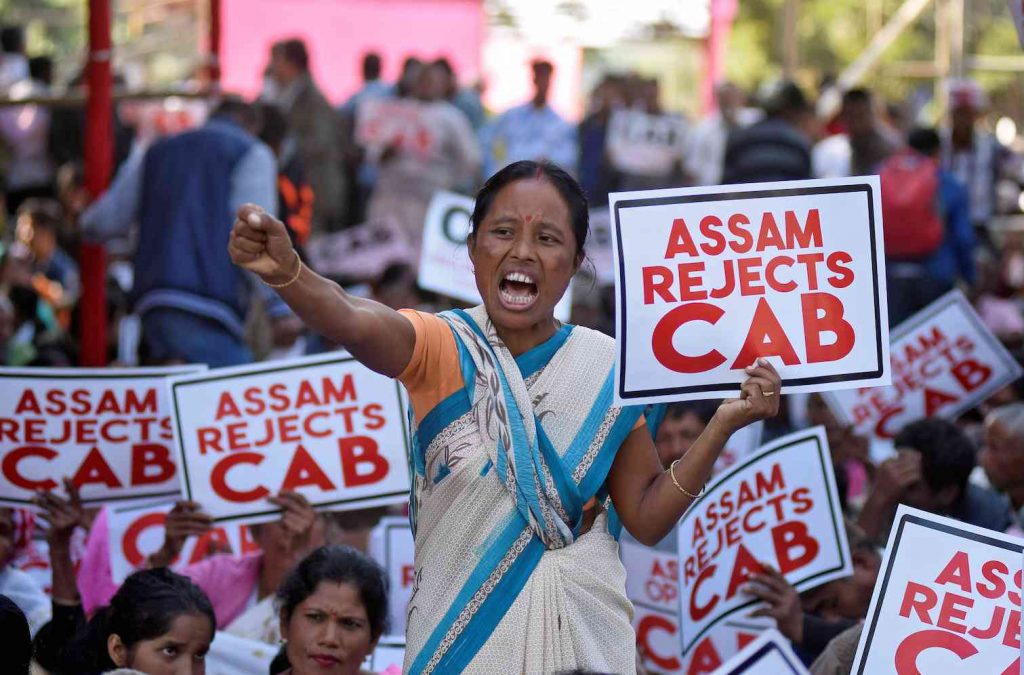 But today we saw a massive rally. Lots of women were marching in it too, holding placards and shouting slogans. My parents joined in it. I later went out to hear the speeches made by the leaders in the rally. Somebody was talking about the Assam Accord and how The Indian Army had raped women at that time while hunting infiltrators; therefore ignoring the Citizenship Amendment Bill was akin to letting the sacrifices of our mothers and sisters go in vain. At the end of all speeches of speakers, who were thanking people from all communities and classes for taking part in the rally, the crowd clapped and raised fists, pledging allegiance to the motherland. After the state anthem 'O mur apanar dexh' had been sung, people dispersed and made way for their homes…..
16thDecember: Internet was supposed to be released today but the government extended the ban for another 24 hours. By now I had finished reading all my e-books. We felt backstabbed by the government (the newspapers and television were banned primarily to stop people from learning about the Citizenship Amendment Bill being passed in both the Houses of Parliament and receiving President's Assent and thereby minimize protests).
18thDecember: Internet ban had been extended for another 48 hours. There was a massive rally today on streets. Owing to health concerns I didn't participate in this one.
Towards the evening my mood worsened. While it was heartening to see people protesting against the Citizenship Amendment Act on television and newspapers, it sucked being voiceless. I missed my friends online, participating on lgbtiq forums, listening to streaming music online, listening to self help advice online and bereft of events happening around the world.
On one hand, certain state ministers were now verbally attacking their opponents, citing their tweets and facebook posts as 'conspiracies to harm people and property' and using them as grounds for denying internet to general public. Rumours of 'mysterious third powers', 'Pakistani agenda', 'maoist agenda' were being spouted over the protests by centre and state ministers and legislators. On the other hand being cut off from internet meant that those in power could speak over our heads and thereby snatch our voices.
Personally I felt as though I was living in a strange limbo that could well be ISIS-controlled Syria and Iraq, Taliban influenced Afghanistan, World War II affected Europe, a dystopian Japanese island or a puritan Gilead ruled (thanks to the ebooks I bought and finished reading during the internet ban). We were not under war (compared to the situations mentioned in these famous e-books) – yet cancellation of flights and trains to and from state as well as curfew on roads meant that food was scarce and one had to ration food under a strict budget. I felt hopeless about life.
19thDecember: People whose lives depended on internet – taxi drivers under Ola and Uber threatened to commit mass suicide in front of journalists. Students sitting for examinations online, people with bank accounts and banks themselves, patients in hospitals were suffering without internet. People were protesting and raising slogans in massive rallies in my town, in other towns and villages as well as our state capital city – yet it appeared that certain ministers were hell bent upon keeping us all away from the 'dangers of internet'.
Our only recourse lay in the judiciary now. The state government had been directed by the Gauhati High Court to release the internet for general public earlier, but the state government had stalled, citing security concerns. However, this time the High Court was firm in its order, directing the State to comply with release of internet by 5pm in the evening.
20thDecember:I had read in newspaper that the state government would restore the internet on 20that 9 am. It was vital for me to be able to use mobile internet, as I had been caught using broadband internet secretly. I was fighting with two demons – the government had announced via television that anybody found posting misleading information about the CAA would be dealt severely and most people were pleading for release of internet along with suspension of social media sites (causing me to abandon Facebook, Twitter and Whatsapp). On the home front I could no longer use broadband internet to access internet as it did not belong to me and I had been denied the password.
At 9 am news bulletin on Television screens announced release of internet throughout state. I looked at my phone but it was the same.
At 10 am… internet was slowly trickling. My phone was bursting with Telegram and Whatsapp messages from earlier days.
At 11 am… internet was in full force now. The long wait was finally over.
Later I saw that internet had been banned in parts of Delhi, and this alone led to 'internet shutdown' being the topmost hashtag on twitter (over 6500 tweets). It's ironical that while internet gets banned in north east or elsewhere, there are no hashtags to highlight our sufferings. But internet ban in Delhi immediately draws the attention of entire world in a matter of minutes alone?
It goes without saying that I was lucky enough to have an unlimited phone talktime and data combo pack, or else I wouldn't be able to recharge my phone without internet in these extreme circumstances. But not everyone can afford to pay and enjoy unlimited talktime. The telephone companies are unlikely to compensate us for the loss of 9 day data time during the internet ban. Moreover not everybody can walk out of their homes to join protest rallies even if their spirit is willing.
While the government had not cut off phone calls and sms services, without internet it felt like being back in early 90's. As a closeted queer woman on the autistic spectrum, I suffered in silence on being cut off from social media, apart from being unable to access my bank accounts and needless to say I had lost all hopes (recalling how bad it still is in Kashmir). Those 9 days were really dark times indeed…..