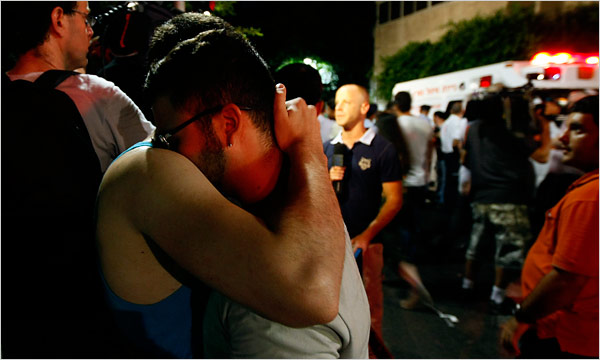 How 2009 affected everyone
2009 has been an eventful year not only for Indian LGBTs, but also for queer people all around the world. Attacks, hate- crimes, civil partnership bills, change in US policy- the LGBT movement all around the world gained momentum. Here's a look at some major events in various parts of the world, reminding us that a lot needs to be done when it comes to LGBT rights.
The year did not begin on a high note for Nigeria's queer population. In January, the House of Representatives approved a bill to punish people of the same sex who live together "as husband and wife or for other purposes of same sexual relationship" with up to three years of imprisonment; and those who abet, aid or witness such a relation with up to five years of imprisonment.
February had some cheering news though. Jóhanna Sigurðardóttir became the Prime Minister of Iceland and the world received its first openly gay head of government. She had been Iceland's Minster of Minister of Social Affairs and Social Security from 1987–1994 and 2007–2009. February was also the month of Oscars. While the awards were swept by Slumdog Millionaire, Milk did make its presence felt with Sean Penn winning the Oscar for Best Actor in Leading Role and Dustin Lance Black bagging it for Original Screenplay.
Another milestone was achieved in June when Ireland finally granted civil partnership for same- sex couples, with many of the rights of civil marriage. The month also had some bad news in store. Lithuania passed a legislation banning any positive information or "propaganda" about gays, arguing that homosexuality has "detrimental effects" on minors.
Outgames 2009- the gay sports meet in Copenhagen- which were held in July were marred with violence. Bombs were dropped on the tracks, injuring some participants. However, the event went on uninterrupted.
The world was shocked yet again in August on learning about the attack on a gay support centre in the Israeli city of Tel Aviv. While two were killed, 10 others were wounded in the attack.
In September, Cinema Diverse- a Gay and Lesbian Film Festival in Palms Spring- entered its second year. The festival saw the screening of 13 feature- length films and a number of small films from across the world.
October had its share of ups and downs too. The death of Boyzone's Stephen Gately while on a holiday trip with his partner numbed his fans and the world alike. On the other hand, US President Barack Obama was hailed for signing the Hate Crime bill into law, making it a federal crime to assault a person based on his/her sexual orientation/identity. Obama also announced his plans to end the ban on gay people serving openly in the military. USA had a "don't ask, don't tell" policy, whereby a gay person can serve in the army until he remains closeted and is not open about his sexuality. The Anti- Homosexuality bill was introduced in Uganda's Parliament.
International condemnation of Uganda's Anti- Homosexuality Bill grew stronger in November, with US and European Union both openly criticising the discriminatory law and threatening imposition of economic sanctions and withdrawal of aid. The draconian bill that was introduced in October proposes stringent action against homosexuals and those abetting such acts. Under this inhuman law, a person engaging in homosexual act would face life imprisonment, death penalty in case of a repeated offense. A person who fails to report homosexuals to the police would also be sentenced to 3 years in prison.
The year ended with unusual bustle in our neighbouring country. In an unprecedented move, Chinese government opened a gay bar to spread the message of safe homosexual sex. On the other hand, New York lawmakers rejected a bill granting homosexuals the right to marry. LGBT organizations in UK criticised the Equality Bill for failing to protect the community in various sectors. The bill fails to protect LGBT people from harassment by school authorities, by the owners and managers of properties and by the providers of services.