"…so long as there are tears and suffering, so long our work will not be over. And so we have to labour and to work, and work hard, to give reality to our dreams" – Jawaharlal Nehru
"Gay rights aren't predicated on being born gay or having the right gene. Gay rights are predicated on having choice and consent" – Chester Brown
As the country awaits the ruling of the Supreme Court's five-judge Constitution bench, headed by Chief Justice of India DY Chandrachud (Falor, 2023), on marriage equality, there is no doubt that this would be a great victory for the approximately 135 million queer Indians in the country (Pandey, 2023). However, even if the government extends marriage rights to same-sex couples, which would make it the 35th country to do so (HRC Foundation), it may only have a very limited impact on the actual day-to-day lives of the queer community. Whilst this paper agrees with the logic of the arguments that have been presented in court by the petitioners, we wish to critically analyse the actual viability of marriage equality for the majority of queer Indians and some of the glaring deficiencies in previous judgments pertaining to the queer community. In doing so, we hope to advocate for the further opportunities to advance queer rights in India regardless of the current judgement on marriage equality.
The Impact of Marriage Equality
First, we will begin by acknowledging the arguments presented for the importance of marriage equality. The petitioners have argued that the "only stumbling block on our equal rights was 377" (Falor, 2023). This refers to the colonial-era law, Section 377 of the Indian Penal Code which was overturned by a five-judge bench of the Supreme Court in 2018, thereby decriminalising homosexuality. Chief Justice Deepak Misra, in his verdict, wrote about the importance of liberating individuals from the shackles of "social exclusion, identity seclusion, and isolation from the social mainstream" to call ourselves a "truly free society" (Misra, 2016). The extension of marriage equality to same-sex couples is simply another facet of this.
Recognising a same-sex couple's right to marry further integrates individuals into the social mainstream, and affords dignity, through legal recognition, of an individual's identity. Not recognising this right, while asserting that we are a free society under which all individuals are equal, would be a double standard that violates fundamental rights under acts 14, 15, 19, and 21 of the Indian constitution. Marriage not only affords respectability but also enables more equal access to day-to-day rights like banking and insurance, and will help overhaul outdated policies regarding divorce, alimony, inheritance, and parenthood (Kumar, 2023), to accommodate same-sex couples. This would follow the precedent of changes to the Indian concept of marriage over the last 100 years–from child marriages to the number of times one can marry. Marriage equality, which recognises homosexual relationships as equal to heterosexual ones, would also be in line with scientific consensus. The Indian Psychiatric Society (IPS), also referred to during the striking down of Section 377, has made a statement in support of the legitimacy of homosexuality.
Anti-Discrimination: A Global Perspective
Julie Dorf, senior advisor to the Council for Global Equality, a Washington-based group that promotes LGBTQ+ rights in U.S., points out that not all countries with marriage equality "allow same-sex couples to jointly adopt and cautions against equating the right to marry with freedom from discrimination" (Council of Foreign Relations, 2022). Currently, there are no specific laws in India that prevent discrimination in employment based on sexual orientation or gender. Even when it is mentioned that discrimination is prohibited, for example, in the Transgender Persons (Protection of Rights) Act, 2019, the law does not provide effective remedies for violations of equality and freedom. Research by ILGA World shows that in 2020 over eighty countries and territories have provided such protections against employment discrimination (ILGA World, 2020).
It is, evidently, clear that the passing of marriage equality is not the end goal of the struggle for queer rights in any country. To take the example of a famous case, despite the passing of marriage equality by the Supreme Court in the U.S. in 2015, the same court still ruled in favour of a baker who refused to make a wedding cake for a same-sex couple because of his religious beliefs (Liptak, 2018). Perhaps more pertinently, even in countries where marriage equality has been passed, there exists the prevalence of violence against queer folk. A 2017 report in the U.K. found that one in five LGBTQ+ people experienced a hate crime in the preceding 12 months. Furthermore, four in five hate crimes went unreported (Bachmann and Becca, 2018). Even in the U.S., ranked 23rd in the world in LGBTQ+ acceptance (according to the Global Acceptance Index by the Williams Institute), queer people still faced heavy discrimination in labour markets (Sears, 2017), schools (Thoreson, 2016), and healthcare (St. Catherine University, 2021).
Viability of Marriage Equality in India
Whilst the passing of marriage equality will surely be a victory for those queer people in India who want to, and can, get married, these may be a very small minority. This is not to take away from the acceptance that passing marriage equality would foster for those who cannot, for societal reasons, get married. Rather, this is to shine a light on the millions of Indians living dual lives, hiding their identity, and deprived of rights and protections which could secure a safe, open expression of their identity.
For instance, a study by authors from IIM-Ahmedabad (IIM-A) and MDI, Gurgaon found that despite the scrapping of Section 377, most queer people still chose to hide their sexual identity from their bosses for fear of repercussions (Noronha, 2022). Their fears are well-founded. Even amongst the youth, generally recognised as the more progressive age-group, a 2016 study (of young people between the ages of 15 and 34) in 19 states conducted by CSDS and the Konrad Adenauer Stiftung found that "just 24% of young people approved or somewhat approved of same-sex relationships, roughly the same levels as their approval or disapproval of live-in relationships" (S. Rukmini, 2018).
Coming out is a contentious topic, liberating for some, condemning for others, and a little bit of both for most. For many of the queer youth in India, this is a far bigger hurdle than marriage. One of the major factors of the stigmatisation of the queer community in India is parental approval (Patel, 2016). Many of those who can't confide in their families about their identity, though not all, are dealing with a conflict very far from marrying the person they love. In rural areas, Vyjayanti Vasanta Mogli, a transwoman LGBT activist and public policy scholar at Tata Institute of Social Sciences, Hyderabad, says that lesbian women and transmen in end up at the bottom of the hierarchy when it comes to basic human rights within the unit of family and village (Patel, 2016).
One can, of course, make the argument that legalizing same-sex marriage would change these societal perceptions, biases, and discriminations that make the lives of queer people tougher. However, laws seem to only play catch-up with societal perception, and not actually effect changes in it. For example, according to the World Values Survey the share of Indian respondents who believed that "homosexuality is never justifiable" fell from 89% to 24%, with the fastest decline of these views being in the 90s. However, the first judgement decriminalizing gay sex (the Naz Foundation judgement by the Delhi high court) only came in 2009 (S Rukmini, 2018).
Moving Forward
Anish Gawande, the curator of Pink List India, 2022, said, in the context of the ban on conversion therapy: "…we need… to go beyond just punishing practitioners. We need shelter homes for those escaping abusive family dynamics, stricter legislation preventing parents from wrongfully detaining queer children, and greater sensitisation of authorities to ensure that queer people facing the threat of conversion therapy are protected and looked after." (Tiwari, 2022)
These are merely some of the many measures which need to be taken to further the cause of queer rights in India. Laws need to be made for the millions of queer people, across classes, castes, and geographies, who are living in fear. When it comes to the rights of transgender people, specifically, there has been extensive criticism of the Transgender Persons (Protection of Rights) Act, 2019, ranging from its lack of consulting the trans community to its violation of the right to self-determination and flawed definition of transgender (Mudraboyina, 2019).
This particular act, as with queer rights in the country, have a history of instability. In fact, it was considered a victory for queer rights when the 2018 version of the aforementioned bill lapsed, only for it to be enacted the very next year. Similarly, the first judgment decriminalizing gay sex was overturned by the division bench of Justice GS Singhvi and Justice SJ Mukhopadhaya in the Supreme Court in 2013. In the current Supreme Court case, one of the main arguments by the government is that it is the legislature, not a five-judge bench, which should have the right to make decisions of this kind. While the Supreme Court passing marriage equality would certainly hold considerable weight, we must also consider that for marriage equality to truly be passed, we need an overhaul of attitudes and ideas, supported by enough legislative and policy procedures which empower queer Indians to a safe, secure, and free life. True freedom can only be achieved through the combined force of the people's will and the systems which support it. Queerness, which has historically circumvented heterosexual narratives, need not be defined by them.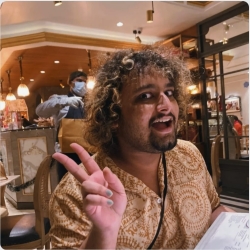 Latest posts by Kanishk Devgan
(see all)