Mujeer Pasha sits down for a chat with our Mr. Gay World India 2017 – Samarpan Maiti – who is also the Man of the Month on Men of India, .
'Samarpan' translates as completely surrendering oneself. You seem to be justifying your name with your research and activism. At this point, do you feel accomplished?
I think of accomplishment as reaching a saturation point. And when you get there, you can't create, you can't do much. And I am driven by creativity. So, no, I don't feel accomplished today. But I can say I have crossed a few barriers in life. And there are miles to go, so much more to do.
You are a scientist, an activist, an educator and so much more. When you were younger, what did you want to become?
I can't believe it myself, but it is happening. Everything I always wanted to do, is happening today. As a kid, I would collect paper cuttings of Nobel prize winners and tell my father he would see my name there one day. While I was a teenager, I got fascinated by modeling and discovered Fashion TV. Those days, it used to be a big thing. I wasn't allowed to watch it, for obvious reasons (laughs). But I was quite a rebel even then. I would stay up in the night and study until everybody fell asleep. Then I would quietly sit down and watch Fashion TV. Once, I had my board exam the next day and my father caught me watching fashion TV. Now when I recall, it seems so funny. Remember when Sushmita Sen won the Ms. Universe title? I must have been 5-years old then. I totally loved her, I admired her. And I remember telling my mother if I was a girl, I could also be another Sushmita Sen. But today, I am a person of my own, doing my little bit to add value to people's life.
In your writings, you stand against bullying, discrimination and conforming to gender roles. Did you ever get bullied?
I have not met anybody in India who belongs to LGBTQI community and never got bullied. When I was a kid, my neighbors, Even my school teachers bullied me for being effeminate. During college days, I had to deal with my hostel mates. At one point, I was driven out of the hostel because they suspected I was gay. I wasn't out then. Once the college was over, I thought I was done with my share of bullying. But it continued even during my research fellowship. I was ridiculed for hailing from a rural area, for my English dialect, fashion sense and for just being myself. Through these years I have learnt to face it and take it head-on. What matters is your own belief in yourself. You must stand up for yourself. And I did just that.
An Indian scientist wants to be Mr. Gay World. That's quite a headline! How did people react to it?
Did I tell you I enjoy breaking stereotypes! (laughs) It is fun because we are conditioned to fit people into boxes. A scientist is supposed to look a certain way; a writer is supposed to look a certain way! I can never be in a box of any kind. Science and modeling are at two different ends and both require utmost dedication. When my colleagues heard about it they were shocked. According to them a person who is serious about science cannot focus on other passions. But I never compromised with my work. I have four publications in a reputed international journal. Another article got published recently, that is after I won the title. Things have changed now. Everyone around me not only respects me but also shares my achievements on their FB profiles with pride and affection. At first, my village folks didn't take it well. For them, being a scientist is a matter of respect but being a Gay icon can only bring shame. But now they all have accepted me and celebrate me. That makes me happy.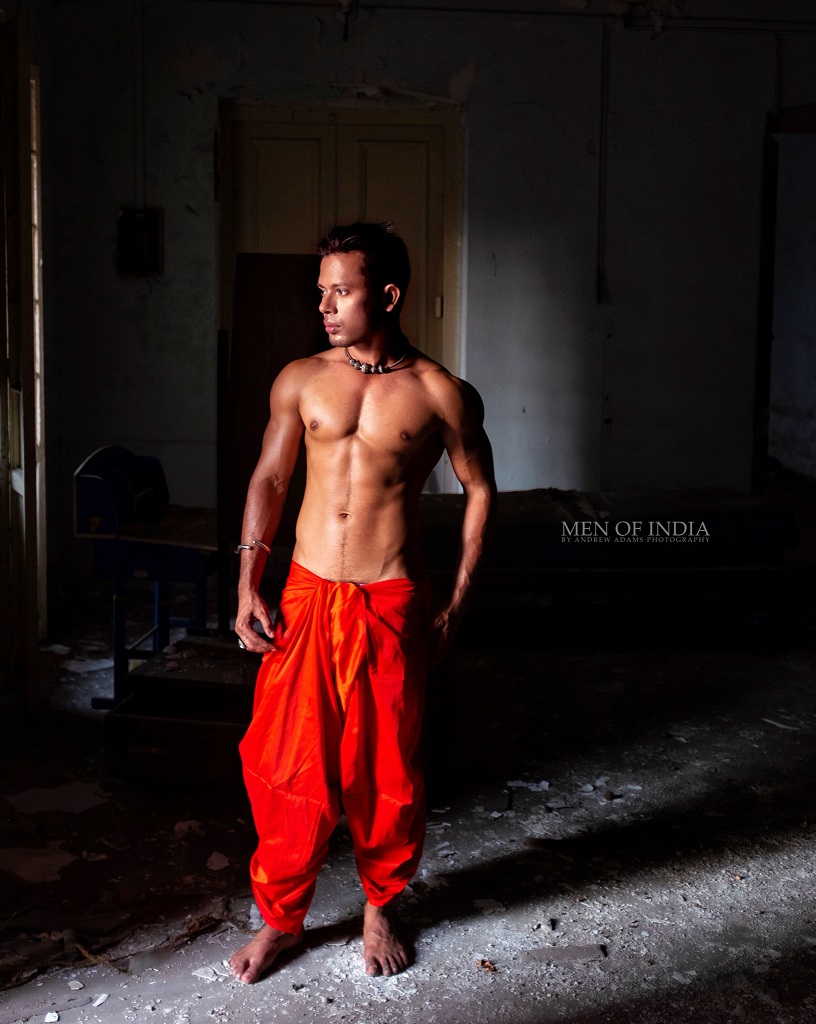 Standing up, voicing out and constantly fighting for rights can take a toll on personal health. How do you take care of yourself?
I do my workout regularly and follow a healthy diet. You know street food in Kolkata is so tempting but I am very dedicated to my diet plan. I believe being mentally fit is equally important. I beat the stress by sitting down with my harmonium and singing my favorite songs. I also visit my family and spend time with them. Sometimes, I take a walk through slum areas and railway stations where you can find hundreds of people struggling for a night meal or a little space to sleep, yet they smile and celebrate the essence of life. That makes me forget my worries and sets me right.
Last question. What's your comfortable clothing?
You want to hear the truth? (laughs) When I am going out, I slip into jeans and a t-shirt. When I am home, I like my body to breathe free and not through a garment. No boxers, nothing. I like to be naked. It gives me a great sense of spending time with myself, not even a thread disturbing me. It is like a relief from all my struggles of life.
I want to add this- I am thankful to Mr.Sushant Divgikar, Director of Gay World India, Sanket Sveronic, and Darshil Sh.
Do vote for me and give me a chance and strength to make you proud. Here is the voting link
Republished here with permission from Men of India website.
All pictures are copyright of Andrew Adams and cannot be reproduced/reposted without permission
Andrew Adams is a Canadian photographer and creative director of Men of India Magazine. With a passion for travel and South Asian culture, he spends much of his time roaming around India in search of his next muse

Latest posts by Mujeer Pasha
(see all)