The Dravidar Kazhagam (DK) has released its Dravidian Manifesto in the State conference that was conducted in Thanjavur on 23rd February 2019. A special meeting was held on 5th March 2019 to elaborate on the manifesto. DK president professor K Veeramani had invited people to reach out if they find anything objectionable or if the manifesto required amendments.
The rationalist movement was founded by Thanthai Periyar in 1944. The roots of Dravidar Kazhagam lie in the Self-Respect Movement founded in 1925 and the Justice Party founded in 1916. The two entities merged in 1938 under Periyar's leadership and the name was changed to Dravidar Kazhagam in 1944. The two major dravidian political parties, Dravida Munnetra Kazhagam (DMK) and Anna Dravida Munnetra Kazhagam (ADMK), in Tamil Nadu have their roots in Dravidar Kazhagam.
"Dravidian politics influences the politics in the state. The Dravidian political parties in Tamil Nadu are an offshoot from the Dravidian Politics. Now it would be interesting to note how the political parties would respond. In a way they are now in a place to take a stand on LGBTQIA rights," observed writer and poet Gireesh.
The 33-point manifesto calls for the inclusion of "homosexual persons and trans women" and to extend civil rights to the community. Although the manifesto mentions only "homosexual persons and trans women", queer individuals believe that it is due to the lack of awareness about the queer community. This is a huge leap for the queer community in Tamil Nadu and also sets an example for other progressive movements in India.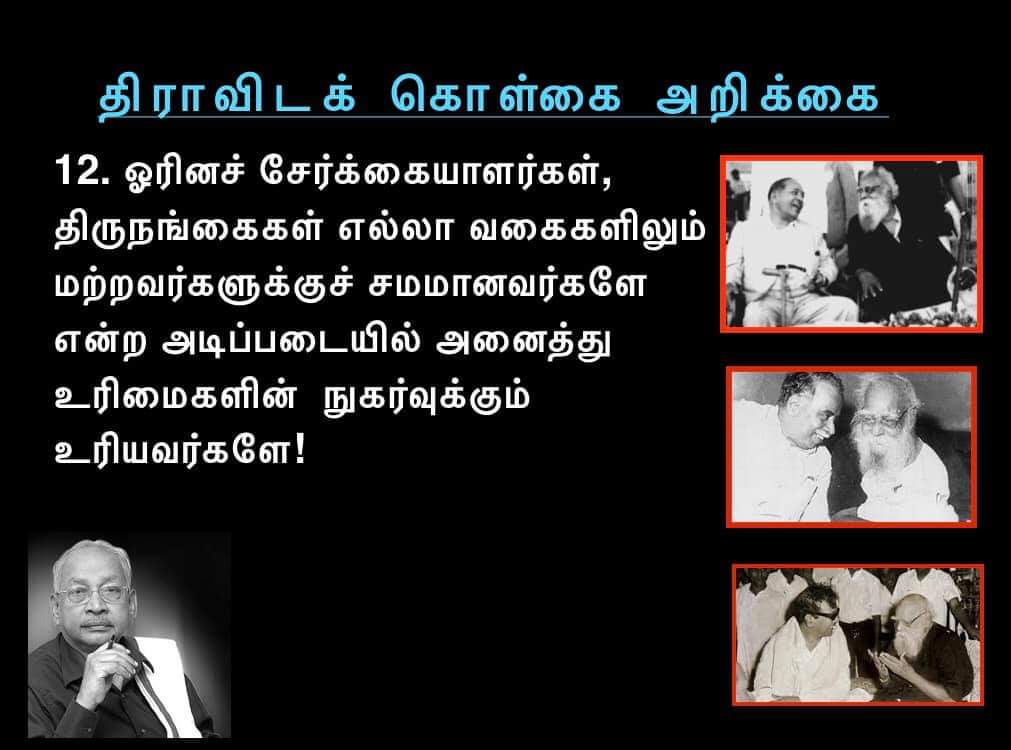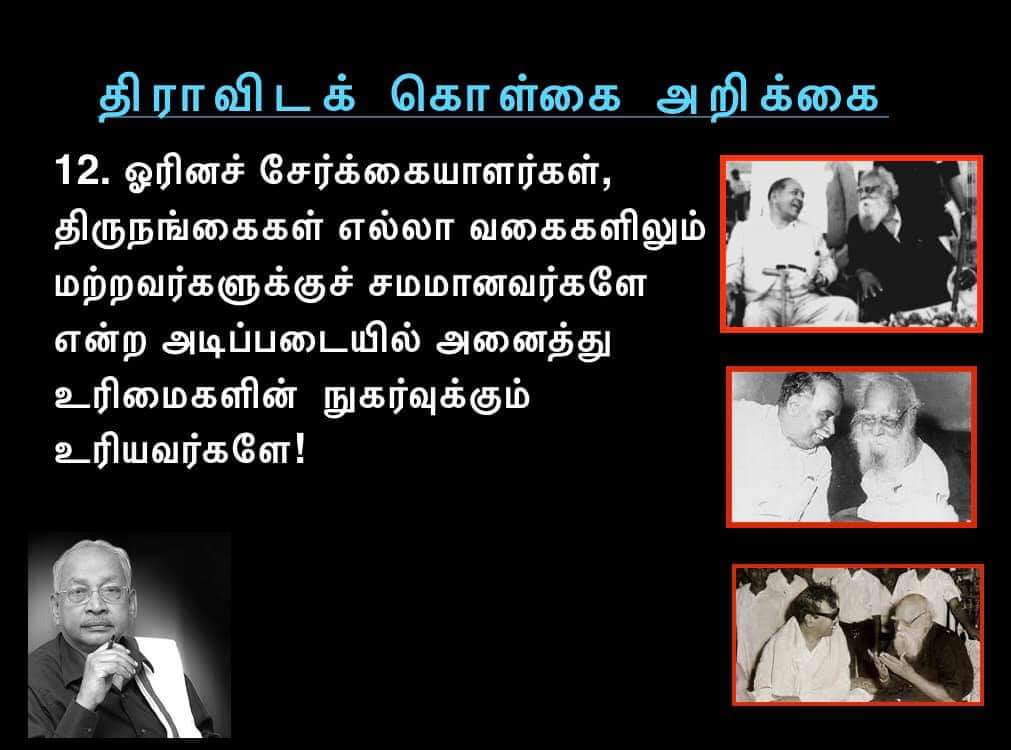 Many feel the current language regarding queer identities in the manifesto falls short of being inclusive to the entire spectrum of the community. The community has welcomed the move while some of them are skeptical and are watching DK keen on their next moves. Writers Gireesh and LJ Violet have written to the DK headquarters with their suggestions for the manifesto to be more inclusive of the queer community in terms of the language that has been used in it.
"I hope language is not betraying intention with this manifesto. But it also shows a lack of diversity in decision-making levels of the organisation. As a non-electoral social movement believing in Social Justice, DK owes it to people who come from the intersection of multiple identities of Caste, Sexuality and Gender, to widen their perspective beyond the realm of gender binaries and heterosexuality," said LJ Violet.
Here's how some queer persons from Tamil Nadu reacted to this development:
Amoka, Social activist
Dravidar Kazhagam is a progressive movement and has always voiced for the empowerment of the oppressed and marginalised communities. Similarly, trans women are marginalised and the movement has been voicing for the community's upliftment. I am glad to see the Dravidian Manifesto include homosexual persons and trans women in the manifesto.
Dravidar Kazhagam have used the terms homosexuals and trans women, my request for DK is to use more inclusive terms that encompasses everyone in the LGBT community. The reason why I have this request is because we are a diverse community and our needs as a marginalised community is different from each other. For example, a trans women would want trans friendly medical policies as a requirement. Similarly, cis gender lesbian women or gay men might want same-gender marriages to be recognised. So, it would be great if you also understand that our requirements are different. I am happy to see that DK have included us in the manifesto. Likewise, I hope DK will speak for our rights and diverse policies that is required for the community. And I believe Dravidar Kazhagam will stand by us in this.
Arun, IT Professional
I felt happy to see a movement with clout and media spotlight talk about LGBT rights for the first time in Tamil Nadu. The next steps should be for Dravidar Kazhagam to try and influence their cadre to get rid of their casual homophobia/transphobia and fight for respectable representation of LGBT in public spheres (especially media).
Krishna, Periyarist-Ambedkaraite
I felt happy and relieved as a queer person who aligns with the Dravidian ideology. I knew it would happen some day because the movement came about to fight for equality and historically, the organisation has stood for rights of people. Periyar has talked about masculinity and gender roles when it was not at all popular. On that front, it was a bit disappointing to wait for so long. But happy that it finds space in the Dravidian vision of sorts. I think the next steps would be give us the space to talk about our issues in DK's platforms. While people from DK and allied organisations/parties like DMK have spoken in support of the equal rights for queer people (Kanimozhi for instance), we also have folks like Mathimaran, Duraimurugan who have expressed views that are homophobic. So I think the leaders and people of the movement have a lot to learn about our lives and issues. I hope they create spaces for that as a first step.
Krithiha, Media person
At first glance the manifesto seems to be inclusive of queer rights. But except for saying that we need to be inclusive of all genders, it isn't reflected anywhere else in the manifesto. It just keeps talking about the equality of men and women in general without caring to talk about how there are more than two genders. The language used is pretty insensitive.
Point 12 talks about homosexuals, trans women and physically challenged people in one category as if they are all the same. I don't know if I should question why only two categories from the queer spectrum are mentioned or why it sounds as if physically challenged people do fall under the same spectrum. Point 25 talks about how a man or a woman have all rights to get married to someone from the opposite gender, but it doesn't address or even acknowledge same-gender marriages in that specific context.
It talks about the reproductive rights but not about abortion rights in particular. I believe If the manifesto can mention environmental issues as a separate pointer, surely mental health issues could have been given a little importance as well.
Nan, Artist
Everytime I read a regional news about support for the LGBTQ , it makes me happy. But it is not without a pinch of cynicism and doubt about the true nature for this support. And this especially when it comes from political parties. The public support shown by Dravidar Kazhagam is amazing. At the same time, when any party makes such claims (of support), one cannot be blamed if they doubt it to be a stunt to get more followers or just them riding the 'whats-trending-now' train. Nonetheless, it's rare to find any political authority to show such open support for the queer community, and so I hope it is for the good hearted reason of equal rights for all.
Nithi, Student
It is good to see Tamil Nadu's oldest social movement talk about LGBTQ rights. And senior leaders taking a stand publicly will create more awareness and visibility for the community. I hope this inclusion of LGBTQ people in the manifesto would create positive impact.
Sheiji Tadokoro, Artist
My existence is oppressed and political, I would always look up for the leaders who have proposed and set a ground for fight out the oppressive structure. In that way Periyar and Babasaheb have been soul kindlers for politics within me. But in recent past it has been bitter because the politics I see myself with has members who often spew homophobic and transphobic statements very conveniently. Even, young politicians like Jignesh Mevani aren't comfortable talking about LGBTQ+ rights and young political orators like Madhimaran, has been homophobic in his writings. So I was looking forward to someone or a party that would take a stand on LGBTQ+ rights. Dravidam 2.0 which was started with much fanfare by a bunch of Periyarist men was again an eyewash, were I felt the LGBTQ+ rights were just spoken for the sake of it. But when DK came up with this few little sentences in their manifesto, I felt walking with Periyar was the right decision anytime. I thank and appreciate Dravidar Kazhagam's stand, and I hope they walk the walk.
Sujitha, Business Analyst
I'm happy that the LGBT+ community is even being acknowledged in this manner in the first place. Despite all the conversations about section 377, this is the first serious commitment that is shown by a political space. I hope that this becomes a priority for all other political parties soon. I hope DK continues to focus on this LGBT+ rights and focuses on creating an environment that makes it safer for the community.
Update:
In the time lapsed since this article was written; on 9th March 2019 Dravidar Kazhagam issued a notice regarding the terms and language used in point 12 and 25 of the manifesto.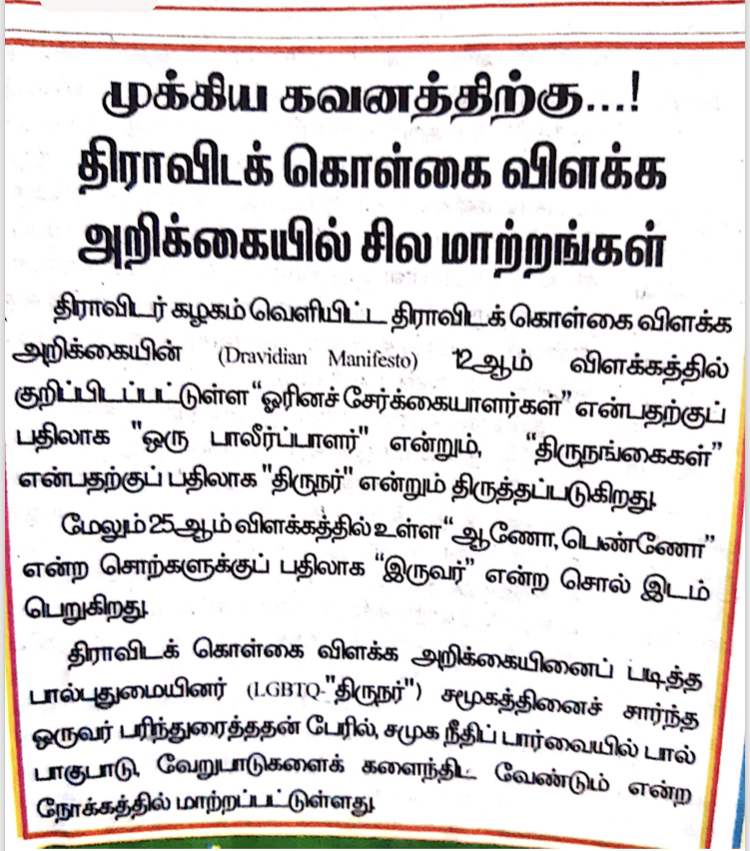 In point 12 the term 'Orinnacherkkaiyalarkal' has been updated to "Oru'paal'liirparkal" (homosexuals to "persons with same gender desire") in Tamil. And now the term "thirunar" has been used which is an umbrella term to refer to trans persons, whereas earlier the manifesto mentioned only "Thirunangai" (trans woman).
In point 25 where it speaks about consenting adults living together; earlier the point was specific to female-male relationship. Now the point has been updated to two consenting adults in general irrespective of gender.