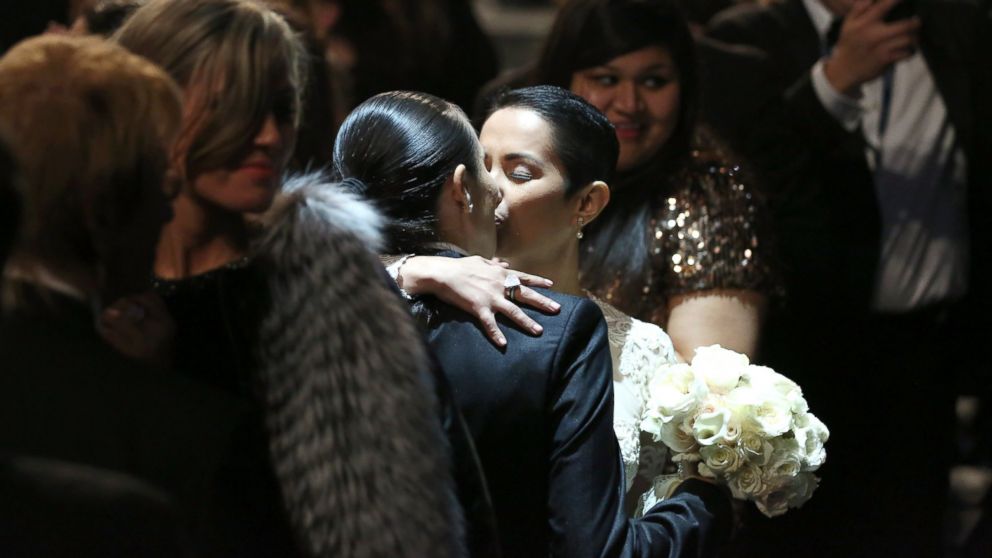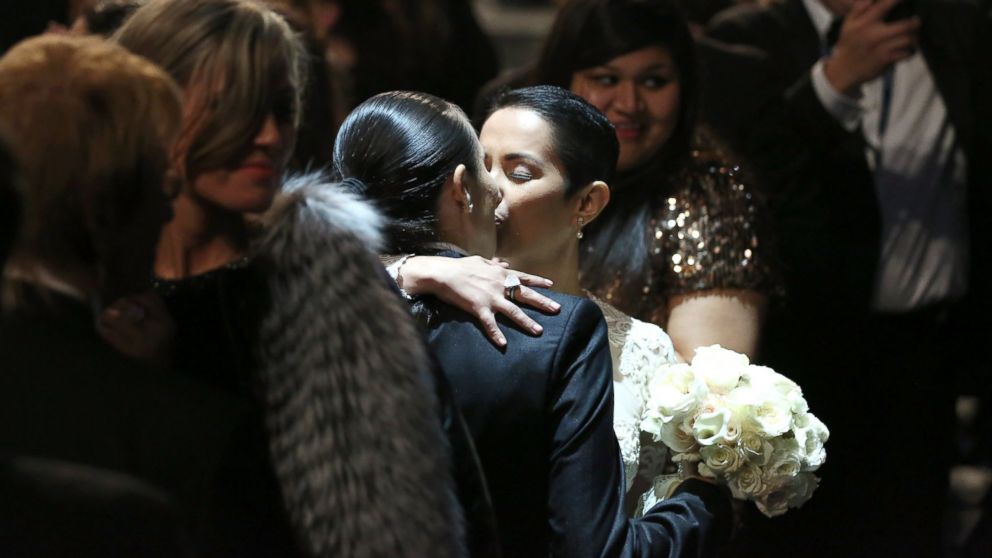 The biggest moment of the 56th Grammys ceremony belonged to the 33 couples who wed on stage during Macklemore & Ryan Lewis's performance of their zeitgeist-capturing same sex marriage anthem 'Same Love.' A bejewelled Madonna, who remains relevant only as a touring giant, was awkwardly shoe-horned into the performance when she really added nothing. The much talked about award night stole the show by its on-air wedding of 33 couples — gay, straight, old, young, of many races and many colors. The ceremony was the part of the hip-hop duo Macklemore & Ryan Lewis's performance of their Grammy-nominated song "Same Love," which became a marriage-equality anthem last year just as that issue was drawing intense national attention.
"Music has the power to bring people together at the Grammys," Queen Latifah said, introducing Macklemore. "This song is a love song not for some of us but all of us!"
Macklemore came out rapping in front of an altar, with lyrics like "No freedom till we're equal." Macklemore and Ryan Lewis, winners of the best new artist award came on stage to perform their hit single "Same Love" which is basically a song dedicated to the Queer society. In the middle of the song, actress Queen Latifah came on stage to announce that couples are getting married right there in the midst of the award ceremony shortly. "It is my distinct honor to ask the participants to exchange rings," Latifa gestured.
The camera zoomed into the face of a very handsome Indian man wearing a blue sherwani holding hands with his male partner who he would marry shortly after. The camera then moved across the hall to focus on other couples as the world witnessed another male couple tie the knot. The ceremony was one of a kind and the best part about it was the female musicians on stage singing : "I can't change, even if I try, even if I wanted to..my love my love my love, she keeps me warm".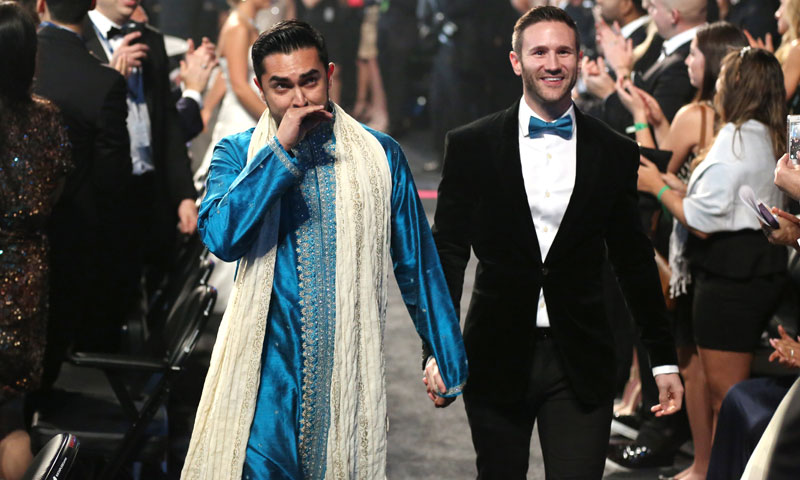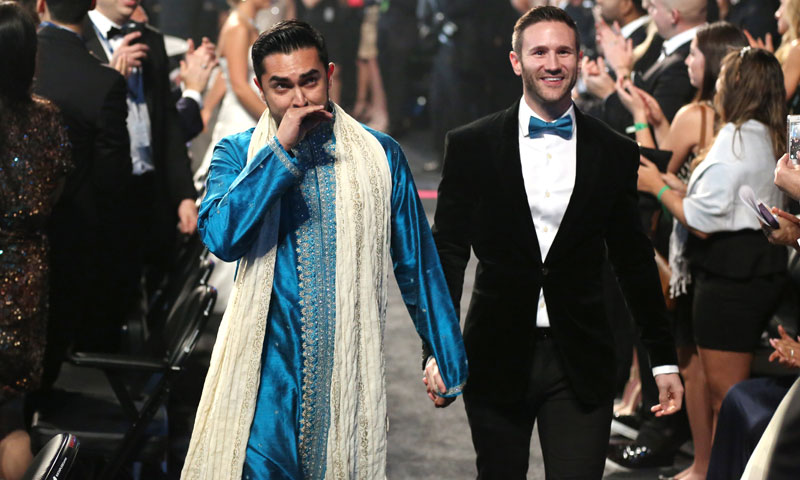 Queen of Pop Madonna soon entered the stage in a white suit singing "Open your heart to me" as new husbands hugged husbands, brides hugged brides or husbands hugged brides, including couples of all sexes and colors. The couples walked the aisle to a standing ovation of everyone in the room. Many in attendance had tears in their eyes.
The segment follows what the Grammy organizers said was the show's long history of addressing timely social issues through music, like Elton John's duet in 2001 with Eminem, who was then widely criticized as homophobic.
"We're serious about this," said Ken Ehrlich, the long-time producer of the Grammys. The organizers said they knew that controversy might be inevitable, given those who oppose gay marriage or who might see the segment as trivializing a serious matter.
Latest posts by Raahul Chiranjit Sen
(see all)