Slowly but steadily more and more queer stories are finally being published in India but still the reality is that the market is mostly flooded with cis-gay narratives which are also often neurotypical. K. Vaishali's Homeless: Growing Up Lesbian and Dyslexic in India breaks away from the set narratives that we have already read about and as the title suggests the reader knows that they'll get to read about experiences that are often invisibilized. Published by Yoda Press and Simon and Schuster, this book takes us through the author's journey of self acceptance, coming to terms with their dyslexia and dysgraphia, coming out to her mother and what follows next.
In a time when the Indian literary market is flooded with self-help books propagating toxic positivity, Vaishali presents her story, her trauma, her wounds and her accomplishments as they are in the most raw form possible. She doesn't shy away from stating how queer individuals face violence and discrimination from their own natal families and the negative impact it has on their psyche. Her difficult relationship with her mother is the unfortunate truth of what many queer children face when they dare to come out to their families or are outed without their consent. Quite recently during the hearing of queer marriages in the Supreme Court, Adv. Vrinda Grover from the petitioner's side even mentioned this fact before the judges. The author has also carefully and meticulously focussed on how the society and the world at large is not accommodating towards neurodivergent people and in India, there is no support system whatsoever to help such children from a young age so that they can learn at their own pace andt aren't left out altogether.
Throughout the book Vaishali has tried to present her life experiences in a way that would also pose a question to the reader regarding the state that we live in. She mentions how hopeless she has become and hence have stopped participating in protests altogether. If the world that we live in today devoids us of any hope for a better tomorrow, what kind of world are we exactly living in? These are just some of the many bitter truths that the reader is presented with in this book.
Another important aspect that she has touched upon is how the lives of many young queer people are plagued with fear. Growing up and constantly living in an environment where one has to hide their true self is destructive but self-preservation forces them to do so. But simultaneously the author also states that she wants to live in a commune with her loved ones and lead a happy life, something that I too relate with.
Generally the memoirs that I have read till date are mostly by middle aged or elderly writers hence reading about the life of such a young lesbian woman has been an interesting journey for me. The balanced amalgamation of narratives around sexuality, mental health, neurodiversity along with several other broader issues have been expressed eloquently making this book a complete package for me.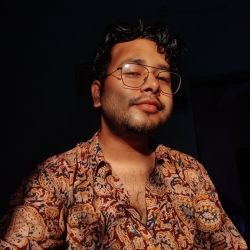 Latest posts by Chittajit Mitra
(see all)