When a society doesn't allow a set of people to express themselves freely then one of the few ways they are able to do so is to form meaningful relationships with other such people who share the same catharsis. Edited by Shilpa Phadke and Nithila Kanagasabai, Yaari is an anthology of 95 stories by several women and queer writers from the subcontinent about a crucial bond that is seldomly talked about – friendship. Divided into several themes, these pieces cover different aspects of friendship like intimacy, resilience, loss, disappointment, etc. For quite some time in the mainstream media, the gaze on friendship has been dominated by cisgender heterosexual men and hence any depiction of friendship between women were shown as superficial bonds with negative catchphrases like "Aurat hi aurat ki dushman hoti hai" (Only a woman is an enemy of another woman) getting established as a norm while queer friendships were totally blacked out. Luckily, there were a few outliers who focused on the deep support system that friendship allows to form, Mirch Masala a movie that released in 1987 comes instantaneously to my mind.
Under the theme Love. Friendship. Intimacy. Subha Wijesiriwardena takes us through the journey her mother embarked upon during the tumultuous times in Sri Lanka and how through her she came to know about South Asian feminism and learned to cherish friendship. Alicia Souza, a happiness illustrator on the other hand tells us how friendship can stay as a constant during the different phases of life through her illustrations. Sravanthi Dasari talks about what the Bollywood missed out on teaching us about friendship, she mentions different movies and how friendship has been portrayed in each of them and how reality differs with them all.
Maham Javaid under the theme Resistance. Solidarity. Solace. tells us how a woman becomes a 'buri aurat' in our society and the hypocrisy of it all. She reclaimed that tag as she raised her voice against a sexual harasser and subsequently the effect it had on her friendship with other women. Adhvaidha Kalidasan through her illustrations talks about the revolutionary Shaheen Bagh protests and another story of a woman who faced sexual harassment at her workplace and confides with another colleague. Shals Mahajan penned a moving poem about their friend Davi whom they've lost.
The immense variety of literature that one gets to experience in this book is truly amazing, the diverse voices, their realities and emotions have been expressed prominently. It gives us a sense of understanding that even if we are divided by borders, our emotions and bonds remain the same. It covers nuanced issues around friendship and debunks several myths as well. The pandemic taught us one thing quite clearly that we need to cherish our lives and the people in it as much as we can, hence this book seems to be a perfect reminder for the same. At a time when hatred and jingoism is rampant in the subcontinent, books like these help me to stay optimistic about the future.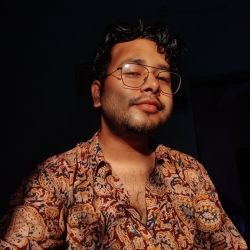 Latest posts by Chittajit Mitra
(see all)