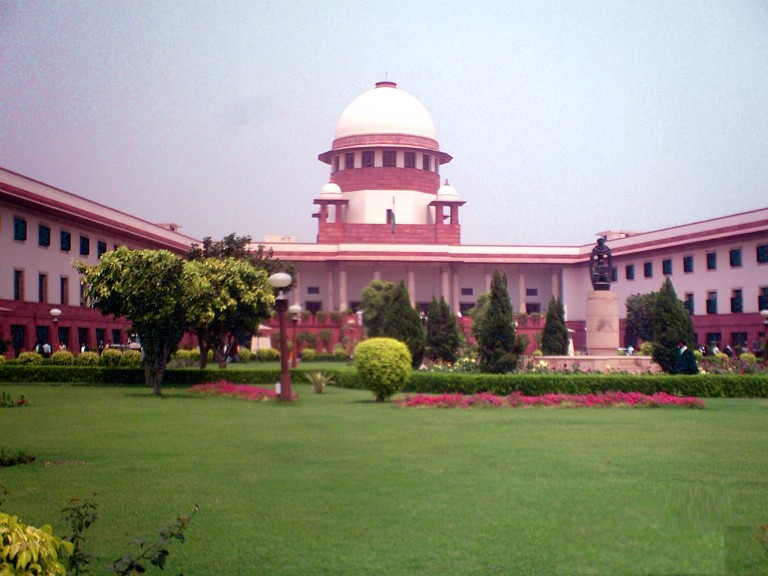 The whole of the gay community has its eyes set on 15th March- the day when Supreme Court hears the petitions filed by various groups against the 2nd July ruling of Delhi High Court on Section 377. At last count, the tally stood at 16 for 2. Sixteen groups or organizations have joined hands and taken it on themselves the task of keeping India "morally" safe. The outnumbered two are Naz Foundation and Indian director and Rajya Sabha Member Shyam Benegal. With the bitter taste of defeat still fresh on their taste buds, the petitioners have this time decided to launch a fresh line of offensive, separate from the one's based on public morality.
A quick glance at some of the arguments lined up and Gaylaxy's comments in parentheses:
· "Medical opinion" that only the vagina has the muscles required for sex, not the anus. (And "medical science" also says that homosexuality is not unnatural. Do they mean that each gay person engages in anal sex? What about those who don't prefer anal sex? Have they ever heard of a term called Lesbians?)
· Expanding the constitutional right to non-discrimination to include sexual orientation could lead to demands for job reservations. (Our demands pertain to social recognition. Vote-bank politics is played by Indian politicians, and it is highly unlikely that anyone would dare do that in this case. As a matter of fact, people from the gay community belong to all spheres of life and religion.)
· Indian cultural morality maybe ready for homosexuality in "50 or 100 years", not today. (And who gets to decide that?)
Other arguments point to how disastrous it would be for Indian defence forces (probably inspired from USA's DADT policy, which is being reviewed and would most likely be scrapped) to concerns about child adoption by gays.
Though legal experts believe that the judgement given by Delhi High Court is very carefully worded and would be hard to challenge, the anxiety within the community cannot be denied. The Supreme Court had earlier refused to accord a temporary stay over Delhi High Court judgement. However, among all this, the silence of Indian Government is conspicuous. Though the government has decided not to appeal against the judgement, it is a shame that our government cannot gather up enough courage to protect the rights of its own citizens and should remain a mute spectator in a case where the lives of millions of its citizens are involved. The fear of losing votes is holding the government to take a definitive stand and it is thus "playing safe". One is forced to wonder had the British not legislated "unpopular acts" against Sati what would have been the fate of widowed women even today, given the Government's reluctance to act in such matters.
On the flip (and lighter) side, the judgement did achieve what no other event in recent history has been able to achieve so successfully- uniting the various religious bodies of this country (pun intended). How long this show of unity can last is a different question though. In the mean time, we can only wait with abated breath and wish the one's leading from the front good luck!
He is a man who would always be credited with setting a community, whose existence this society always denied, free from the shackles of shame and harassment. At a time when the Indian Government itself was split over whether it should support the case or go against it, he stuck to the principles of justice and through his well articulated judgment, showed that a society should be "inclusive", and a country should be non-discriminating against its own citizens. He has not only been the messiah of the LGBT community, but also of poor people at large, who, through his rulings found justice. He has been credited with a number of historical rulings. Although he retired in February with a "hurt feeling" that he was never elevated to Supreme Court, he has surely left his mark on the pages of history. For a man of such stature, and as a community who would always be indebted to him, Gaylaxy pays its tribute to Justice A.P. Shah through this article and analyses how his various verdicts and landmark judgments have had a major impact on society.
Biography
Justice Ajit Prakash Shah was born on 13 February, 1948 at Solapur and hailed from a family of lawyers, lending him a deep understanding of legal matters from an early age. Upon completing his graduation from Solapur, Justice Shah obtained his law degree from Government Law College, Mumbai. After practicing at the District Court in Solapur for a short period, Justice Shah shifted to the Bombay High Court in 1977 and joined the chambers of the then-leading Advocate Shri S.C. Pratap, gaining experience in civil, constitutional, service and labour matters. He was appointed as an Additional Judge of Bombay High Court on 18 December, 1992 and became the permanent Judge of Bombay High Court on 8 April, 1994. He assumed charge as the Chief Justice of Madras High Courton 12 November, 2005 and was transferred as the Chief Justice of the Delhi High Court on 7 May, 2008.
Rulings
Though his name would probably become (rather has become) synonymous with the ruling on Sec 377, Justice Shah's other verdicts in various cases have had an equal impact on the society, if not less. Whether it came to protecting the rights of AIDS patients in employment or initiating prison reforms, his judgments have always been hailed as landmark. Some of the more important ones that he delivered are:
Freedom of Speech and Expression: In 1997, in Anand Patwardhan vs. Union of India case, Justice Shah quashed the orders of the Government not to telecast the President's Award winning documentaries -"In Memory of Friends" (based on terrorism and violence in Punjab) and 'Ram Ke Naam' (based on Ayodhya issue)- and directed Doordarshan to telecast the said documentaries.
Women Related Laws: Recognized the right of Muslim women to receive maintenance under Sections 125 and 127 beyond iddat period and the right of second wife to receive maintenance under Hindu Marriage Act.
Environment and Ecological matters:Issued directions for beautification and maintenance of Girgaon Chowpaty and Juhu Beach. Interpreted Maharashtra Forest (Acquisition) Act highlighting the restrictions and dereservation of forest and use of forest land for non forest use and issued directions to save Hill Stations like Mahabaleshwar and Panchgani.
Protection of disabled person: Justice Shah adopted a proactive stance towards the rights of disabled persons. In one judgment, he restrained the Central and Western Railways, Railway Police and Municipal Corporation from taking any action against the blind vendors/hawkers and directed them to frame a scheme for earning of their livelihood. In another case, he protected the rights of students suffering from Dyslexia and issued directions to ensure implementation of reservation policy for disabled in the State Government and State Corporations as well as local bodies. He also ordered Railways and Metropolitan Transport Corporation, Chennai to ensure barrier free environment in their premises and directed the MTC to make their buses disabled friendly. Besides, he initiated steps to make the Chennai High Court disabled friendly.
PIL: While in Bombay Court, in July 2004, a division bench led by Justice A.P. Shah imposed a penalty of Rs 20 lakhs on Shiv Sena and BJP for a bandh called in by the party, as such bandhs. The bench held that no political party had any legal right to call for abandh and such a bandhs encroached upon the fundamental rights of citizens and political parties could not hold the public members at ransom. He also issued various directions for reforms of prisons, particularly in the context of women prisoners and their children, as well as for proper rehabilitation of nearly 2000 families displaced by Tarapur project. Furthermore, Justice Shah recognizedthe rights of AIDS patients in employment.
Decriminalizing Homosexuality: The bench comprising of Justice A.P. Shah and Justice S. Muralidhar, on 2nd July, 2009, ruled that Sec 377 would no longer apply to consenting adults engaging in same- sex relations. The judgment was based on strong scientific evidences that pointed to the fact that homosexuality is not unnatural and NACO's recommendation that Sec 377 was a major impediment in the fight against HIV/AIDS.
RTI Act: In another landmark judgment, a bench comprising of Justice Shah, Justice S. Muralidhar and Justice Vikramjit Sen held that the office of the Chief Justice of India (CJI) is a "public authority" that comes within the ambit of the Right to Information (RTI) Act and the senior most judge is obliged to share details of his assets under this act, thus bringing CJI under the purview of RTI.
Pro-poor Rulings: Justice Shah has also delivered rulings that have protected the poor from harassment. Pointing that "poverty is not a crime", he prevented Delhi Govt. from sending a large number of beggars to their native state. Again, during the chilling winter, when the MCD demolished a night shelter for the homeless on Pusa road, he took note of a newspaper article and rebuked MCD for such an inhuman act.
Other laws: Delivered several important judgments pertaining to Admiralty Act, Trade Mark and Patent Act, Service and Labour laws.
Reforms
On a personal level too, Justice Shah directed various steps for computerisation and networking of all courts in Tamil Nadu, including introduction of touch-screen kiosks, digital boards etc. He took leading role in organizing the programmes relating to sensitization of Judicial Officers, Judges, Family Court Judges etc regarding Gender Justice and organized various training programmes for imparting training to Judicial Officers on the subject of Juvenile Justice with the help of TISS and UNICEF. He gave impetus to mediation movement in Maharashtra, recognized movement of Lok Adalat and also started Pension Lok Adalats.
Analyzing the judgment on 377
The judgment on Sec 377 is based on four basic concepts of right to dignity, privacy, equality and non-discrimination. It also clearly differentiated between public morality and constitutional morality. Explaining how Sec 377 violated Article 21 of Indian Constitution, which guaranteed the right to privacy and dignity, the Justices had said, "In the Indian Constitution, the right to live with dignity and the right of privacy both are recognized as dimensions of Article 21. Section 377 IPC denies a person's dignity and criminalizes his or her core identity solely on account of his or her sexuality and thus violates Article 21 of the Constitution."
Furthermore, the meaning of sex in Article 15 was construed to include under its realm sexual orientation. "Article 15 prohibits discrimination on several enumerated grounds, which include 'sex'…We hold that sexual orientation is a ground analogous to sex and that discrimination on the basis of sexual orientation is not permitted by Article 15. Further, Article 15(2) incorporates the notion of horizontal application of rights…In our view, discrimination on the ground of sexual orientation is impermissible even on the horizontal application of the right enshrined under Article 15," they declared.
Another key argument used by the Govt. in this case was that of "public morality". However, the court ruled that public morality was based on shifting and subjecting notions of right and wrong and that if there was any type of "morality" that could pass the test of compelling state interest, it must be "constitutional" morality and not public morality. "To stigmatise or to criminalise homosexuals only on account of their sexual orientation would be against the constitutional morality," the court held.
Elucidating on how Sec 377 was in violation of the equality granted to every citizen by the Constitution, the Judges added, "A provision of law branding one section of people as criminal based wholly on the State's moral disapproval of that class goes counter to the equality guaranteed under Articles 14 and 15 under any standard of review."
Finally, the judges cited Pandit Nehru's speech delivered while moving the 'Objective Resolution' on December 13, 1946, "Words are magic things often enough, but even the magic of words sometimes cannot convey the magic of the human spirit and of a Nation's passion…" and concluded that the underlying theme of the Indian Constitution is that of 'inclusiveness'.
The golden words that would remain ingrained were thus spoken: We declare that Section 377 IPC, insofar it criminalises consensual sexual acts of adults in private, is violative of Articles 21, 14 and 15 of the Constitution. The provisions of Section 377 IPC will continue to govern non-consensual penile non-vaginal sex and penile non-vaginal sex involving minors.
Justice Shah on 377
Admitting that the case pertaining to Sec 377 was a challenging one, Justice A.P. Shah, in an interview with The Indian Express Editor-in-Chief Shekhar Gupta on NDTV 24×7's Walk the Talk said, "The peculiar feature of this case was that the two wings of the government took diametrically opposite stands. The Health and Family Welfare Ministry took a stand that continuance of Section 377 was creating hurdles in the HIV-AIDS prevention programme. And the stand of the Home Ministry was that this Section should be retained on grounds of public morality. According to me, this was the biggest challenge." Referring to the stand of public morality taken by the Government, he mentioned how social evils like 'sati' and 'untouchablility' too were largely approved by the public and that constitutional morality, not public morality, had to be considered. Though he had delivered a historical verdict, Justice Shah was apprehensive of the reactions that it would receive and also pointed out how ironical the whole situation had been. "I did not switch on TV channels till late in the evening because I was not sure about the reactions from various quarters. When I attended a workshop with some German members and also some gay rights activists in 1997, I had categorically said to them that it would be very difficult for an Indian court to legalise homosexual sex. I did not realise it then that I would be deciding the issue one day."
Whether it was the judgment on Sec 377 or protection of the rights of disabled, poor or AIDS patients, inclusiveness has been a key feature of Justice Shah's verdicts. The fact that one of the senior-most High Court chief justices was never elevated to Supreme Court would raise questions about the procedure followed by the Collegium. The respect that he has earned for his impactful judgments go far beyond any worldly positions. It is no wonder that an online petition for having Justice Shah as the next Central Information Commissioner (CIC) was launched a day after his retirement and has gone on to receive support from various quarters. While the judgment on Sec 377 is being contested in the Supreme Court, the whole gay fraternity can only be thankful to him for letting it breathe the air of freedom.