I am Rahul Kumar Singh, and currently reside in Ludhiana Punjab, though I belong to Deoria in Uttar Pradesh. I feel proud to say that I am gay and HIV+. I have been positive since 2017, when I was in Meerut and pursuing B.Com.
I was infected with HIV by my ex-partner, with whom I was in a relationship. He was positive at that time but did not tell me. Even before we began our relationship, he had told me that he was HIV negative, though I had not asked him his HIV status. At that point of time I had no knowledge about HIV, and I asked him what HIV was. He replied that it was not useful for me to know, and I also did not ponder much about it and we started living together. After 6 months, he broke up with me and left me for someone else. Needless to say, I was left heartbroken.
I returned back to Meerut as my 5th semester exams were about to start. But all I did was cry all day. I did not know how to prepare for the exams under all this. Ever since I had entered this relationship, I had started feeling very sick and was experiencing weight loss, diarrhoea, headache, bleeding during urination etc.
Then someone informed me about HIV and asked me to get tested. The very next day I went to get my HIV test done. I received the report after 2 days, and when I saw the report, the ground beneath my feet slipped away. My report had come back positive. After that, the ICTC Counsellor counselled me. I called my ex-partner to tell him about the news, but he bluntly said, "I don't care if you die today instead of tomorrow."
I came back to my hostel and cried inconsolably. Next, I picked up the phone and called up the person for whom my Ex had left me. I narrated my entire story to him and disconnected the call. I cried again and wondered what should I do now. My exams were about to begin in a day, but I was at a loss as to how to prepare for them under such a situation. I did not have many friends those days, as I had left everyone for my Ex. I told my HIV status to the few friends I still had.
As I was entering my college to take the exams, a boy stopped me at the gate and asked me if I had AIDS. I did not answer him and went straight to the college. But a thought bothered me – who had told the boy about my HIV status? I took all my exams with great difficulty and returned back to my home in Ludhiana.
I then went to the hospital near my house and informed them about my HIV status. They referred me to the Civil Hospital in Ludhiana, which I visited the very next day and they started my HIV ART medicine immediately. I felt as if I was dying. I used to be very depressed and just stay inside the house. Only my sister-in-law knew everything about me. Many a times my parents would ask what had happened to me, why was I so aloof? But I would just laugh and postpone the talk. Once I was talking to a friend over phone about my HIV and my father overheard our conversation. My parents were shocked at the discovery. They started consulting doctors about HIV and its treatment, and started selling their property. I then educated them a lot about HIV and also informed them that there is no cure for HIV yet.
I came back to my college to appear for the 6th semester exams. My best friend called me to meet, and started enquiring about my Ex-partner and his well being. I told him all about my break-up and HIV, which he was very shocked to learn. Tears started trickling from his eyes. I finished my exams and returned to Ludhiana. After coming back home, I began working and simultaneously started collecting information about HIV.
After gathering a lot of information, I found out that HIV is not a fatal disease if you keep taking ART medicines. My fear of dying due to HIV eased and I started feeling happy. But my family could not understand this. I counselled them a lot and they too finally understood this.
However, my father does not seem to be able to accept the reality, despite having been counselled multiple times. The reason I am HIV+ today is not because of another man, but because I had no knowledge about it.
Like me, there are many others in this society who do not know anything about HIV yet. So I quit my job and joined the NGO sector. My first job in this sector was an HIV project in Chandigarh, where I learned many things and made many good friends.
I later came in contact with Deepak Rana (Chahat) via Facebook. He told me about Shaan Foundation and offered me a job of Peer Counsellor in his Project Vihaan (Care and Support Centre). Along with the job, Deepak and the Shaan Foundation Family have taught me a lot. Within 4 months, Deepak promoted me to Project Manager at Shaan Foundation TI at Mansa.
Today, I am very happy with my life. I did not die because of HIV but instead, it taught me to live. I am also a HIV positive speaker in Punjab. I hope people will understand HIV and it will help us to stop it from spreading, and they will not discriminate again any PLHIV(Person Living with HIV).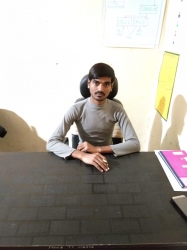 Latest posts by Rahul Singh
(see all)