LGBT people have always faced extreme difficulty in the society. Despite the contempt and neglect, we have lived our lives to the fullest. We have learnt the art of smiling while ignoring the taunts, contemptuous looks and repulsions of the people throughout the day. But that doesn't mean these things don't affect us. When alone, we sigh and cry over the frustrations in out lives, we cry but do not complain to anyone.
Today, when the whole world, especially all the people and the government of Pakistan are trying to control the Covid19 situation, for the entire LGBT Community a more pressing issue is how to manage two meals a day and how to pay the rent? If any LGBT community member is to fall ill at present, which doctor will come to treat them? This is because the health care system of our country is only for those who can either afford private hospitals or have an acquaintance in a public hospital. To be transgender or to not conform to the gender binary rule of being male or female, means the doctors will check them, but they will be treated very badly.
We often talk about the calamity, the divine punishment, and how much we oppress others in ordinary life. The transgender community has always been a victim of oppression. From birth to adulthood, we hear strange words, and live on the fringes of the society, never really accepted as part of them. When the Creator does not discriminate anything, then why those in this world call us names and tell us we are wrong?
Stories of LGBT Individuals from Pakistan
As a lesbian, it is very hard to travel around since women are always monitored. Who am I talking to? Where am I going? Nothing I do is ever considered normal or important. I am going through lots of mental health issues such as anxiety and depression, and in this pandemic I cannot see my therapist. It's impossible to go out and it's also affecting my relationship badly. My partner's family is forcing her to get married, and I cannot meet her even to talk about these things. We call but talk in a very reserved way, since the entire family is listening- I cannot even say something as simple as "I Love You" with the same confidence. It just feels like being trapped in a cage of loneliness and helplessness. Even after this pandemic ends, the restrictions for my gender will remain and that is the biggest tragedy to me.
Mohib: As a gay male, living with HIV, I am just as affected by the Covid 19 situation as the rest of the world, because I am worried about access to my monthly medicines. Nowadays, going to the hospitals is like asking to get infected by the disease and the staff behaves as if every patient has corona and they line us all up together. I need to go to ART centers every month to get my ARV, and for me that is in a government hospital. It is hard for me to travel these days due to the lockdown, and everybody knows how the hospital staff treats us. It is too difficult these days, and only God knows what will happen next and how the hospitals will treat me if I get sick or my situation worsens.
Community led work (Good Practices):
Hina Pathani is a veteran trans rights activist who is currently working as community mobilizer for the Subrang Society. She has been diagnosed with a heart condition since years but she does not allow these challenges to stop her from serving humanity. She has provided rations and also conducts awareness sessions about Corona to over a 1000 families including khwaja siraas, widowed females and underprivileged households in various parts of Karachi.
Zehrish Khan is the Program Director of GIA (Gender Interactive Alliance) and they have also made substantial contributions by providing rations to many districts of Karachi. Most of the Khwaja Sira community members live impoverished lives and belong to the low socio-economic class. They do not have enough resources or even information regarding the CoVid-19 pandemic.
Various other organizations that are currently active in Karachi, such as Humraz Male Health Society catering to Gays/ MSM (males having sex with males) has provided people ration, nutritional support and free counselling sessions to those living with HIV and belonging to low socio-economic class.
While the entire world is suffering greatly, the problems faced by LGBT community during Covid-19 ranging from mental health issues to relationship problems and difficulty travelling for needs, are made much worse by the stigma surrounding their existence.
The pandemic has been tough for everyone, especially the marginalized communities, but we are still standing tall and proud and hoping to make a positive contribution to the society.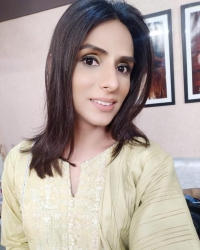 Latest posts by Kami Choudhury
(see all)