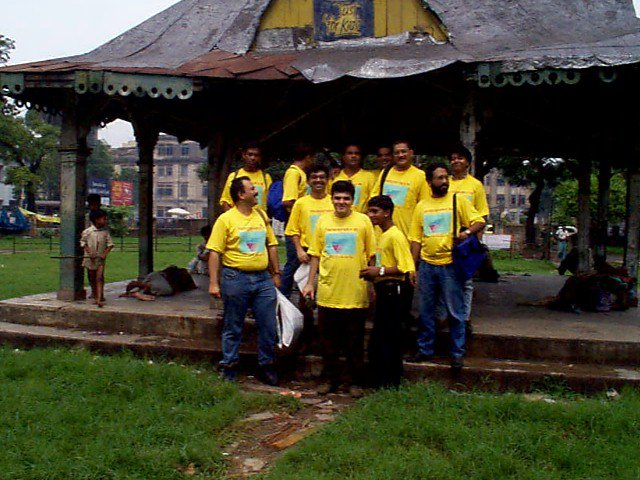 Various cities of India celebrated the anniversary of the historic reading down of Sec 377 in their own way. 2nd of July is indeed a historic day for the LGBT community. But amidst all this celebration and euphoria, what has probably skipped everybody's mind and knowledge is the fact that around a decade ago, this same day was witness to yet another event of equal importance, if not more. 2nd July, 1999 was the day when the first ever pride walk was held in India. The walk was bereft of all the glitz that surrounds the pride marches in the metros these days, but it indeed marked a very important and symbolic shift in India. The City of Joy played host to the walk, and had the distinction of being the "ekla cholo" (walk alone) city for a few more years until other cities joined in. Gaylaxy tries to reconstruct the events that led to the walk, the experiences that people participating or holding these marches had, and the impact that it created, both in their own life and the life of others.
Events preceding the walk
The year 1999 was quite an eventful one. The advent of internet had already started changing the way people interacted with each other. The gay world was also not left untouched and soon there were a number of e-forums springing up. LGBT India was one such forum. "LGBT India was one of the first attempts to bring together people at least to talk," said Pawan Dhall, a leading gay rights activists and one of the participants of the first march.
The year also had Lok Sabha elections coming up, and a few of the activists even demanded that gay rights issue be included in the manifesto of the political parties. But political parties remained true to their colours. While some did not even meet up, others agreed to look into the matter on face, but conveniently shoved it under the shelf. It was at this point that the idea of a pride walk to highlight the issue took birth in the mind of Owais Khan, whose personal ideology is heavily influenced by Mahatma Gandhi's life and teachings. "It's important to make a quasi-political statement. I thought it is a landmark to cross before we could reach down to decriminalising homosexuality," said Owais Khan.
However, like any new and revolutionary idea, the proposal met with resistance within the group of activists. Recalling how he reacted to the idea on hearing it initially, Pawan Dhall said, "Initially I had my reservations because I am a person who doesn't like stalling the traffic… My point was that if you are doing something in Calcutta, do something new and it should not be just another procession." But the sheer determination of Owais Khan, who was ready to walk alone if he had to, ultimately helped achieve a final consensus, after which Kolkata (then Calcutta) was chosen as the city to host the walk. While Mumbai (then Bombay), with Humsafar Trust and other organisations was also in the fore front of activism along with Kolkata, a strong presence of Shiv Sena and BJP in the state of Maharashtra meant it wouldn't have been easy to hold a gay pride walk in the city, where the Hindu extremists could have termed it a foreign invasion and anti-Indian. "Calcutta had activism and Owais felt that Calcutta has been a hotbed of revolution always," told Mr. Dhall. Revealing his reasons to suggest Calcutta as the city to host the walk, Owais Khan said, "I believed and still believe that Calcuttans have a much longer view than others. Calcuttans are willing to listen, give more space to others. A lot of things started from Calcutta… The culture of Calcutta permits you to say things that even they might not like to listen. I was very close to Calcutta, Pawan and Ranjan."
The Friendship Walk
Word about the walk was spread and on the fateful day, finally 15 bravehearts walked down the roads of Kolkata, wearing specially designed T-shirts in what was to be a truly Indian Pride Walk. The group had people from various cities including Mumbai and Bangalore and some well known faces that walked through the roads included Ashok Row Kavi, Nitin Karani, Pawan Dhall, Owais Khan and Rafique-Ul-Haque-Dowjah-Ranjan. After walking a certain distance, the group split into two, one going towards North Kolkata and the other to south, talking to people and organisations they met along the way. "It was very important that we took everyone together, including those people who would feel that loving people of same-sex is wrong… If you are still nice to him, he would be nice to you. I did not want the foundation to be anything other than cooperative, loving and happy," said Owais Khan.
The teams went to various NGOs, including WB SACS, Human Rights Organisation and other NGOs working for prevention of AIDS and met a few famous personalities like Maitree Chatterjee, who has been one of the strongest voices behind women movement in Kolkata, putting forward their agenda and demands. If those at the helm of affairs in Human Rights Organisation were shocked to listen to such a demand, the Project Director at WB SACS remained non-committal of his support, though he agreed that from HIV prevention point of view, the issue needed to be addressed immediately. However, what was most surprising was the response that they got from the common people, who upon giving them a patient hearing, appreciated the effort and were shocked to learn that such a law even existed! Possibly, the reaction of the 'aam adami' can be best summed in the words of an old lady to whom Ashok Row Kavi talked to while marching. Expressing her shock, the lady had said, "Oh my God! The government has no other job than to look at what people do in their bedroom?"
By the time the two groups reached their final destination at George Bhavan, media had already got a whiff of an important event being held, and all major English and regional newspapers and television channels had flooded the place. After handing them the media release and other literature, the participants shared their views on why they had held the walk and what issues they wanted the government to look at. It was followed by an impromptu walk for the shutterbugs by those who were comfortable being photographed. The news in fact spread far and wide, and there was soon support pouring in not only from within the country, but from other South Asian countries like Pakistan and Bangladesh. "It wasn't as if everybody was supportive, but it led to a lot of dialogue," added Mr. Dhall.
A Hiatus of 3 years
After 1999, it wasn't until June 2003 when the walk resumed, thanks to Rafique-Ul-Haque-Dowjah-Ranjan who rekindled the idea again. Integration Society, along with other groups like Amitie' organised the walk. The walk was attended by around 50 people and started from Park Circus Maidan and ended at Jagabandhu Institution. Integration Society organised the march for two years, after which Amitie' took charge of the baton till 2007. The march saw a four-fold increase in 2004, with over 200 people participating in the walk.
Buoyed by the response of the previous year, there was an entire week of celebration in 2005. Events lined to mark the occasion involved a 3 day film festival, seminars at American Centre, activities at Infosem, a day of interaction with parents and another day for media briefings. The music video "Pokkhiraaj" (Pegasus), by the Bengali rock band Cactus was also released in the Rainbow week. The video, a first of its kind, used blue apple to symbolize LGBT people and relations. The numbers at the march kept on increasing each year and there would often be a slew of activities throughout the week, culminating in the walk. The route followed by the marchers kept changing over the years, but the spirit never did. It wasn't until 2008 that other Indian cities joined in. 2008 saw Delhi, Bangalore, Puducherry and Mumbai joining in. The next year Chennai and Bhubaneswar too held their first Pride Walk and 2010 saw a few more cities getting added up to the list.
Personal struggles
The journey hasn't been as simple as it might appear and all the participants have had to face a lot of challenges in their daily lives too, though it also generated support from various corners. Narrating how his own family reacted upon seeing him participate in the walk in 2004, Anis Ray Chaudhuri, who has been a regular participant in the Pride Walks of Kolkata from 2003 and is asscociated with Amitie' himself, said, "There was a Bengali media house that would telecast Khas Khabar three times daily and gave me a sizeable amount. They ended the interview by asking me if I was gay or not, which I answered affirmatively. Later that evening, when I reached home, all lights were switched off and my mother was sitting quiely with the TV switched off, which was quite unusual. When I asked why the TV was switched off, my mother said: 'Do you think that our pride would have gone any higher with the TV switched on?'"
Yet another marcher had a very tragic end to his story. A very enthusiastic person who worked hard in making the walk successful, he was photographed by various newspapers in 2003. His elder brother, who was to get married soon, had his engagement broken. The person had to leave his home, and his farther refused to part with all of his documents, including certificates and passport. Ultimately, he joined the Hijra community. "He was exceptionally talented and intelligent, but since his pictures got published, his family disowned him and his life took a different turn," recounted Anis. "I consider him to be a martyr of the entire movement," he added.
But if there were personal struggles and rejections, there was support too. A grocery shopkeeper that Mr. Dhall had known for years walked up to him on meeting him outside a local bank and told him, " Tumi je kaj korcho, atyanto bhalo (The work you are doing is very good)." "I realised…at microlevel change is happening," said Mr. Dhall.
Response
Though the media has been largely supportive of the movement, the way that movement and walks were covered back then (at times even today) did not leave everyone happy. While English dailies portrayed it sensitively, the portrayal in the vernacular media was a disappointment. However, the photographs that got published along with the reports often projected the stereotypical image of the community. "Response of the media was not entirely positive, though none abused us or screened us. Media was more stressing on stereotypes that gay man means cross-dresser or transgender. They were more eager in photographing the Queens. You cannot ignore the other hues of rainbow. They were however more after sensational stories," said Anis Ray Chaudhuri. The eagerness to take pictures of colourful men at times led to altercations and often caused obstruction of the walk. "They caused obstruction in the name of taking photographs," Anis added.
Kolkata Police on the other hand have always extended a helping hand to the organisers, from escorting the marchers to controlling the traffic for an unhindered walk. Neither have the organisers been denied permission ever. The general public response, in the words of Anis, has been "mostly curious, a little abusive and to some extent supportive" over the years.
A long way to go
India still has a long road to cover in terms of granting people of alternative sexualities equal rights and protecting them from discrimination. Yet, the decriminalisation of the homosexuality shows that things are moving in the right direction. There are many lessons to be learnt from the past too, that how a courageous step of few can help start a movement. None one of those walking in 1999 even had the slightest of idea that they were creating history and would be changing lives in the years to come. "It is the one single walk that has led to a lot of things in India because whatever is happening is all because of it," acknowledged Pawan Dhall.
While Ashok Row Kavi and Pawan Dhall continue to be actively associated with advocacy of gay rights, Owais Khan feels that there are sufficient people now to take the movement forward and has quietly "retired" now. "I don't feel so much of a need to be very active in the activist part. I had got my inspiration from Mahatma Gandhi, and he is a very important entity in my life. He fought as long as he thought he should and once he saw other would take forward, he left. That thought process has got internalised in me. There are enough people now."
Will someone rise again and inspire others to take forward the movement in India? It is a question that will be best answered by time.