The Indian National Congress released its manifesto for the 2019 Lok Sabha elections on 2nd April. The manifesto, which created quite a buzz for promising a lot of things, including minimum income for the poor, a separate budget for the farmers, also lists down the party's support for LGBTQ rights.
The party has promised to bring a new Transgender Rights Bill, in accordance with the NALSA judgement of the Supreme court, and after consultation with the community. It has also promised to make gender sensitivity trainings, especially for the rights of LGBTQIA+ community, mandatory in all government departments and organisations, including Armed Forces and police forces.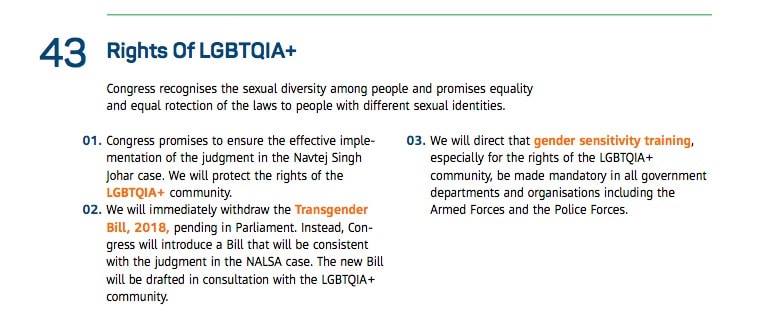 However, beyond these two, the party has remained non-committal mostly, only expressing its support for the LGBTQIA+ community to protect its rights. It only makes a vague statement of "effective implementation of the judgement in the Navtej Singh Johar case", without mentioning which parts of the judgement will be implemented. Neither does the manifesto promise any laws to protect the LGBTQ community from discrimination or violence.
Congress President Rahul Gandhi had himself met with people from various marginalised community, including LGBTQ community, at a surprise dinner with young students. However, not much of that seems to have yielded results in terms of the manifesto.
In contrast, the CPI(M) manifesto promises a number of concrete laws, including a same-sex marriage law, anti-discrimination law, reservation for transgender people, as well as protection of LGBTQ students in schools and colleges under the anti-ragging policies.
Ruling party BJP is yet to release its manifesto, and it remains to be seen if LGBTQ rights will find a mention in the party's manifesto or not.

Latest posts by Sukhdeep Singh
(see all)