Rafiul Rahman shares his experience of Delhi Queer Pride
Queer Pride: The Story
One of the worse things that can happen to you is being robbed of your cell-phone. Not because it is a priced possession, but because with it, you happen to lose all your contacts, thus, rendering you lame in a world of mobile connectivity. I lose my cell-phone in a crowded Chandni Chowk street, and curse myself for not having a back-up of contacts.
It is the day of the Delhi Queer Pride 2011. The previous day, I assure my friends that I would be there marching in the Pride sharply by 3. But now, I manage a cell-phone at 4 in the evening. I collect some of my friends' contact numbers from Facebook, and start dialing them. The moment Himadri receives my call, the only thing I hear from him amidst the hullabaloo is, "Why haven't you reached yet? The Pride has started. Wear a mask if you wish, but please do come."
The right he asserts on me is beyond societal ties. Dr. Himadri Roy has been a professor of English in DU, and currently, teaches LGBT and gender studies at IGNOU. The bond that we share is strange. During my exams, it is he who volunteers to take some time out of his hectic schedule and teaches me different philosophies as part of the background studies for English. While on a lazy Sunday afternoon, he invites me over a lunch of specially prepared fish. He and his partner have always been like family to me in Delhi. I have never been able to understand the intimacy I share with this homosexual couple. Perhaps, it is because they too crave for love and affection from people around.
I de-board at the Barakhamba Road metro station and rush to the exit. It is already 5, and I'm late. A cheerful group of foreigners with rainbow flags and scarves guide me the way to the Pride.
Within the vicinity of my eye-sight, I soon get a glimpse of a beautiful scene. Hundreds of people in colourful dresses, rainbow flags, umbrella and scarves march past the street. The sound of the drum-beats make sure that the call for freedom hits the sky, let alone the people and the Government of the country. It is time to sing the anthem 'Sadda haq aithe rakh' (Give me my right). I meet Rahul Sharma, my friend and a member of the Delhi Queer Pride Committee, and he gives me the mask with a rainbow flag and scarf. A lesbian friend ties it for me.
But something inside me revolts, 'Why a mask to conceal your inner self? Isn't this a deceit?'
I throw away the mask and join the party of rainbow comrades. I come across people, whom I had earlier met in film-festivals, and we greet each other 'Happy Pride'. I look for my friends from Queer Campus, when Himadri finds me in the crowd and gives me a big hug. Before we proceed further, I'll tell you something about Queer Campus. This is the group, that I happened to come across while researching for a documentary film on LGBT issues. Though the film never materialised, my friendship with people from QC did.
Queer Campus is a Delhi based independent queer student and youth collective. I had once attended their meet that discussed AIDS over a movie and friendly gossips.
As I march forward, I meet Sambhav Sharma, his troupe of supportive cousins, an inspiring Punjabi dadi and mom. A big lesson for homophobic parents who tell psychiatrists, "Give him electric shock or cut open his brain, but make my gay son straight". The pride continues with all sorts of slogans from the LGBT people and supporters from outside the community. Finally, demands for Government legislation to end discrimination against the community are raised and the Pride comes to an end with the lighting of candles in memory of those 14 eunuchs who lost their lives in a fire mishap in East Delhi a week before.
Queer Pride: The Lesson
Some of my heterosexual (although I'm not sure!) friends have often condemned me for supporting the LGBT cause, or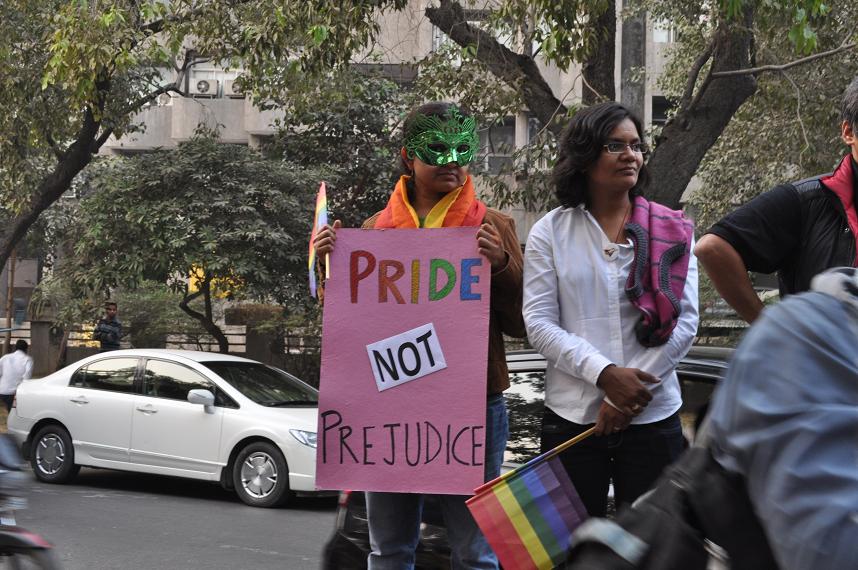 found it insignificant. Some have advised me to peep into other problems that are burning the nation. Some believe homosexuals are perverts.
So, this is for all those who think India has major non-elite problems, that need to be sorted out before the LGBT 'nuisance' (as you may call it), and thus, reduce the whole issue to an 'elite syndrome', I would suggest you to keep yourself in the place of those Hijras who entertain you in trains and buses, and you will know how rude is life to them. Many of them cannot afford to manage a two-times meal properly. I know of transgenders, who are experts in foreign languages, have the minimum qualifications, but still fail to find employment.
Begging isn't a choice, but a compulsion. Many of the transgenders are compelled to sell their bodies to those heteronormative bigots, who consider such acts perverted in broad daylight.
Hunger is hunger after all – be it the hunger for food or hunger for love. If you are pained to see poor, hungry children, take time to think of people who face discrimination in every walk of life, and are devoid of love. A person's sexual orientation is not all about having sex. Let people have the dignity to choose whom to love and when. Let us not curtail their rights by glorifying some cold, insensitive heteronormative principles.
And finally, all of you, who do not 'mind' a person being gay, but dislike 'exhibitionism' of sexuality, should rather stop displaying your fantasies for Sunny Leone (Yes, you got it right! The famous pornstar in Big Boss house!) in public. A lesbian woman doesn't do it, you see.