In another attempt of what seems like a homophobic attack on already marginalized LGBT community in Pakistan, gay men of Lahore using gay social networking app Grindr were shocked when a public Instagram account uploaded 189 images. The profile, which claimed to share 'Grindr Guys of Lhr', was created on 18th of November, 2015 and so far has 93 followers while following 450 profiles.
This is not the first time that an anonymous profile has uploaded unsolicited and private images of the Grindr users on Instagram, as a similar account also surfaced back in September this year outing hundreds of Pakistani Grindr users while labeling them as cheating 'married men' among other things.
The recent incident has again caused a huge stir among the community members who are sending bulk messages to their friends and community at large to report the account. In the aftermath of this incident, several secret groups at Facebook and Whatsapp are also discussing the serious repercussions for the ones already exposed, while extensively discussing ways to deal with this recurring issue in future.
While the oldest Pakistani LGBT group, O Collective Pakistan, has shared the community alert at their Facebook page cautioning Grindr users, some folks at Grindr itself are also disseminating the news and alerting the fellow Grindr users to report the account by using its screenshots. Till the time of filing this news report, the profile is still up and Instagram hasn't deleted it yet.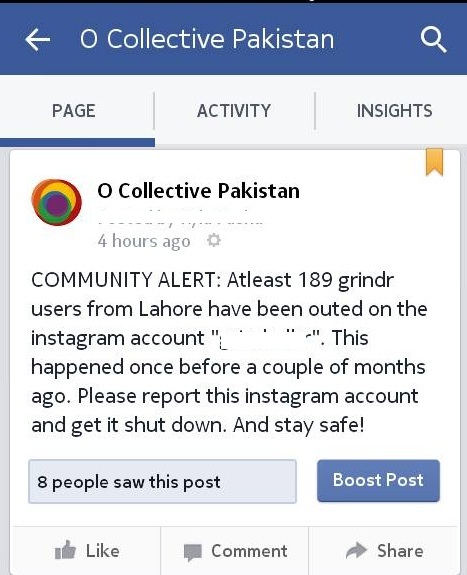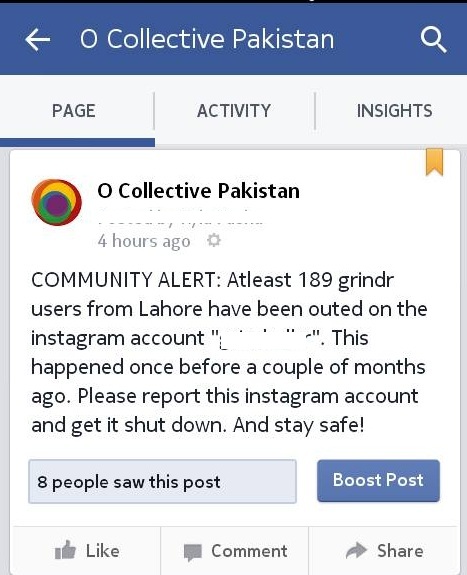 Update:With many users reporting the profile to Instagram, the said profile was taken down by Instagram on 23rd Nov
Latest posts by Hadi Hussain
(see all)