Kanchrapara College in West Bengal, has become the first educational institution in the state to have built a separate toilet for Transgender students in its premises. The toilet was inaugurated on Saturday, the 11th of November, 2017. This was made possible by the sustained endeavours of the Nadia Ranaghat Sampriti Society and Arghya Roy Choudhury, an ex-student of the college and an active member of the Society as well as the larger transgender community.
The need for a toilet for the transgender students of the college was brought to focus when Pronob Biswas, a second year student, shared with Arghya that they have not been using the toilets in their successive educational institutes since the 7th Standard because they did not feel safe using either the male or the female one. As a result, they would wait to rush home just to use the toilet each day, which distracted them from their studies and made them resent attending their place of education for the discomfort it caused them.
Another student, Roni Naha (first year), elaborated that whenever they would go to the Boys' Toilet in school, all the boys would taunt him, saying, 'You are not a boy; you should go to the girls' toilet.' Their female friends in college would tease them the same way. That was when the transgender students of the college came together and, through Arghya, intimated the Teacher-In-Charge of the College, Mr Nirmalya Majumdar, and the Students' Union, of their troubles.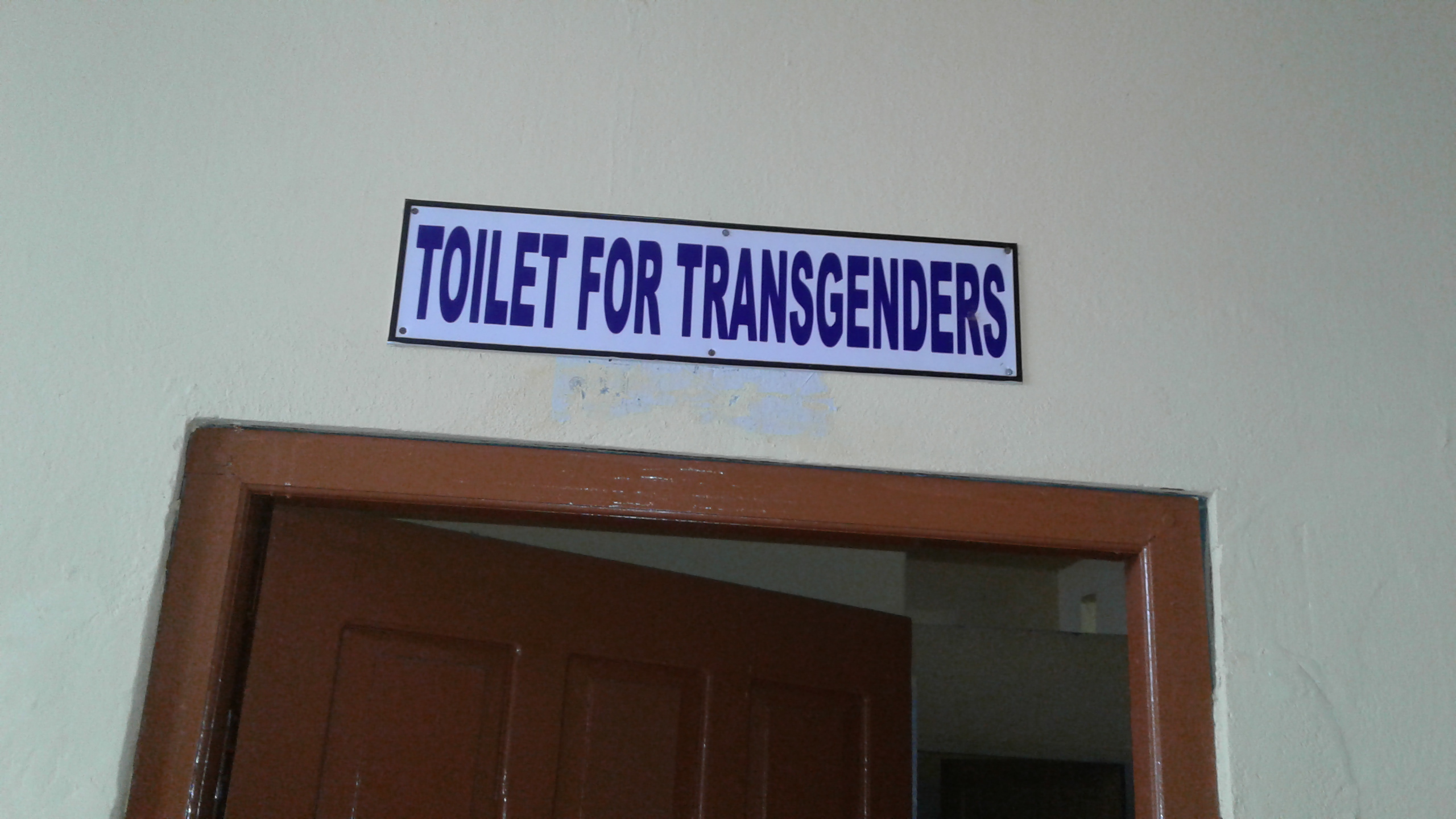 "One day, our student, Arghya, came and told me that it was essential that we build a toilet for the transgender students of our college. For me, this was an unprecedented and delightful proposal. By then, we had already conducted three Awareness Workshops on Transgender People for our students, in consultation with the Nadia Ranaghat Sampriti Society, and were committed to continue spreading awareness about the community and their identity, needs, and rights, in the future. As part of that commitment to improve the lives of the transgenders around us, we have built a toilet and named it "Toilet for Transgenders", which is located between the male and female toilets in our campus," said Mr Majumdar.
Speaking further on the issue, Mr. Majumdar said, "On the 11th of November, 2017, Saturday, our college hosted an event to celebrate National Education Day, which we chose as the appropriate occasion to inaugurate this toilet, thus enabling our transgender students to stay in college and concentrate on their education with a peaceful mind. We consider this a step forward in the daily battle for rights for the sexually marginalised people of our society, and a humanist movement in the true sense of the term."
Earlier this year, Panjab University, Chandigarh, too, had built a separate toilet for transgender students on its campus after sustained advocacy by Dhananjay Mangalmukhi, the first transgender student of the university.

Latest posts by Enakshi Nandi
(see all)