It was a quintessential monsoon morning at Connaught Place in Delhi, with people clicking glorious selfies at Raahgiri and crowds gathering up for the Euphoria concert, when a bunch of youngsters stunned everyone with a surprise Flash mob! Okay well, flash mob better be a surprise, but at the risk of adding a shock value, this flash mob was a trailblazer, being the first ever LGBT Flash mob organized in Delhi.
The crowd gathered quickly at the sight of passionate youngsters dancing away to popular Bollywood numbers. By the middle of it, when Chitiyan Kalaiyan happened, the first LGBT Flash mob had already become a success.
Amidst the entire mania and rush, we stopped Harsh Aggarwal from Harmless Hugs family, for a quick word. "We didn't want to make a grim deal out of LGBTQ Activism; just keep it fun, Bollywood and about dancing. It is a heartfelt effort to reach out to the community. We need straight allies, we need the support that we can get, and more than anything else, we primarily just need our freedom and rights back! Also, we want to have fun!"
And what fun it was. With morning crowds rounding up around the performers, to shouting and hooting and what not. A few volunteers also took charge of distributing handouts to passersby, at the risk of missing out the performances. "I have attended the rehearsals that have been going on for two months, so I almost know the entire routine now. Although I wish to watch the ultimate dance right now, but distributing the pamphlets and getting the word out is also important. We are basically trying to build an inclusive society. For that, someone has to step forward and initiate a dialogue. And we, the LGBTQ folks and the supporters are taking that step forward right now!" added Annie Singhal, one of the passionate volunteers distributing the handouts and talking to the crowds.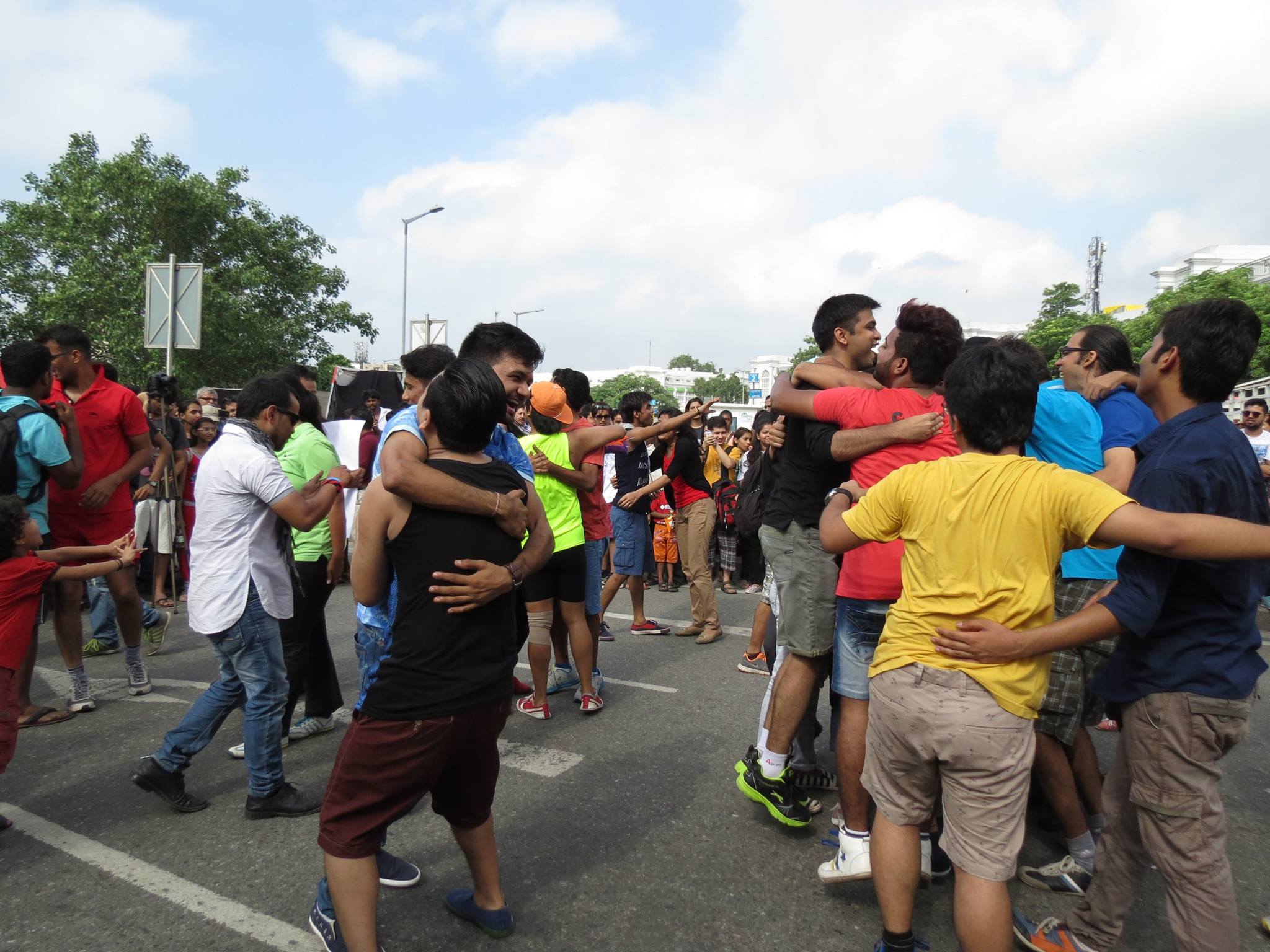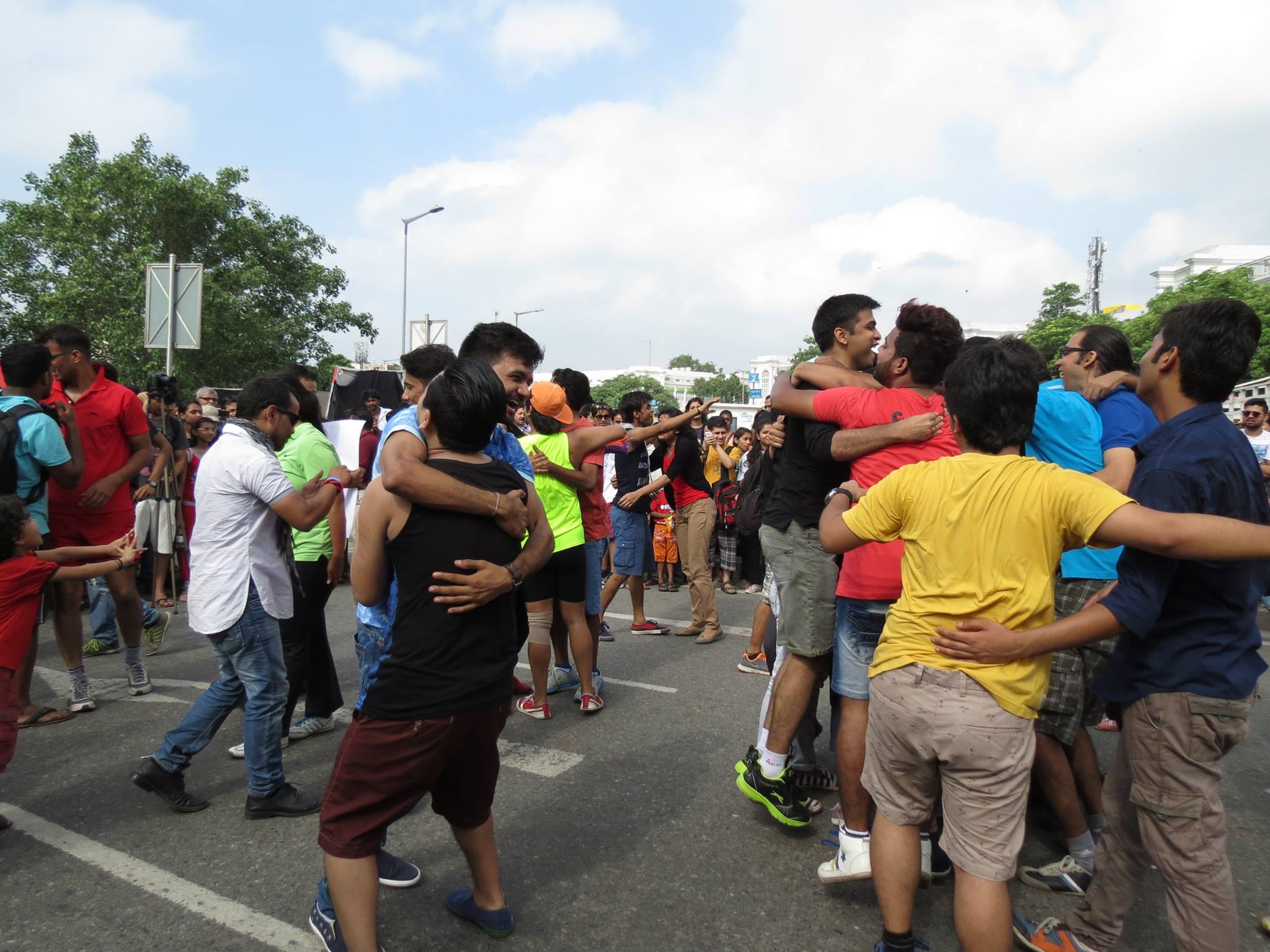 Amidst all the frenzy and the hysterics, Vinay Kumar, one of the organizers from Harmless Hugs shared: "In the spur of the moment, we decided to do a Flashmob. At that time, honestly we had no idea that we would end up achieving THIS! Of course, none of it would have been possible without the amazing choreographers and the dancers who put in their blood and sweat into practicing. Also, my heart goes out to AAP as they helped us with the permissions and sent their volunteers to dance in the Flash mob! I hope they and other political parties offer their support and give us our rights back. Although, looking at everyone's happy reactions, I just feel so humbled right now."
As the first-of-its-kinds Delhi LGBTQ Flash mob concluded to an impromptu party, we decided to have the final word of the crowd. "Honestly, it never really occurred to me that an LGBTQ community exists in Delhi. But here I am, totally shocked and stunned, and sort of embarrassed at my own unawareness. I am going to carry this handout home and read everything that it says," said Neetu Lamba, who primarily came to Raahgiri with her 2 daughters.
Obviously, we would not let it end at just that, hence we asked Neetu, "What if you find out your daughters or someone in the family is a homosexual?" "Oh well, that's a tricky question," she chirped but continued, "I don't know what I will do, or how I would take it, but definitely, I would ask them to go and dance in one of these LGBTQ flash mobs happening around that time." Well, that's a start, right?
And no, the fun doesn't end here, as Harmless Hugs already have plans for more. "Although arranging another Flash mob seems a bit dicey right now, we are already coming up with more events. Right now, we are in the final stages of showcasing Ek Madho Baug – a play copyright HST wherein a mother discover and comes around her son's sexuality. Hope you all would be there to support us as well!"
As the energetic flash mob concluded with Sadda Haqq Aithe Rakh, the organizers shared the same sentiment as well. "The point is that we exist, and we are not going anywhere. So you better give us our rights. Because if loving someone is a crime, then the entire world is criminal!" concluded Vinay. We sincerely hope that the world listens and pay heed to an outcry for equality, liberty and fraternity!
Latest posts by Sahil Verma
(see all)