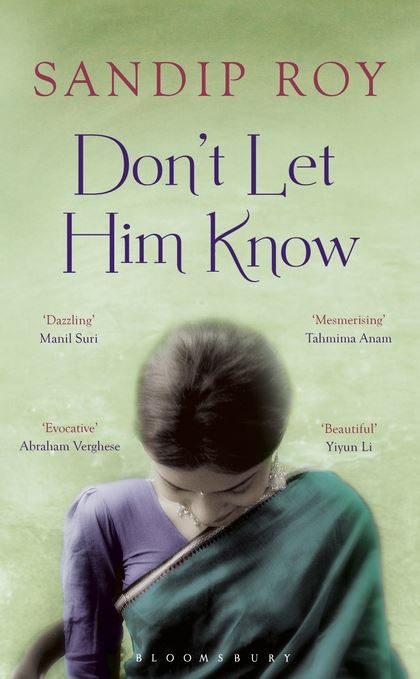 Sandip Roy's debut novel Don't Let Him Know by Bloomsbury is a family saga spread across two generations and continents. The novel tells the story of a Bengali family caught between social values and individual freedom, old and new sensibilities. With a secret letter at the heart of the story, the novel plays with the themes of family, relationships and the unspeakable secrets that are locked deep within so that certain conventional values remain unbroken. It is in fact a novel about lies and secrets.
Set in Calcutta, California and San Francisco, the novel tells the family story of Romola, Avinash and and their son Amit. Romola keeps the message in the love letter from Sumit to Avinash to herself without telling anybody about it, and as the title suggests, it is even fiercely guarded from their son Amit. She decides no one should ever know about her husband's secret except for herself and Sumit. She lives through her married life with a closeted gay husband with a child, as if there is no other way to live. But this is Avinash's secret. She too has a secret that only her friend and family know.
Romola once had a romantic relationship with the charming film actor, Subir. But the relationship ended abruptly. Romola's parents felt their daughter shouldn't be seen with film stars who are "just gadabouts with loose morals". Romola didn't even fret over it much. Then she and Avinash got married and life just continued till one fine day the news of Subir's death comes. She gets quite devastated. But Romola is always more practical then sentimental. Like the way she let go of Subir without much fretting, she accepts Avinash's culpability in their marriage without much fuss. Even after her secret visit to Subir's last rites, she consoles herself later while having dinner with Avinash. "She shook her head to dispel the vision (her life alone after Avinash's death and Amit far away) and touched her wedding bangle lightly with her hand as if to tether herself to her real world". She deliberately infuses faith in a marriage that doesn't fulfil each other's carnal instincts. Romola's is a strong woman. She has the strength to live with what is given to her. She doesn't question, she just silently carries on. She never even for once confronts Avinash for the secret he thinks he has successfully locked away from her.
Avinash lives a dual life. He is a conventional father and husband with a regular job. However, he goes to a park every night after dinner. Sumit knows what this park is about. He knows that Avinash secretly meets guys in this park for casual sex. The novel gives few glimpses of Avinash as a young boy when he realises his attraction towards the same sex. But what happens in his later years gets overshadowed by the slightly lengthy narratives devoted to Romola. One doesn't know how Avinash copes with his own secretive aspect beyond a certain point. In a gay party a guy who pretends to be gay and fond of Avinash blackmails him for money. Beyond that Avinash's character doesn't get developed. Amit settles down in San Francisco with a job and marriage with a woman, both his choices, though his mother never wanted a foreigner for a daughter-in-law. Unlike his parents, he chooses what he wants.
Told in the third person narrative in a non-linear mode, the novel constantly juggles between different characters and timeline. Through such a narrative the novel builds up characters that become more dynamic. And readers do get to see certain connections between their past and the present. There is some amount of character development. However, the connections between the different stories are sometimes loose. That can be deliberate though. Sandip's writing is beautiful. He has an eye for details and flair for descriptions. He understands the characters quite deep. With this pleasant debut, Sandip Roy joins the league of Suniti Namjoshi, Vikram Seth and Kunal Mukherjee (diaspora writers of Indian origin) who have written on "queer" themes.

Latest posts by Kumam Davidson
(see all)