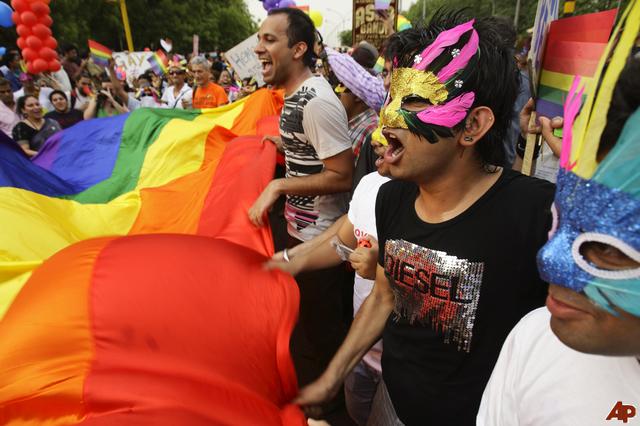 The struggle has been a long one… The case dragged for 8 years…But alas, the sun shone on this side of the world too, and the rights that we were deprived of were finally bestowed. The citizens of the country could finally live a free life, devoid of fear, harassment and criminalisation of love. Gaylaxy traces back the arduous journey of this fight.
Early Ripples
The earliest attempts at the need of a voice for the community can be traced back to 1990, when Bombay Dost- India's first registered LGBT magazine, was launched. Though it was a hush- hush affair, with limited copies and underground circulation, it touched the lives of many who lacked a platform to express themselves or understand themselves. It is significant to note that it was the pre- internet era, and information over topics considered taboo in Indian Society wasn't so easily available. Thus, Bombay Dost became the Dost of many a troubled souls. However, due to lack of advertising support and paucity of funds, the publication was suspended in 2002.
Even in its limited capacity, Bombay Dost had succeeded in what it had set out to achieve. Apart from disseminating information regarding HIV/AIDS and addressing LGBT issues, it had kindled the fire and shown the path to the community. Another major development that cannot be ignored is the release of Deepa Mehta's film 'Fire' in 1997. The film depicted intimate relationship between two married women and evoked sharp criticism and violent protests from right- wing Hindu organizations. It was probably the first attempt from mainstream Bollywood at dealing with the topic sensibly.
Pride Marches & Internet
The seeds of a movement had been sown, and the first ever Gay Pride Parade was held in Calcutta (now Kolkata) in 1999. It was organized as a "Friendship Walk" by the Integration Society; where a small group walked through the market streets of Kolkata handing out flowers to onlookers, and was later christened as 'The Rainbow Festival'. It has been an annual event since then. Later in 2008, Delhi, Bangalore and Puducherry too held their first Pride Marches. Mumbai too joined in, with Queer Azadi March in August 2008.
The role of internet, which arrived in India in mid 1990's cannot be ignored either. Free access to unlimited information while sitting in the comforts of your home along with the plethora of chat sites and instant messengers meant that people could network more easily, and support one another without the fear of raids and harassment from the police. The role of Indian media was also crucial, which has, through its various reports and articles highlighted the plight of this marginalized community and the difficulties being faced by various NGOs to curb the spread of HIV/AIDS among the community.
The Battle Begins
The next turning point came in 2001, when a group of men working in an interactive program with gay men were arrested by the police in Lucknow on the charges of abetting a crime under 377. The activists were in jail for 45 days before being finally released on bail. This prompted the NAZ Foundation (India) Trust- a NGO working on HIV/AIDS to file a Public Interest Litigation (PIL) in September 2001 in Delhi High Court to scrap Sec 377 of India Penal Code (IPC) as it violated the fundamental rights of homosexuals and came in the way of its anti-AIDS campaign. The NDA government filed a reply in the court that Indian society by and large disapproved of homosexuality and thus the section should be retained. However, the Delhi High Court rejected the PIL in September 2004 on the technical ground that there was no prosecution pending against the petitioner, without going into the merits of the case. Voices Against 377- a coalition of various NGOs and progressive groups was also formed to raise this issue, and exhort the Indian Government to read down the Section. In September 2006, acclaimed writer Vikram Seth along with scores of other prominent Indians in public addressed an open letter demanding that 'In the name of humanity and of our Constitution, this cruel and discriminatory law should be struck down.
On 3rd February 2006, on an appeal filed against the Delhi High Court ruling, a four- judge bench of Supreme Court asked Delhi High Court to examine the constitutional validity of the law. On October 5, 2006 Naz Foundation filed an affidavit before Delhi High Court and toned down its demand from a repeal of Sec 377 to reading it down to keep its ambit away from consensual activities between two adults.
Govt's conflicting stand
In the High Court, while the Health Ministry under Anbumani Ramadoss supported a change in the law to help in the fight against AIDS/ HIV, the Home Ministry under Shivraj Patil opposed such a move pointing out that the law was also used in child abuse cases and on grounds of public morality. The Law Ministry of H.R. Bharadwaj was also not in favour of any change in the law.
Upon returning to power and in its 2nd term, the UPA governments stand on this matter seemed to be getting soft. On 28th June 2009, Law Minister Veerappa Moily pointed out: "Many sections of the IPC are outdated and government is exploring possibilities of amending such laws and updating legal provisions so that they were in tune with the times." This raised hopes that the Government may soon be amending the law. However, in the face of opposition from various religious bodies, the Law Minister soon backtracked, pointing out that he had been misquoted.
Judgement Day
Finally, on 2nd July 2009, Delhi High Court; after considering the various scientific facts, evidences of prevalence of homosexuality in ancient India and Indian scriptures, as well as the recommendation of NACO; declared that the Section should not be applied to consenting adults as it violated the fundamental rights granted to an individual by the constitution. The Indian government too decided not to appeal against the verdict, calling it a "balanced judgement." The verdict was greeted with celebrations by the LGBT community.
However, the verdict was challenged in the Supreme Court by religious bodies. But, the petition seeking temporary stay on Delhi High Court's judgement was thrown away recently by the Chief Justice of India. The CJI dubbed the claim that the judgement would boost male prostitution as a "figment of (the petitioner's) imagination".
2010 has surely begun on a good note. A fight may be over, but the battle has just begun. The battle to change society's misguided perceptions regarding the community and for social acceptance of such people.