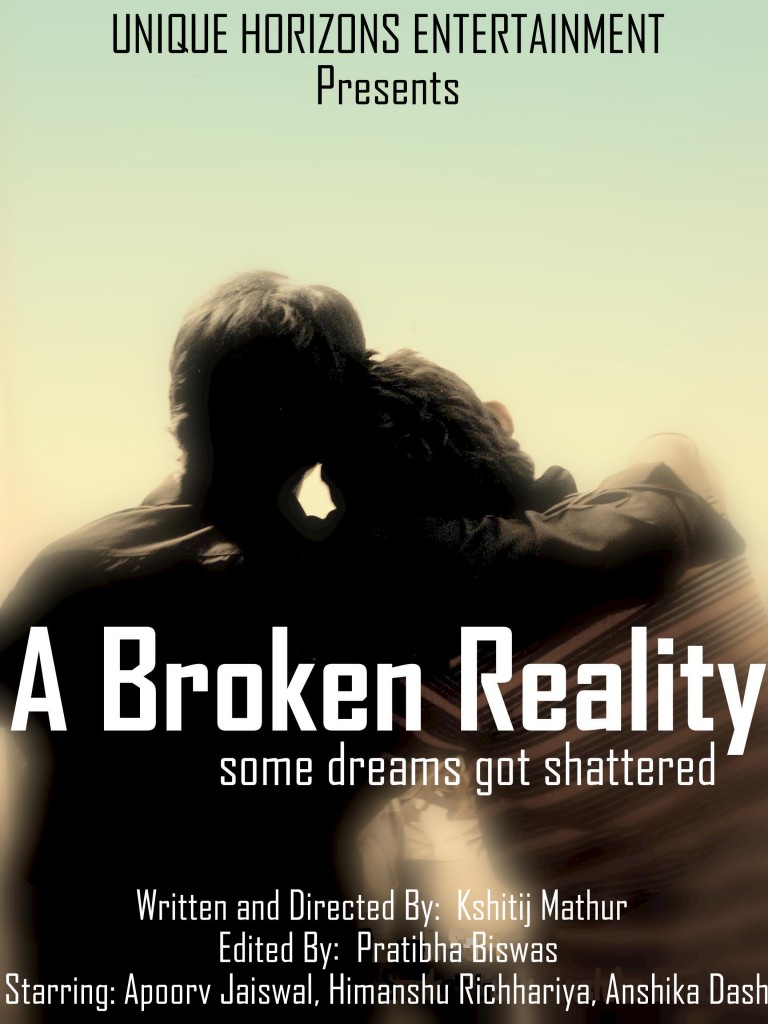 A Broken Reality, a movie based on a true story and described as a thought provoking effort to make parents realise that though they have homosexual kids but still they are their own kids, is under production. Sukhdeep Singh talks to the lead actor Apoorv Jaiswal , who, along with Kshitij Mathur, is behind this whole project.
Tell us something about the movie.
The movie is based on a real life story. There was a very close friend of mine who actually tried to commit suicide because of all the social pressures, parental pressure, marriage issues and everything. This story in a way is dedicated to him. The story is about two guys, one is Aditya and the other is Manav. While Aditya is a jolly character, very full of life kind of guy and the only son of his parents, Manav is a reserved person whose parents have separated. The movie is about how these two people meet each other and fall in love, and what happens when Aditya's mother finds out about their relationship.
How did Unique Horizons Entertainment happen?
I met Kshitij on Facebook first. We both were from Bhopal and we had the same dream of making it big in the film industry and we kind of clicked. We then formed the banner Unique Horizons Entertainment. We had five scripts to choose from for our debut, and we chose this one as little efforts have been made in India to portray homosexuality in a sensible way. We didn't want to make a movie like Dostana where we are making fun of such people. The script-writer and director is Kshitij Mathur, while the story and concept is by me and Kshitij both. The role of Aditya is being played by me and Himanshu plays Manav. The role of a girl in love with Aditya is being played by Anshika. The mother's character has yet not been finalized.
Has the production started?
Everything has been lined up. People have come up on their own for donations. We are looking for more donations. Previously, our film was a short movie of 20 minutes. But we felt 20 minutes is a short time to show each and everything that we want to portray. So we extended the length to 1 hour and we are striving hard that if we go for a 1 hour long movie, we have a theatrical release. We are going to send it for Film Festivals and are also in talks with some of the production houses. If everything goes fine, and depending on the response we get, we shall go for a theatrical release in India at least in the multiplexes. We are trying to keep a point in front of the society that these people also have a right to live, right to smile, right to live as per their own terms and wishes , because these are absolutely normal people.
What are you trying to portray through your movie?
We are breaking two myths. First myth which normally people have about homosexuals is that gay men are always feminine. Second myth which parents have about homosexuality is that it is abnormal and is a kind of communicable disease, that other people who are gay are turning my son into gay. We are trying to break such myths and that is why the name of the movie is A Broken Reality. The society is actually living in a broken reality and is not able to see the actual reality in the world. It has closed its eyes
When will the shooting begin then?
We have begun the rehearsals part because we want to do as less retakes as possible since we have a very tight budget. We are happy that people have come up on their own and donated money. Donations have ranged from Rs 100 to Rs 10000, without any expectation of any returns. We are going to include all the names in the producer list. Pratibha is assisting us in the editing and is also doing it for free. That is how we are cutting on the cost. We want to make a master piece, but we want to make a masterpiece with as much support from people and as less money as possible.
So you mean to say that it is a crowd sourced film like I AM?
Yes! Initially we were planning to produce it on our own- me and Kshitij. But then we realised that this kind of movie needs a big platform and more and more people and parents should watch the movie. Rather than LGBT people, we want straight people to watch it more, we need to open their eyes. Yes, the idea is similar to I AM and that is why we are proud of our movie, because people have accepted us with open arms.
What has been the biggest challenge that you have faced till now while making this movie?
The biggest challenge was that we were dealing with a very fragile topic and the emotions of a lot of LGBT people are involved. We did not want to make a movie like Kal Ho Na Ho or Dostana. It is a very serious film, a very romantic film in which people will connect with the characters of Aditya and Manav.
The actors are all working for free, they are doing it as a social cause and none of them even thought twice before saying yes. We have got positive comments, but we have also got negative comments. Many people have tried to discourage us too, saying that this is a topic you shouldn't touch in a country like India. But we wanted to do it, and so we are doing it.
You said this is going to be a romantic movie, so will there be any intimate scenes?
We were thinking of putting some intimate shots as in some bed and kissing scenes, but we scrapped it, and right now there is only a passionate hug scene, which we are keeping because it is the demand of the script. We just want to portray that they are not doing it for fun, they are not doing it for pleasure but they are in a loving and committed relation. They both are complementing each other.
So when is shooting for the movie going to start?
Shooting will most probably begin by 3rd week of June.
By what time do you plan to finish the shoot?
We are already working day and night and plan to wrap up the shooting in three weeks and then editing will take another week. So, our film should be ready by July end. Then we will be sending it for film festivals all over the world. We are also looking forward to sending it to Kashish International Queer Film Festival next year.
Depending on the response we get in the Film Festivals, some of the production houses have come up on their own knowing about our efforts, that they will, in collaboration with Unique Horizons Entertainment, go in for a theatrical release.
How do you plan to take forward your own career?
We have our own production banner. After this movie I and Kshitij are going to work together more and more. Taking this topic for my first movie has been a challenge for me and I am getting to hone my acting skills as well. I am getting to have a feel of what is actually sensible and meaningful cinema. I always wanted to do meaningful cinema. I never wanted to be a part of commercial cinema. I don't want to do a movie like Ready. I want to do movies like Abhay Deol. I like his movies a lot. I would also like to be an actor with a different recognition of his genre only, where people will say someday that whatever he does is something different and good. We are definitely planning to come up with more and more scripts under the banner of Unique Horizons and we look forward to make more such movies on social issues.