Menswear is *finally* having its moment under the sun, moon, and stars in fashion shows.
Long neglected and brushed aside to the interstices, menswear on the runway, is as shining as the pieces from the womenswear. And, it's evolving. No more restricted to the safe palette of black and blues or formulaic silhouettes, it is being imagined and reimagined in newer forms, fresher shades, for men who're in sync with the global outlook and ideas. Queer or not. We are talking about the men who don't ascribe a color to a particular gender. They like to subvert and play around, making the act of applying moisturizer macho or preferring a delicate scent over an empowering one to even creating an interplay of notes by layering a musk scent with an attar made of Madurai Jasmine. The runway, too, is reflecting and expanding upon this definition of a modern man by going beyond a fashion presentation to becoming a site for making broader statements in the cultural context. These thirteen power-packed looks at the FDCI X LFW 22 show are a testimony to that. Take a look.
1. Rahul Mishra:
A dive deep into the mysterious and splendid elements of nature, Rahul Mishra's craftsmanship and stand-out embroideries made an indelible mark at FDCI X Lakmé Fashion Week. Every stitch from Rahul's collection was packed with scenic explorations accentuated with colored beads and floral embellishments.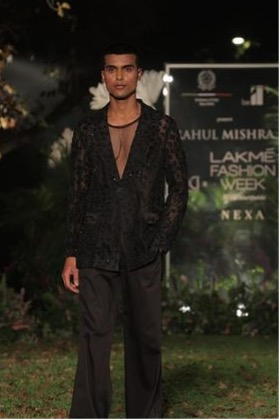 2. Shantanu & Nikhil:
The collection, "nomad" is a new direction, a way of looking at design as a responsibility, as well as a great power. With this collection, Shantanu & Nikhil seek to turn the art of design into a weapon, a tool, and a refuge. This collection brings all that is happening around us through symbols, textures, silhouettes, and motifs. There are sweaters in rough knits that seem like they are made of rope yarn, suited to a breezy beachside, while classic intarsia featuring large leopard spots are cut into voluminous jackets for the urban jungle. There are huge bags and vintage fisher hats, alluding to the constant nomad in all of us, while puffer jackets and studded harnesses coalesce comfort and couture.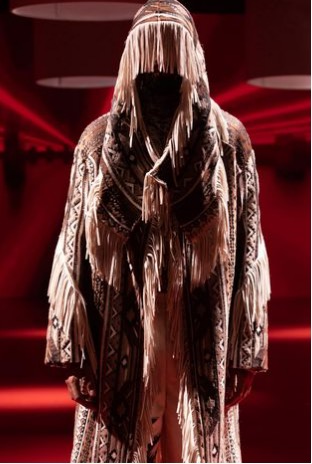 3. JJ Valaya:
Rumeli~The Summer Story at FDCI X Lakmé Fashion Week was engineered with a sensitivity towards sustainability. JJ Valaya's newest bridge-to-luxury brand, JJV, debuted with an eco-conscious collection made from TENCEL™️ LUXE filament yarn – a sustainable, eco-friendly, and vegan alternative to silk.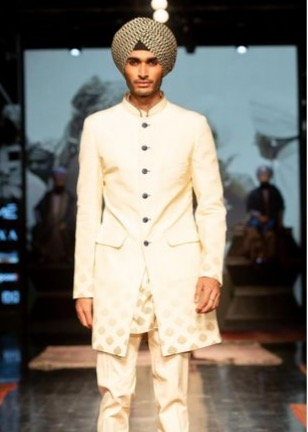 4. Adidas originals X Antar-Agni
Antar-Agni represented change and liberation through hues of burnt orange, teal blue, ivories, and black to create a bold juxtaposition with fabrics that are fluid with a matte sheen. The subtle play of graphic embroideries and abstract placements of layers enhanced the fluid silhouettes coupled with sharpness.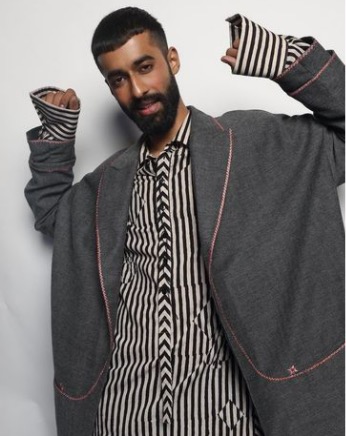 5. Ashish Soni
Scores of floral-printed silhouettes both done in soft tailoring as well as elongated silhouettes make for potent imagery which continues to strengthen the tailoring tradition narrative from the menswear to the reintroduced womenswear.
6. Huemn
boAt X HUEMN's collection was a play on contrasts and a reflection of the choices an individual makes while navigating through rapidly progressing communities, empowered by inner strength. The collection deep dives with garments that are conversation pieces, hand-drawn prints, powerful statement pieces, inclusive fits, and meticulously handcrafted textures HUEMN is known for.
7. Puneet Balana
Designer Punit Balana's new collection, "Lakshmi" takes inspiration from the journey of a young, urbane, cosmopolitan girl, Lakshmi who is well-traveled, yet very rooted. The collection is an artistic expression that beautifully blends culture and art forms deeply rooted in Rajasthan. A sense of fluidity and ease with movement is the core of Balana's new collection as each and every ensemble has been designed to be moved, danced, and celebrated in.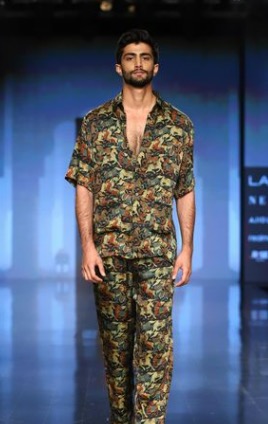 8. Suneet Varma
Bata X Suneet Varma's collection, "The eternal lightness of being" was carefully crafted in stylish & easy silhouettes. The ensembles in this collection celebrate life and living in the moment which can be used from day to night with just a twist in styling.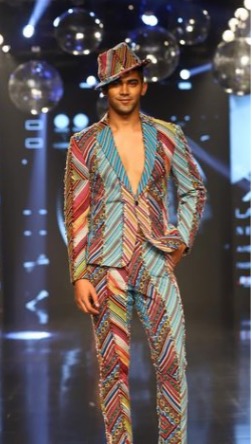 9. Shivan & Narresh
Shivan and Narresh's Fresconian Series at the FDCI X Lakmé Fashion Week was all about reimagining the visual splendour of Shekhawati havelis in Rajasthan. The contemporization of the mural musings and their new-age relevance in documenting and eternalizing the Shekhawati history and the lives of the people at that time enamors and inspires a modern canvas for the Fresconian Series.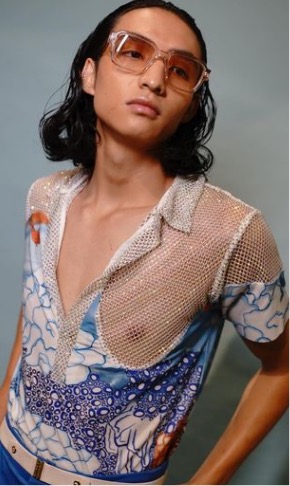 10. Tarun Tahiliani
Tarun Tahiliani's luxury pret was a beautiful expression of modern India. It represented the amalgamation of modern and traditional silhouettes as well as drapes with technology and aerodynamics. Here, structured draping marries tech. There were prints in the collection, which were distorted and recreated in the most beautiful textiles. Innovative at its core, the textiles in this collection were woven with a zari thread and resham to create a metallic textured sheen and look like molten metals.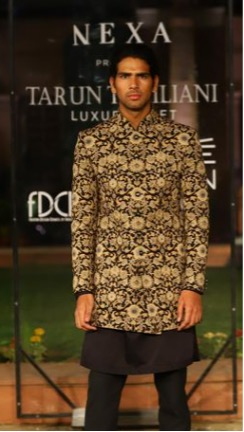 11. Siddhartha Tytler
Siddartha Tytler's collection takes inspiration from the art of "Sometsuke". Sometsuke is a Japanese term referring to the technique of decorating ceramics with brush-painted designs in underglaze cobalt blue on a white ground. The transparent glaze is applied on top of this painted bisque before firing, producing a vivid shade of blue that is known in China as qinghua (literally "blue flower"). Tytler's line comprised of applique, crystal splashes, heavy sequin sheeting, ruffles, and digital prints commissioned by an artist.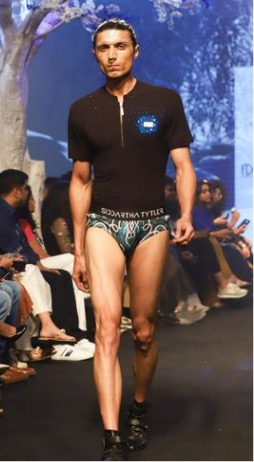 12. Pawan Sachdeva
Pawan Sachdeva's "MenVerse" showcased a reinvented collection to give athletic vibes catered to the sartorial needs of the new age male. Indulging in textures, the designer has played with simple fabrics like cotton weaves, leather, PU, crepe lycra, and knits for effortlessly styled looks. Each garment is designed to appeal to the masses who are as free-spirited, expressive, and classic as his inspiration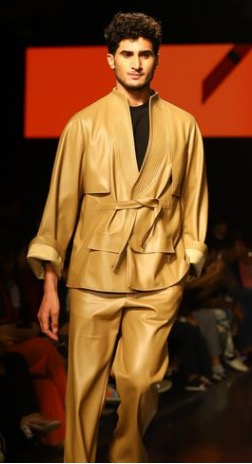 13. Falguni Shane Peacock
A whimsical collection unfolded bursting with sequins, eye-catching silhouettes, and delicate feathers. Ranging from bomber jackets to dresses, this line had it all. Infused with a glittering charm, every motif from the collection stood out with its distinct embroideries.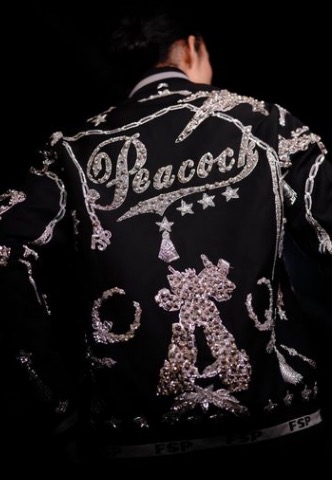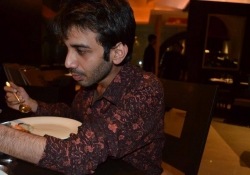 Latest posts by Vinay Agrawal
(see all)