World, meet 'shades of the year': Ultimate Gray & Illuminating Yellow
Every year, Pantone doles out a singular shade (sometimes, two) for the entire year, after taking an account of the cultural mood board, big changes that has had happened over the course of year among other things. Often considered a color conglomerate, and the last word on all things color, Pantone colors are anticipated months in advance by fashion and design industry.
This year, it declared two shades: Ultimate Gray and Illuminating Yellow as shades of the year. While Illuminating is a bright and cheerful yellow sparkling with vivacity, a warming yellow shade imbued with solar power; Ultimate Gray is emblematic of solid and dependable elements which are everlasting and provide a firm foundation. These two independent colors come together to create an aspirational color pairing, conjoining deeper feelings of thoughtfulness with the optimistic promise of a sunshine filled day.
While one might have come across this pairing on grey roads marked with yellow thermoplastic paint (give it a see next time, if you haven't till now), here's how you can incorporate them into your fashion closet:
Taking Cues From Kartik Aaryan: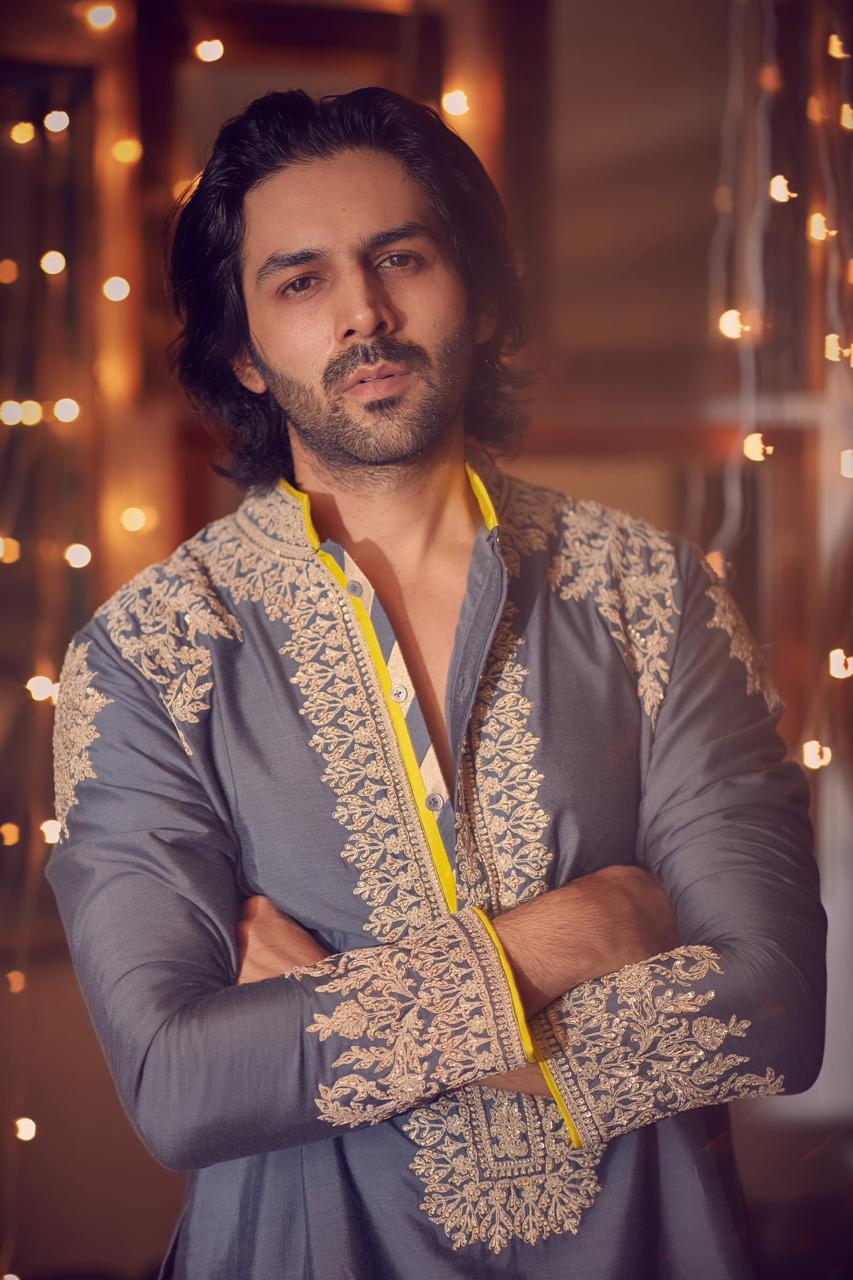 Here's Bollywood chocolate boy, Kartik Aaryan wearing a grey and yellow kurta ensemble by Manish Malhotra. You can alternately style a solid yellow kurta with a grey stole or a grey kurta with a yellow stole for that extra pizazz.
Band of Outsiders Spring Summer 2020: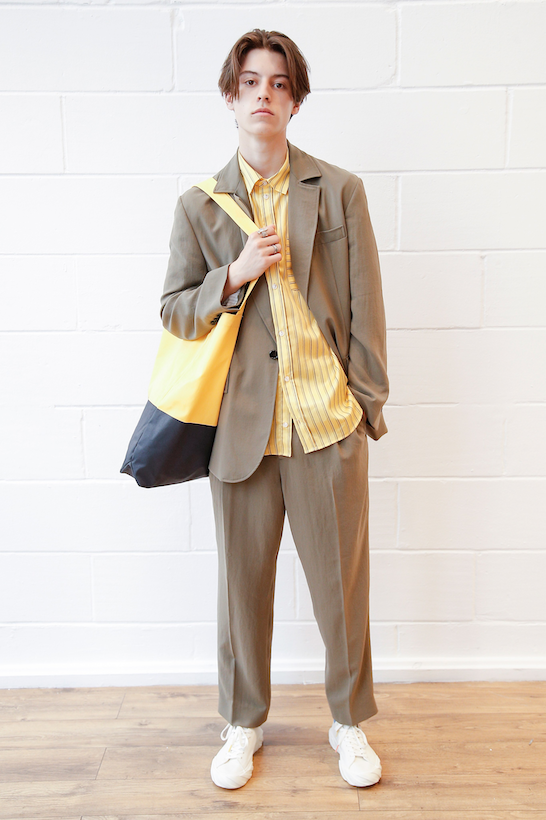 Seems, Band of Outsiders was privy to the colors of season, and featured a male model wearing a summery yellow buttoned- down collared shirt with a loosely (but, well –tailored) grey suit, white sneakers, silver rings and a gigantic tote bag to carry all your essentials- sanitizer and face mask included.
The Collab/s of The Year:
Pantone officially partnered with Russian label Monochrome to launch a limited edition line of over-sized luxury hoodies, pants and t-shirts- all of which are inspired by ultimate gray and illuminating yellow. For the headwear and beanies (winter is here!), it partnered with LMY (Love Your Melon). For footwear, it collaborated with sustainable label, Cariuma to roll out two shades. One can either wear these kicks separately or mix-and match. Go sockless or experiment with solid yellow- solid yellow, grey-grey or grey-solid yellow socks for a stunning mismatch effect.
Starting From The 'Basic' Level: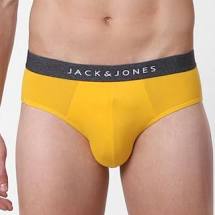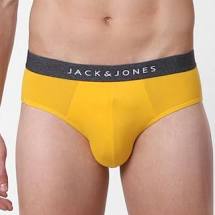 For those who like to keep their basics on point, they can wear the trend by donning this yellow Jack & Jones brief with a grey elastic band. Flaunt it, if you want to, by wearing a low-rise denim to give enough peek-a-boo without crossing the line of perversion.
Edging it Up: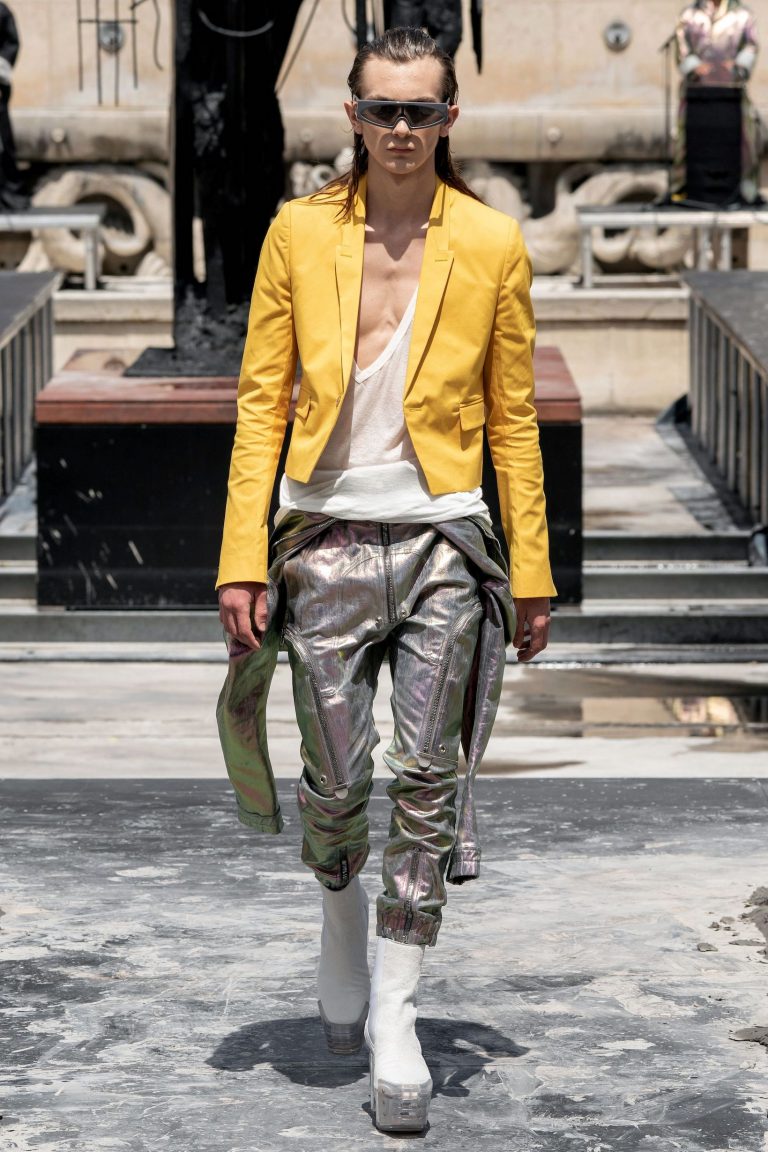 For those who are finding the grey a tad too mundane for their liking, we've got you covered. Rick Owens' Spring Summer 2020 presentation, Tectual had plenty of edgy inspo to offer- it was filled with Owens trademark cuts, boundary breaking silhouettes and soothing metallics. Basically anything and everything but, run of the mill.
Berluti Fall 2019 Menswear: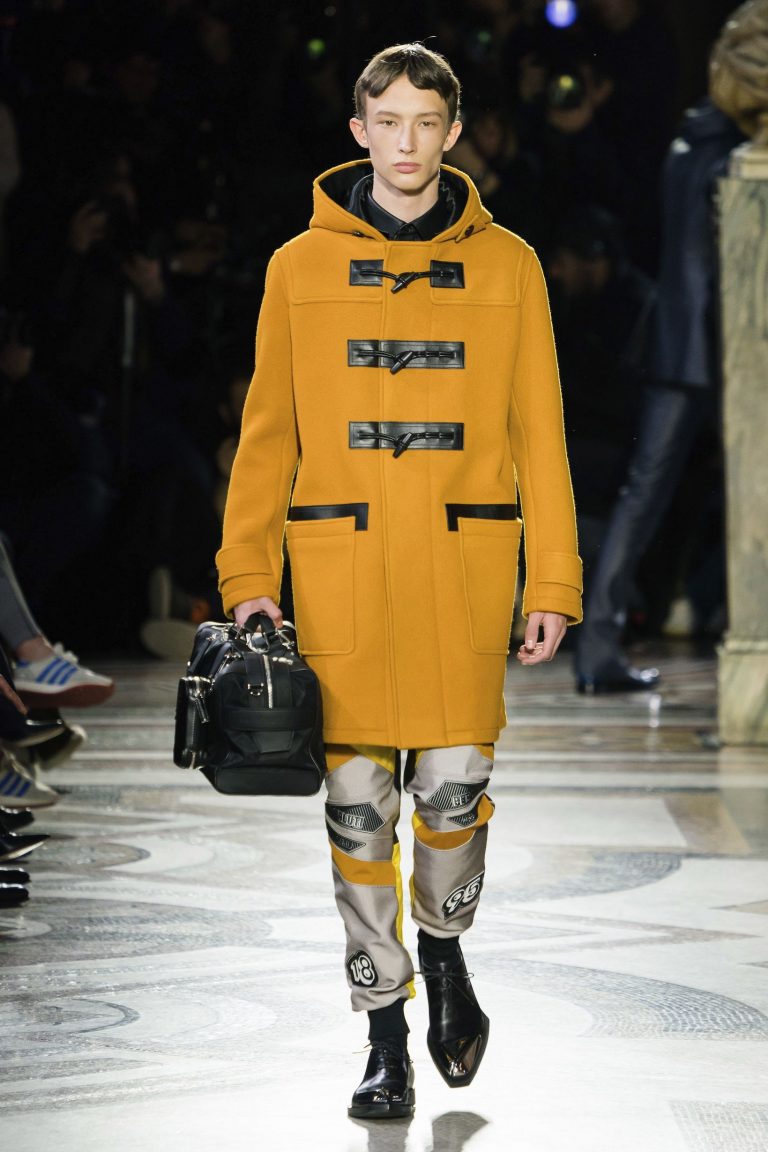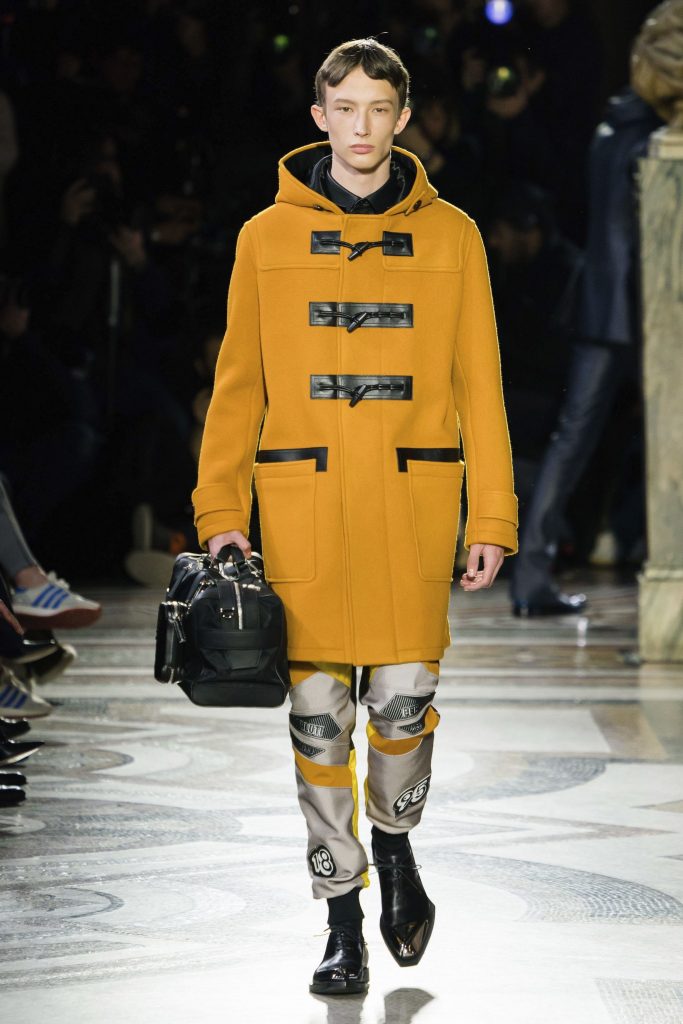 This winter appropriate yellow trench coat by Berluti is paired with a printed ribbed trouser pants with a predominant grey base, a high shine (no less than 440 watts) black leather shoe, and a black mini duffle style bag to pack up your essentials and non-essentials. The overall look gives a luxury yet a playful vibe.
Daks Spring 2019 Menswear: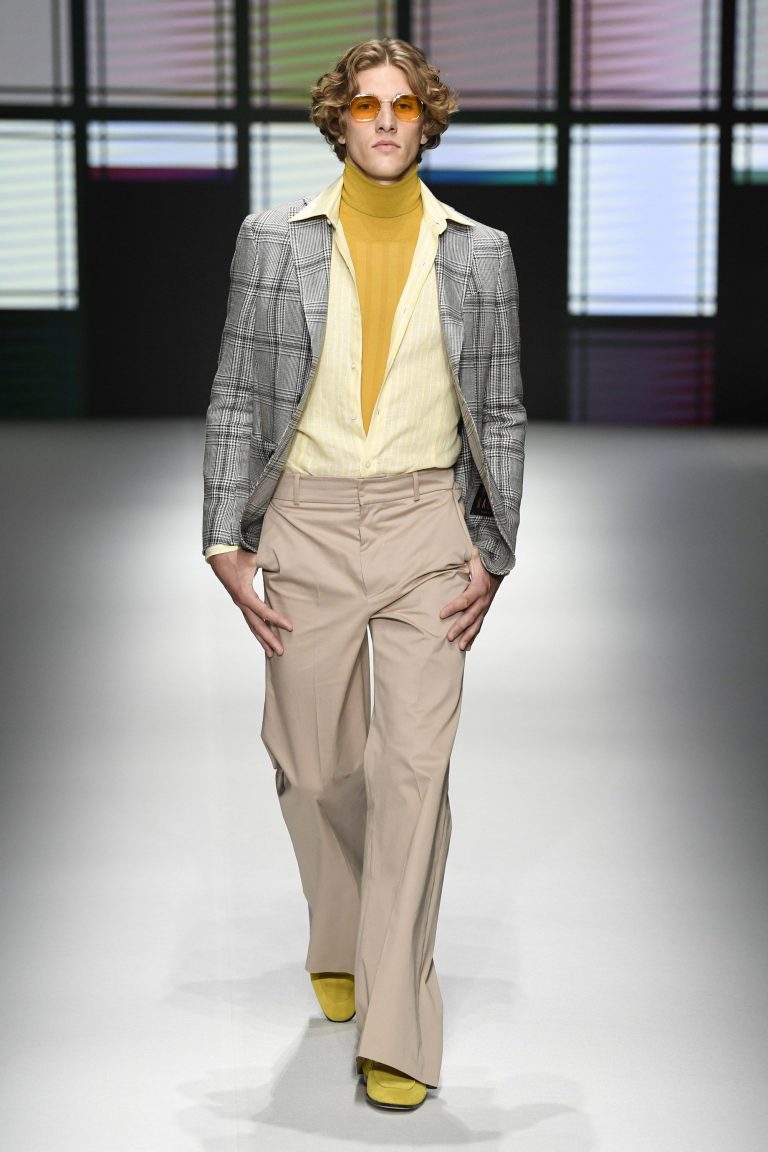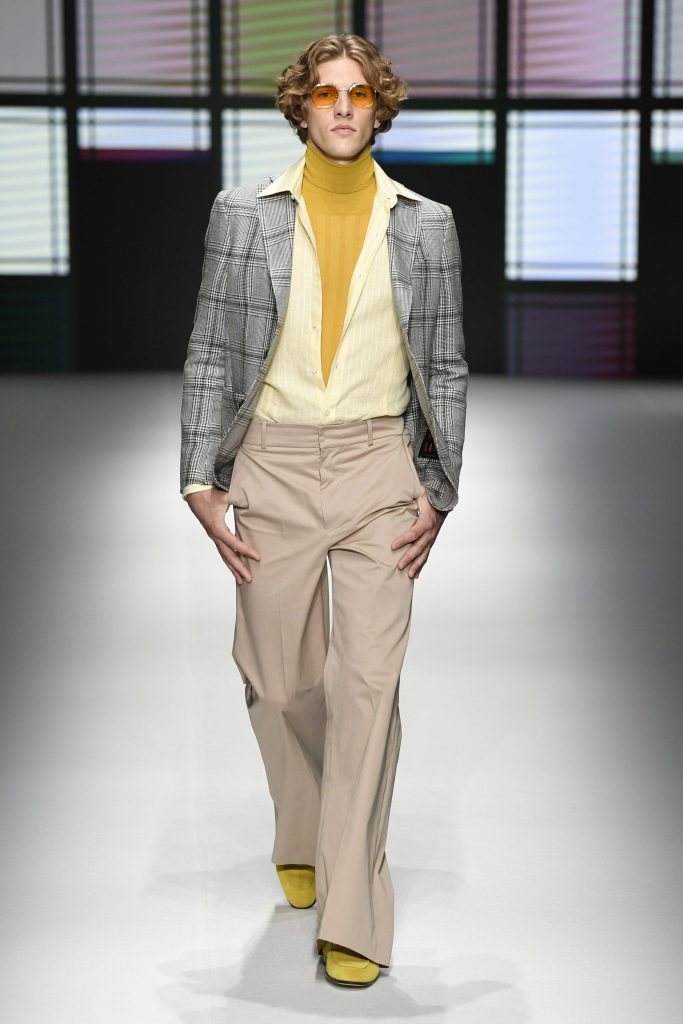 Daks bought the dandy back, this look is perfect for a man who takes pride in his dapper appearance, and likes his hair combed to the perfection. No, a near perfection won't do, Sir. The look here, involves two shades of yellow: a turtleneck worn in a deeper shade, accessorized by a wide-collared button-down shirt in a lighter version of yellow worn over a plaid grey jacket again in a light shade. Overall, it stretches the limits of layering and serves as a transition or bridge wear for many occasions.
The pants have been kept neutral and are wide-flared (very seventies). The yellow is again brought in the look through accessories: a very summery sunnies and a suede pair of moccasins in a different shade of yellow. In all, the look contains around four gradients of yellow from dark to light to somewhere in-between.
Loewe Autumn 2020 Menswear: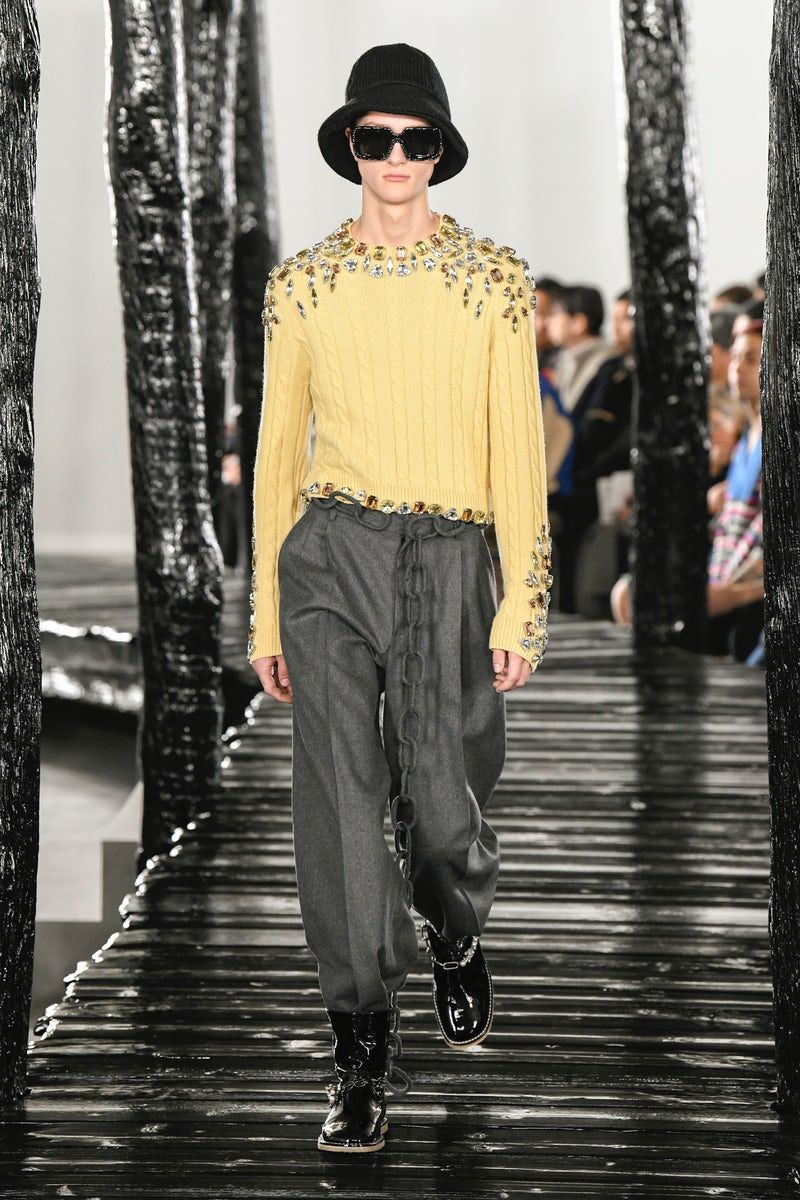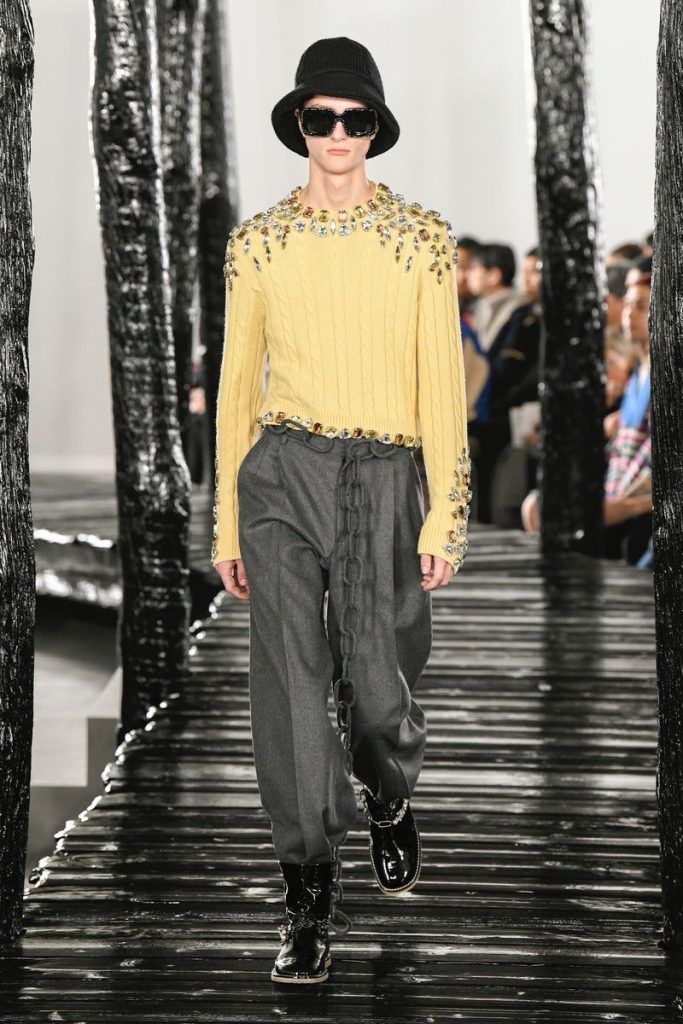 Loewe Autumn 2020 had a look that signified being a mindful extra; basically knowing where to begin and where to stop i.e. where to highlight and where not to. In its runway presentation, Loewe sent a male model wearing a yellow ribbed cardigan encrusted with champagne, copper and white colored sparkly rhinestones in two different cuts: square and tear drops. The rhinestones were placed near the hemlines, around the collars and both the wrists.
The sweater was paired with a baggy cargo grey trouser clinched with a trail of hoop chain belt in the same shade. If that wasn't enough, the look was accessorized with a mirror shine ankle length boots, a rhinestone studded large frame and a black sleek hat. The whiff of androgyny was evident throughout and spelled in words by the designer Anderson who called it a fantasy wardrobe.
The Versace's Take: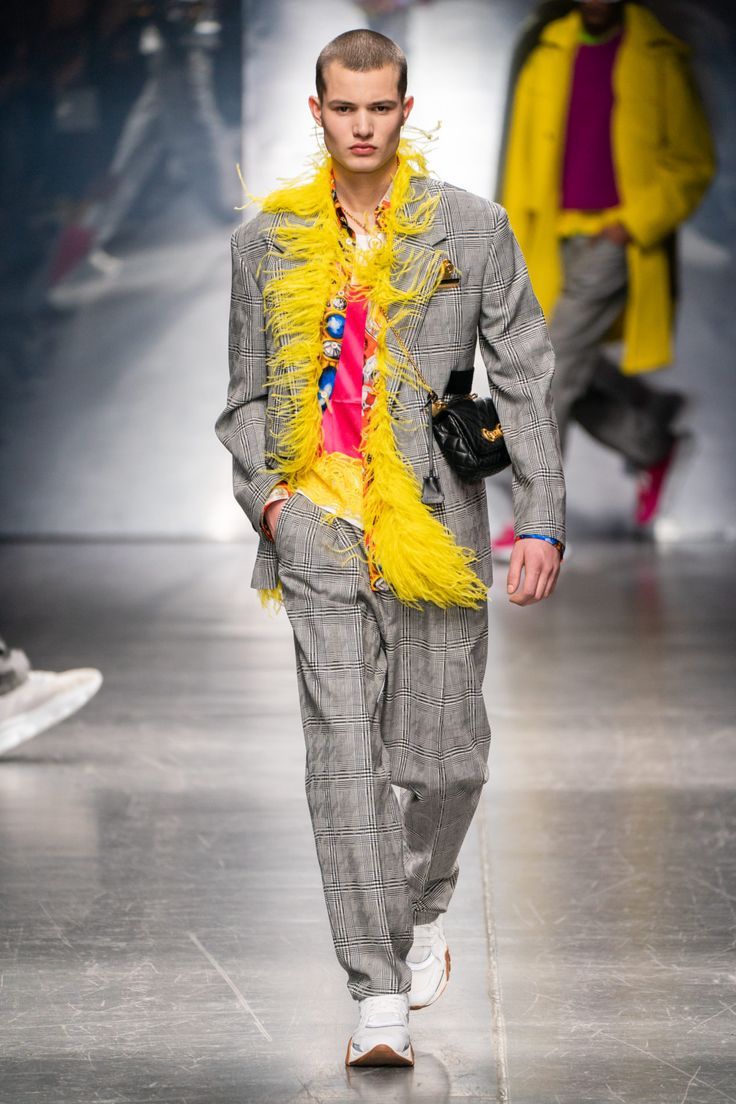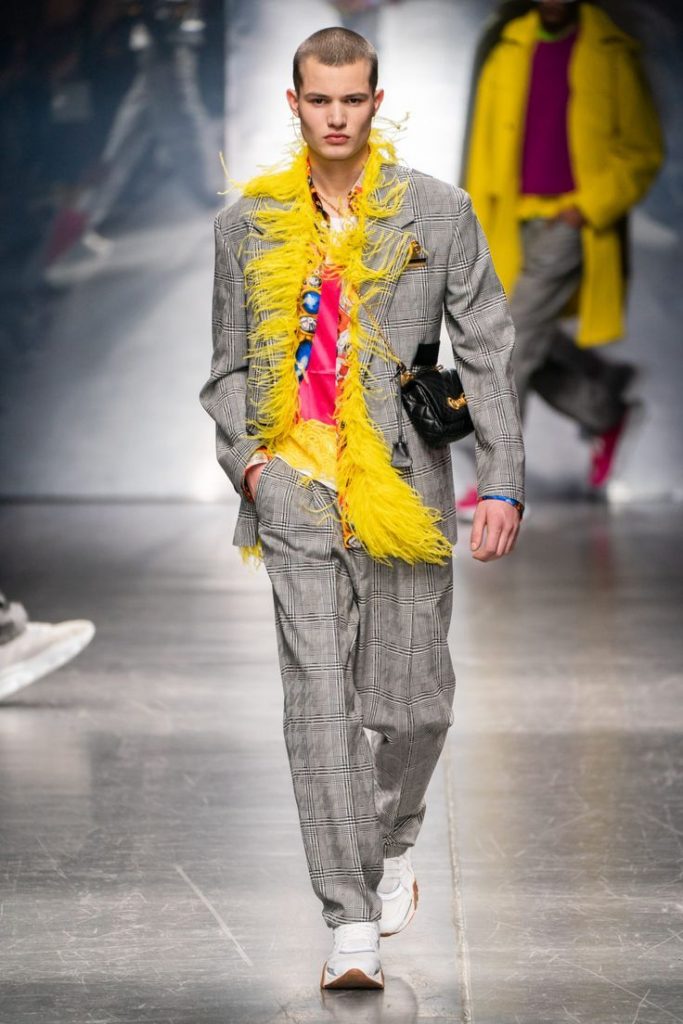 The Versace's version of Shades of the Year featured a plaid grey jacket and trousers accentuated with a yellow ostrich feather trimming around the edges of the jacket, a cross body black baguette and a calcium white pair of kicks to round off the entire appearance.
Through The Eyes of Hermes: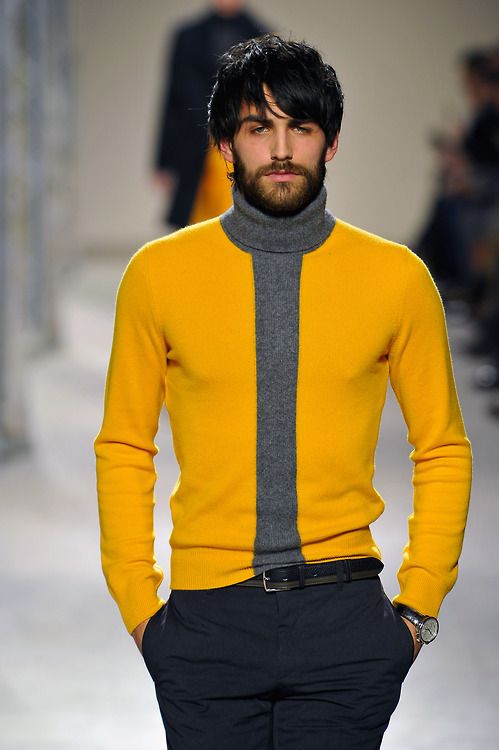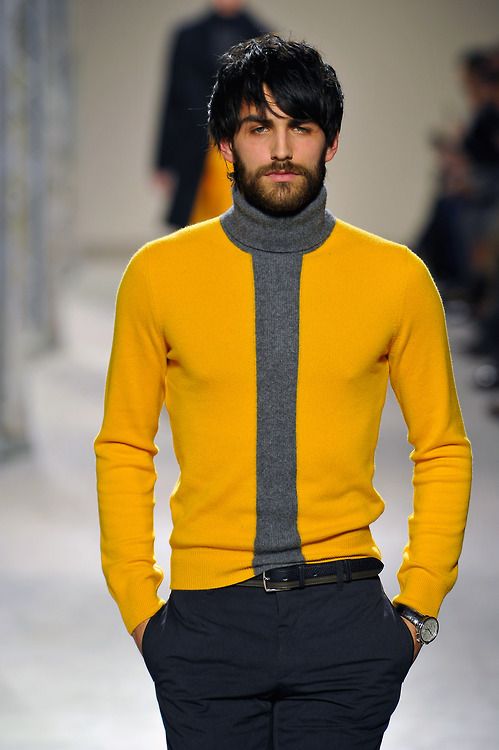 Hermes take on the haute colors comprise of a minimal approach. It features a man wearing a turtleneck in the base hue of yellow. That way, the approach is more towards the yellow side instead of grey. Rather more on the illuminating aspect than the ultimate.
The grey is brought in through a means of a vertical pop that runs through the midway of the woolen garment throughout the end and around the turtleneck. The pants worn with this are black while the accessorizing more or less leans towards the semi-formal side.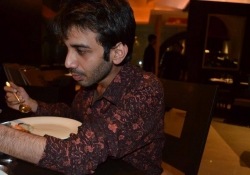 Latest posts by Vinay Agrawal
(see all)