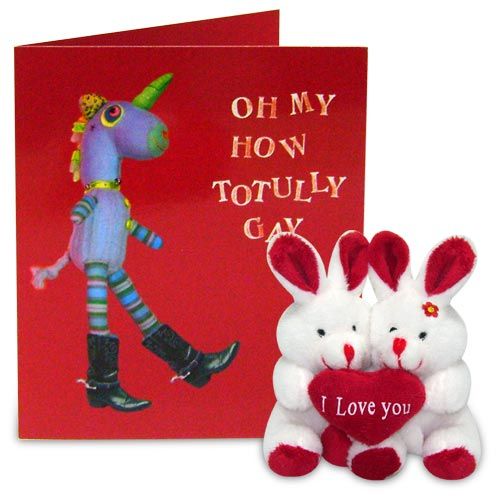 Surprised at the title of this article? Well, after the initial eyebrow raising and on second thoughts, you must have guessed what I want to convey. Archies came up with 'it', Archies was appreciated for 'it' and Archies sold 'it' out. Yes, 'it' being the gay Valentine's Day card. There was a lot of hullabaloo surrounding the launch of the cards by Archies. It was covered by all major newspapers and dailies. As the news spread out, there was a lot of internet chatter among gay circles regarding how eagerly they were waiting to lay their hands on 'it'. The move was appreciated, and it should be. For coming from a leading Card maker in India, it had its own symbolism. It was symbolic of the fact that society is opening up and Corporate India is viewing the "gay market" (if I may put it so).
However, no sooner had the cards arrived, the euphoria died out and disappointment took over. The quality of the cards was disappointing. The new discussions now focused on how bad the cards were. Personally or over the discussion forums, I haven't met a single queer person who would say that he/she loved the cards. Since all the mainstream media has gone hammer and tongs at appreciating the cards and reporting how fast they sold out, I thought it's time someone points out why or how Archies failed us, and through this article, give them a clearer perception of what their "actual target market" thought about the product, minus the filtering of the mainstream media.
In a single sentence- 'We loved the concept, not the product'. There were 5 different cards available, catering to gays, lesbians and another gender neutral one. Now, let's analyse them. The first one with "For my Boyfriend, From Your Boyfriend" and "For my Girlfriend, From your Girlfriend" seemed childish. If anything at all, it felt as if a child had scribbled something on the cards, with his yet-to-perfect handwriting. Moving on to the more graphic ones, with stick figures of two men and women holding hands and titled 'You and Me'. Could you not come up with a better way to depict love? The figures looked really dull and dumb. Were your creative heads out on a holiday? And the worst one is yet to come- the gender neutral card. For one, I haven't been able to figure out what this out-of world creature represented or depicted? Looked more of a unicorn, since it had a horn, had a face that resembled that of a donkey and seemed like a stuffed toy as a whole. With "OH MY HOW TOTULLY GAY", only God or Archies can explain what they wanted to portray. Do we look so alien to you?
I hope the message has gone across. We are grateful that you came with cards focused on the gay community, but when you were taking the plunge, then why play so safe? Surely, the cards got sold because how so ever bad, they were the only ones available. The next year we do hope that you would come up with something more pleasant. Just in case the creative heads in your organization are clueless about the needs, I would like to tell you that there are enough talented persons in the gay community, just drop a line at any of the forums, and they would come up with a far superior job.
Sincerely hoping that this write-up does reach the intended people and has some effect on their future market strategies, because 'we deserve better'.