Navchintan writes about the other sufferer in his life of duality as a gay married man- his wife, and warns others from marrying unsuspecting girls
I am 36-year-old gay man who lived a closeted life until now. I have dreamed of men since I ever realized that I could dream. I was never attracted to women. I knew that I was unique. However, what I did not know was that this was an alternative reality. I got married to a woman, who was beautiful, talented, caring, smart and loving. I went on to hide myself deeper into the closet, trying to fit into the heterosexual world, venturing out to cruising places to satisfy the carnal desires once in a while. I had been living a dual-life filled with guilt and self loathing. Then life takes over as usual. I had 2 sweet children. The guilt of doing wrong stopped me from seeking out men and I immersed myself into work. I am now 10 years into the marriage. Shameless to say, I have not had sex with my wife more than 5-6 times in these 10 years. You may ask, "Did your wife tolerate it?" Yes, she did. She did question sometimes, but I had an excuse everytime. She was in love with me and did not want to hurt me. Lack of sexual intimacy is a ground for divorce, but she did not do that.
It was a day in the breezy month of September, winter had not yet set in, I met this guy again over whom I had a crush 10 years ago before my marriage. The breezy evening, the hot espresso and the smiling face of this hot crush of mine in front of me, I was on cloud nine and realized that I was in love. A great feeling to be in. I was deep, really deep in love with this guy. I completely forgot that I had a family back home and that I am a married man with two kids. Nothing crossed my mind. I started courting this guy until he dumped me into the abyss by saying "I am straight" to my "I love you." Ha, heartbroken, I fell straight on the ground. I was so lovelorn. I was so depressed. I could not control my emotions. WHY ME??? WHY WAS IT ME GOD??? WHY DID YOU DO THIS TO ME???
I met a counselor, who was a godsend and helped me through my heart break and made me understand who I was and what my needs were as a human being. While dealing with my heartbreak, I was introduced to a great support group Good As You(GAY) Bangalore. Words will not be able to do justice if I have to say how helpful this group was to me. I started accepting myself. I made good friends and started living my life afresh.
This is not what I wanted to write about. "WHY WAS IT ME?" is about the other sufferer in my life of duality — my wife.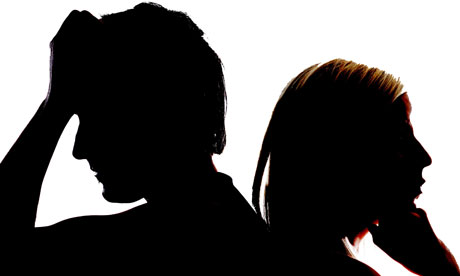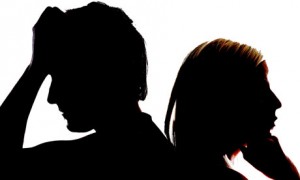 A 32-year-old sweet, beautiful, intelligent, well-educated, loving girl, who got married to me 10 years ago with starry eyes, entering into wedded bliss, hoping for love-filled, fulfilling life with a loving and caring husband. She fell in love with me when we met for the first time. I was a very good actor, you see. She was in awe, especially, with all her friends and relatives praising her for such a great choice (I can say this about myself; I am always smiling, sweet looking, caring, loving and happy-go-lucky guy). She was blinded by the probable-Oscar-winning act of mine. Though I can take shelter by saying, "I was ignorant," but I for sure knew (and most people like me also know) that I should not be getting married to a woman.
I could continue my act for quite sometime without her suspecting. Then, I got a superb idea, I thought to myself, "If we have a baby, then she would get diverted to the caring of the child and the need to have sex would come down." With this brilliant thought, I was successful in a very brief time, and lo and behold, I was a dad. Being a father, the feeling was lovely to hold the child in my arm; it all felt right. I could convince myself that my decision to get married was right. I was a doting and caring father. My wife was again taken away by my father act. She fell in love with me all over again. Once the child had grown up a little, she started looking for intimacy and sex. I took the shelter of working in nightshifts (thanks to the BPOs and ITES companies). I could pass off as being tired and stressed and hence not interested in having sex. Hats off to her, she has been really tolerant and bought my excuse. When she started to discuss about sex more often, then I thought, it was the time for the second child, and we discussed about it and yes, we had our second bundle of joy. This time, I over did the father act to cover up, and she fell, head-over-heels in love with me again.
My wife got her tubes cut so that we can have sex without the fear of her getting pregnant. She wanted to be the best wife ever and satisfy me to the fullest extent. All this while, I knew that I cannot be what she wants me to be. There were nights of arguments about why we have such a bad sex life, and she suggesting me to visit an urologist to get myself checked.
During all this, my love affair that I had spoken about earlier, happened. When I came to terms with accepting who I was and that I could fall in love with a guy, I realized what my wife would have been going through. The heartbreak that I went through as the person I loved did not love me back; she also has been going through it. At least, the friend of mine whom I fell in love with did not waste 10 years of my life to tell me that things would not work out.
What was I doing here? I have been denying her the basic human need of being loved and being in love. Is it right on my part? Doesn't she deserve to know the truth? Does she have to live without love only because she is married to me and that she has kids? Isn't it her right to lead a life of her choice? Can I not be concerned about her life as a friend at least? I do love her as a friend.
I started thinking these questions. I realized that we are humans and we make mistakes, but we need to take responsibility of our mistakes and try to be truthful and honest.
I realized that the only way that she would get answers to all her questions would be if she gets to know who I am. I took the support of my friends, Good As You, and my counselor and decided to come out to her.
I came out to her, and I know she is devastated, and we are still going through the process. I will write my coming out story again as that is not what I am trying to say in this story.
The purpose of me writing this is to throw light on the silent sufferer. I have been talking to gay guys around about what they think about getting married to a woman. There are many guys with a mindset that they should get married to a woman to satisfy their parents and relatives, and have sex with men outside. This thought itself is so derogatory towards women. These guys are not even considering what would happen to the women in these situations. I again feel that we are taking women for granted as we have been doing since ages. Women and their feelings are not respected in this country which idolizes women as Goddesses but do not treat their women well. I am turning feminist. A homosexual man marrying an unsuspecting straight woman is EQUIVALENT TO CHEATING. I know I am using a very strong word, but I strongly feel it is true. I am a very kind human being, and I would not hurt anyone, but what did I do with my wife? I feel so frustrated looking at my wife's suffering.
None of us have any right to spoil someone else's life. We should take responsibility of our life and of others too.
I really hope someone who is reading this understands and makes a decision to not hurt a soul of an unsuspecting woman.
Let us be human. Let us love ourselves. Let us love others.
PS: In Bangalore, under the umbrella of Good As You and Swabhava, we have started an initiative to set up a support group for Married and Queer people (for all genders and orientation). This group meets every alternate Saturday at the Swabhava Office. This is a group for Married & Queer and people who are queer and are getting married heterosexually by force, choice or ignorance. To know more about this group you can visit the following links
http://groups.yahoo.com/group/goodasyoublr
http://www.facebook.com/groups/GoodAsYouBlr
Latest posts by Navchintan
(see all)