"Spanking is a sex act. It has been for a very long time—probably even longer than it's been a parenting choice. A fresco at the Etruscan Tomb of the Whipping, which dates back to approximately 490 B.C., depicts an erotic spanking. In Francum, a 1599 epigram by John Davies, includes one of the most explicit descriptions of sexual masochism in Renaissance poetry. In Victorian England—well, there are way too many examples to list them all, so suffice it to say that spanking was a constant focus of Victorian erotica." Source: Slate.com
So yes, my partner and I spank one another, and we love it. And I have no qualms admitting to the same, because it is so ubiquitous to the act of sex we indulge in, that the experience is what I want to share, which I feel you should experience, if you haven't already.
A little bit of playful pain
Why not? Let's admit it, most of us want that little pleasure pain when we hump and pump away, and there are plenty of sensations that we enjoy on the same lines too. And must I say, when I began BDSMing with my fuckdates, spanking was one of the easiest intro to deal with. It was either my hand and his butt cheeks or the reverse; not touching the tailbone though.
Spanking, as I see it, is 'risk free'- What do I mean by it?
No serious hurt and injury, because the love tap is sensual enough to make the hormones in the body flow. However, do it with a surprise and not with a very firm hand, not unless your partner is a total slave that wants painful humiliation! And aside from the feel good factor it gives, a rugged hand on the buttcheeks, spanking away and then fingering you with the mighty thrust or a powerful fisting- heavenly!
Why do it?
To feel a sense of domination
To accept happily being dominated
To add more zing and spice to the sheet tearing action head
Etiquettes to follow
Focus more on the meatier part of the ass cheek
Don't ignore the upper thighs.
Caress and spank, caress and spank, caress and spank.
No wearing jewellery when doing that.
Unless asked for, hand prints aren't advisable to give.
Best positions to do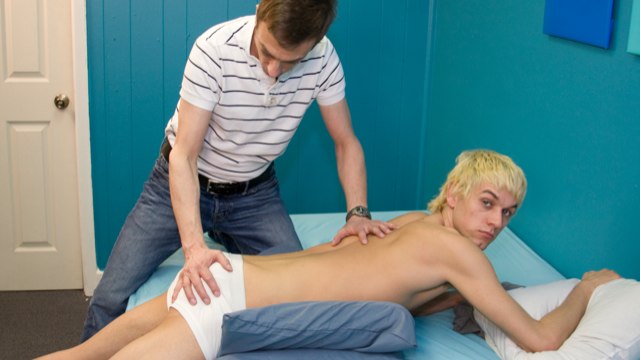 Sit on a chair and make him bend so you spank him like a teacher would
Let him lie across your lap and you get to spank the jelly
Make him go on doggy pose and you spank him with both hands or one
Spank the butthole- many gay men love it
Sit on his face, his chest or his cock and spank him away!
Tools to spank with
Your hands
You could use a paddle
Sex toys such as floggers and whips
How to do it
Massage the ass cheeks with your hands (if you are using your bare hands), and then tickle the area soft. Now you are ready to spank because he's in the mood for the first strike; which should be a surprise.
Spank at the center of the butt crack and then go low.
Spank where the cheek meets the upper thigh, which would vibrate his balls and make him hornier for you.
Prop him up as a doggy and spank his butthole, and hold his tummy while doing that.
Let him give you head when he gets the spanking.
Go ahead, try this risk free fun and get more imaginative in the art of spanking
Disclaimer: Dont pretend you don't like spanking or have no kinky fetishes of your own! If you want to condemn this act, look deep within and spank yourself for being a closeted sexualphobe!

Latest posts by Rohan Noronha
(see all)