They say we don't meet people by accident. They are meant to cross our path for a reason. A date between two queer Kanpurians proved this to be true. They met for a date without realising that they are going to start something that would impact the lives of many queer people across Kanpur.
Meeting two souls
Three years ago Shaan Mohammed and Anuj Pandey hit the conversation on a gay dating app. While chatting on the dating app, they planned to meet and see if they can take things forward. It was one of August 2018's evening when they met at a famous Niharika Bakery in Kanpur. They enjoyed sipping tea together having little idea that the meeting would lead to a romantic and purposeful life ahead.
It was Shaan who reached earlier than Anuj at the decided spot- Niharika Bakery. "When Anuj reached the spot he looked like a small boy to meet me. His height is small. He was just 16-years-old. However, we enjoyed sipping tea together and sharing about each other's life. We also roamed around the city a little bit and had some snacks. Since the first encounter, we began meeting almost every day and roam around the city. We did not know when we fell in love," shares Shaan who is 24-year-old. Shaan runs a garment business in Kanpur and Anuj who is 18-year-old is pursuing journalism.
Despite their age differences, they fell in love and began sharing good moments together. Since Anuj's mother had expired in 2017 and his father works in Mumbai in the hotel industry he stays alone in Kanpur. He has enough freedom to make his own schedule and have desired time with Shaan.
Although they are a couple, but they have introduced themselves as best friends to their families. Anuj was out to his mother, but his father has little idea about his sexuality. On the other hand, Shaan is in the closet and believes that coming out to his family is not important now as he already living his life freely.
When asked how did they come to know that they are gay, Anuj told that he was attracted to the male gender from his childhood. He would talk to boys the way a boyfriend and girlfriend do. Once he was talking to a boy over the phone and his mother heard everything.
"My mother thought I was a transgender. She asked me to stop talking to boys like this and live like straight boys or else society will not accept me and my life will be destroyed. But I explained to her about the LGBTQ community. She took time but understood and accepted me," tells Anuj.
Whereas, Shaan came to know that he enjoyed having a man in life when he was in Saudi Arabia and had a sexual encounter with a man there. "When I enjoyed having a man in my bed that day, I realised that I am also queer. Now when I think about my attraction I observe that I always had an attraction to men but I never realised it before that," shares Shaan. He went to Saudi Arabia in 2011.
They meet, stay together more often, cook food and make love whenever they want. Gaylaxy Magazine stayed with them for two days and observed that they are the kind of couple many queer people desire to be.
"Because we are from different religion, many who are from the queer community try to manipulate Anuj by saying Shaan will destroy his life by using and throwing. They also say Shaan is a Muslim, he will kill him one day. But our relationship was never impacted by their manipulation. Our love is intensifying day by day," reveals Shaan.
Founding a Queer NGO
Anuj and Shaan would talk about the issues LGBTQ community members face in their lives. Although they had not come across such cases in Kanpur because they hd not explored the life of queer people from the city much then. But they were sure that even queers in Kanpur may also face mental and health issues. Whenever they would read or hear queer issues through social media and news they would feel sad.
"One day I was talking to Shaan about what we could do to create awareness about the LGBTQ community in Kanpur and help those who face issues such as acceptance in family, in their own life, and other issues such as scams and harassment with the community members. We eventually came to a plan to start a non-profit organisation and create a team of doctors, lawyers and community members for the same," says Anuj.
The couple started an NGO on 31st August 2018 called Kanpur Queer Foundation. They began promoting about their initiative through social media and gay dating apps. Now they have doctors and psychologist who help queer people to tackle mental and health issues. They also have lawyers who help the organization tackle scams and harassments cases of the community members. They do this for free for the LGBTQ community.
The couple has done a couple of events such as parties, health checkup camps, LGBTQ community awareness sessions such as free hug activity and much more. Now, during this covid-19 pandemic, they are also distributing rations and some cash to LGBTQ community people who are in need. They also provide help to non-community members, but the priority is queer people.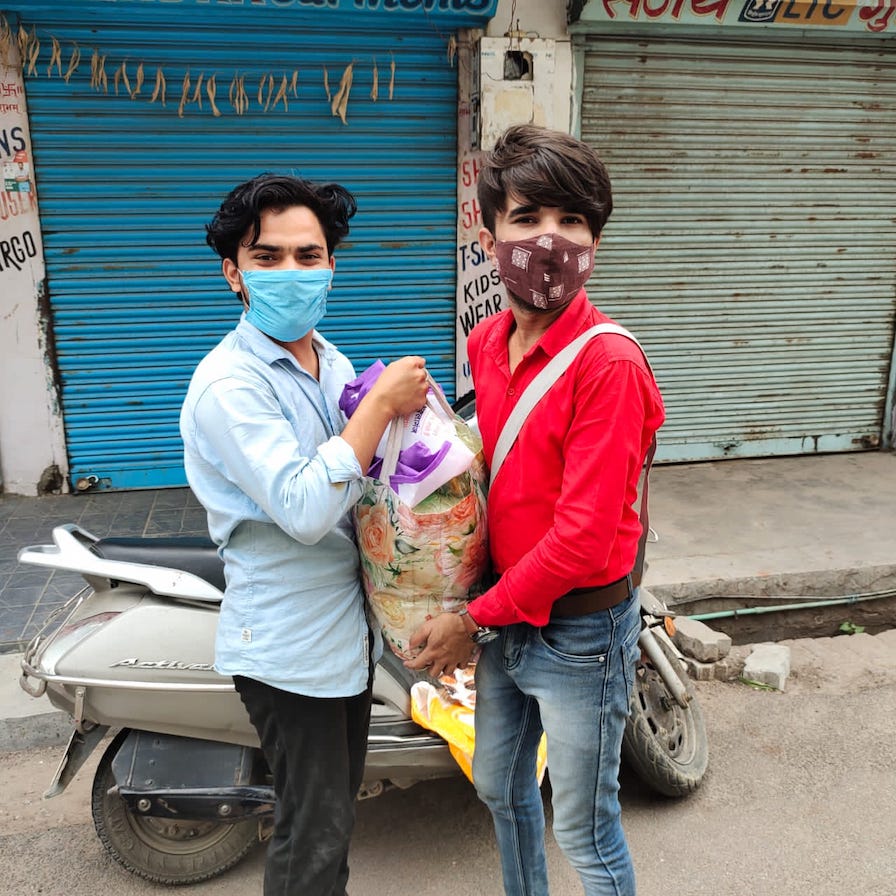 The impact
The activities held by the Kanpur Queer Foundation has helped many queer people to accept themselves the way they are and feel proud. "What we observed throughout while working with and for the community, many of them were confused about their sexuality and would curse them for who they are. After finding a community that we created and having attended a few events and sessions, the majority of them are proud of what they are. They are happy about their sexual orientation better than earlier," explains Anuj.
Anuj further said that even many straight people are also coming forward to be part of the community as an ally.
A 21-year-old queer person from Kanpur told that although his parents somewhat had hinted that he is different because of his behaviour, he would always face the mental dilemma as to whether being queer is good or bad. However, after attending events, parties and awareness sessions by the NGO, he began feeling proud of himself and accepted himself.
"I have not come out to parents (mother) directly, but have been showing pictures and videos of parties and events I attend since two years, so they know my sexuality. They don't have much problem because I am also educating them about the community. Moreover, I feel liberated the more I meet people like me in Kanpur Queer Foundation. Now I have no doubt or shame surrounding my queerness. The NGO helped me to educate my mother in a better way about the community," says a 21-year-old queer boy.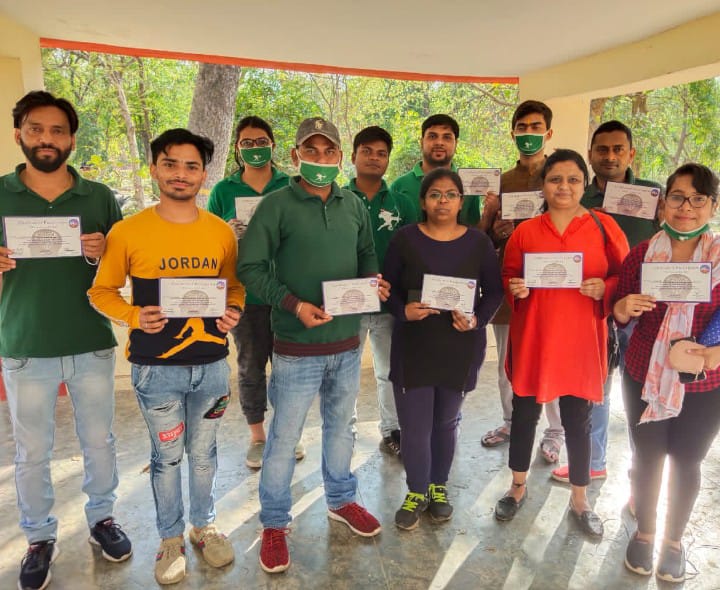 Although, queer people of Kanpur are accepting themselves, families are not willing to. Anuj said that there are 2-3 people who came out to their families but ended up moving out of the city to live their own life. However, "The anger and hate against the community fades as time passes and parents accept their child for who they are. But it takes a lot of time and trauma," adds Anuj.
Anuj also told that in Kanpur there are more than 1000 queer people, but only 100-150 people show up in the events because they are scared of being known as queer by society.
They have been doing what they can for the LGBTQ community since 2018, but it has not been easy so far. They have been blamed for manipulating young boys and indulging them in homosexuality.
The Hurdles
"Once I was explaining to a gay man's mother about how natural being homosexual is over the call. She blamed us for converting her son to gay and also threatened to kill me if I tried to explain about homosexuality anymore. I have come across such cases 3-4 times. However, blames and hurdles are not going to stop us from working for the LGBTQ community," tells Anuj.
While sharing one more incident that shows how they face hurdles in the journey of helping the community live life with ease and pride, Anuj told that once they even paid an advance amount for a venue for an event in a banquet. However, as soon as the management understood that they belong to the LGBTQ community and are organising the event for the community, they cancelled the booking and returned the advance payment.
"The venue management refused us permission to organise the event despite us having started promotional activities for the event and the event was just around the corner. We also made the advance payment. We explained to them about us before making the booking but they refused in the last days of the event. They told us that we can't organise an event for gay people there," shares Anuj.
Earlier the couple had been spending their pocket money to help queer people, but in the pandemic, the community has received funds from Delhi based Humsafar Trust for Rs. 27300 for the work they are doing for the community. Shaan runs a garment shop so he earns enough to make some financial contribution to the community also.
However, with the lockdown due to coronavirus, Shaan's financial contribution is a little harder. They always look for funds to run the organisation for the community.
Future plans
The couple is now in the process of providing jobs to queer people. They have already tied-up with shopping malls and other organisations. Once the covid-19 pandemic eases and everything gets back to normal, the hiring process will start.
"Moreover, we will also start skill development programmes for the queer people so that they can lead their life independently and better. We want to make a strong group of LGBTQ community members so that we don't feel vulnerable in society. We should be proud and confident for who we are," Anuj shares the NGO's plan. The organisation is also the official Blued ambassador from Kanpur.
Latest posts by Bilal Khan
(see all)