A slight breeze picks up as the virgin mojito arrives. The sun just disappeared beneath the horizon, leaving in its afterglow the silhouette of Delhi's most identifiable landmark — the Qutub Minar. The drink is as refreshing as the sight — a sort of privileged view of the monument and one of the many reasons why an evening at Chez Jerome-Q Café is an experience rather rare in this chaotic, oft-maddening city.
The most compelling reason, of course, is that it is the first LGBTQI space of its kind in Delhi, and is open to all open-minded folk out there, regardless of sexual orientation or other labels the society generously applies to people.
"I want it to be like India Coffee House, where people come, converse, laugh, let their hair down — knowing this is a safe place for all," says Sambhav Dehlavi, the polyglot maître d'.
Indeed, that vibe is already palpable among the guests. A friend and straight ally suggests the place reminds her of Goa, with its bohemian and free-spirit sensibilities. Latin rhythms smoothen out the pauses in the chatter of people and the clatter of cutlery. The open kitchen lets you see what's cooking, and whatever's cooking smells indulgently delectable.
The terrace café, located near the Crescent at the Qutb Mall, Lado Sarai, was started in October 2016 with the expertise of Chef Jerome to boot. Chef Jerome, after whom the café is named, has 35 years of experience in renowned kitchens of France as well as other countries, and ran Rara Avis for three years in Delhi.
Sambhav, who learnt the art of French cuisine under Parisian Chef Alexis, met Chef Jerome through his ex-fiancé Roberto. Impressed with Sambhav's journey, Jerome asked him to help run the cafe on the roof of his three-storey spa. "I told Jerome that I wanted to make this café space accessible for the LGBT folk in Delhi, which lacks permanent safe spaces for us. Gay men in general have access to the night life here, but this is not so for other community members. That is when the idea of Chez Jerome-Q Café came about," Sambhav says.
Meanwhile, food is served. As Sambhav explains the concept of pinchos, holding a plate of the popular Spanish snacks, my salivary glands rebel, and I have to apologise for any drooling that might follow. But such embarrassment is the last thing you should feel here; I've been forgiven. "Chef Jerome and I have sat down together to curate many dishes, and we hope our customers feel content with the experience at the café," he tells me.
Recently, during a bustling fundraising event for Chandigarh Pride, the café designed a special menu, and offered the guests arancini, pasta, salads, tarts and quiches, and lemon-almond cake. The proof of the pudding was in the eating, and with generous portions, the eating was doubly satisfying. "Another idea is to make this a pocket-friendly place for everyone. We see this as a challenge, but are ready to do whatever we can to make French and Italian cuisine affordable to all those who visit our café," says Sambhav.
Food is but one aspect of the café's vision. There's also plenty of food for thought-provocation up the team's sleeve. "I am a human rights activist above everything else." The goal is to make it a place where food is also a pivot for conversation about rights and the politics in their denial. "We are planning to invite artists and activists, and curate art events, poetry readings, book discussions, film screenings, etc."
In a city that has miles to go in terms of acceptance and inclusivity, the challenges are manifold. "The biggest concern is sensitisation about the folks some guest see at the café. And the people they see are like you and me — the average Indian LGBT folk who exist side by side our straight allies. We hope to have enough diversity at the café … We want to be that landmark space where everybody feels welcome. Of course, we need the support of non-LGBTQI allies, too," says Sambhav.
Another risk the café faces is exposing this space to the wrong kind of crowd — of homophobes or transphobes. But the team is amply equipped with experience and savvy to counter that. Sambhav underwent extreme anxiety at 17, when he came out to his very orthodox Sikh family. "I had packed my bags and was ready to live on the streets because I was sure that my family would kick me out. If I can go through that risk and pain, I am armed to battle any other risk in life."
And, equally importantly, in a city with an ignominious record of how it treats women, the café also hopes to carve a comfort zone for them. "If we are able to make this space women-friendly, where they can have an evening by themselves, or a casual get-together with friends or even hold a larger event, that is reason enough for us to exist and feel happy about the kind of space we have created," says Sambhav.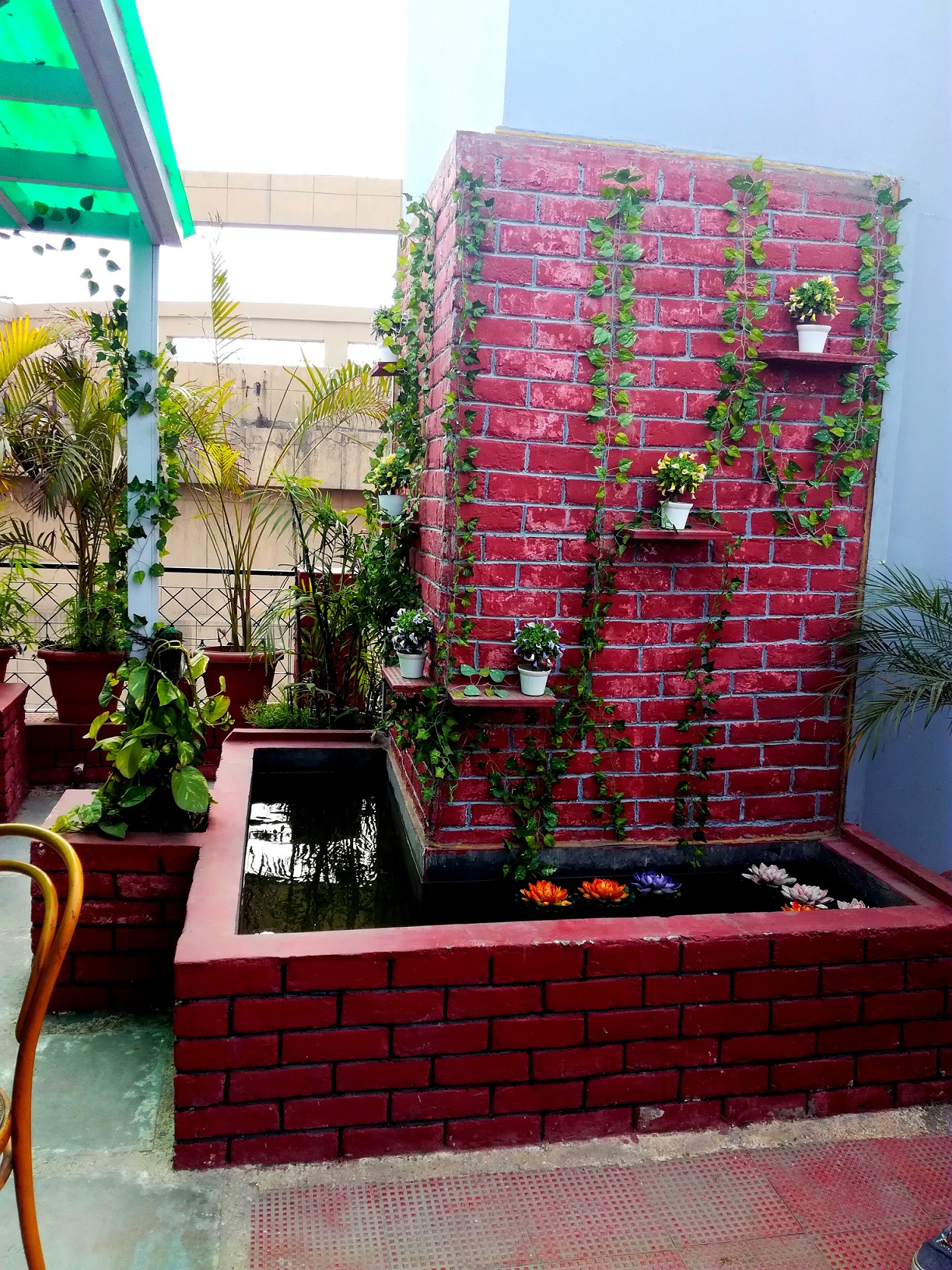 For now, the goals seem daunting, but someone has to set the wheel of change in motion, someone has to start the conversation. For many, that conversation could begin right here, at this terrace café, maybe over a friendly hello and coffee.
I peer down at the road at the end of the street. Peak-hour traffic is peaking, causing a snarl. The sight is common in many South Delhi areas, with honking, angry motorists sometimes losing it altogether. Yet, here we are — above all that humdrum. The air is cool, with the last of the spring nip lingering. The ambience is jovial, complete with rainbow lights and music, which has now moved to Ed Sheeran and his contemporaries. Here we are, at peace with everything this evening, in this world of our own.

Latest posts by Kshitij Bisen
(see all)