Speaking at Digital & One, the online version of the Rainbow Lit Fest, on December 5 as a part of keynote conversation with Festival Director Sharif D. Rangnekar, author and Member of Parliament, Lok Sabha, Dr. Shashi Tharoor said that an anti-discrimination law is inclusive and is an imperative step towards equality rather than marriage rights. While not casting any specific doubts on same sex marriage in the court, Dr. Tharoor felt that the impact on ground for many would have been far greater as issues such as education, housing and general existence would have been a covered under it. Answering a question about queer representation in politics, he underlined the importance, but also pointed out that it is not always possible to win elections on a singular cause.
Kicking off the Rainbow Lit Fest – Queer & Inclusive online series called Digital & One, Dr. Tharoor talked about the political scenario in the country, his views on Hinduism, the growing need for queer leaders who have to stand for a variety of issues while highlighting the need for queer representation in the parliament as well as in the society.
The event, with its schedule split between Matinee, Evening and Night, witnessed discussions around themes such as ''Alternate' In Pop Culture'; 'Perspectives, Lenses And Plurality'; 'Diasporic Connections – Influences Over Space And Race'; and 'Love Is A Many Splendoured Thing', among others, hosted by activists and artists like Navin Naronha, Onir, Rudrani Chettri, Santa Khurai, Daniel Mendonca, Pradipta Ray, Myna Mukherjee and Kareem Khubhandani, to name a few. Keeping in mind the festival's approach to expression, the first day saw poetry recitals by Vishal Ghatge and Amani Saeed, followed by a performance by queer Indie artist John Oinam. The event also saw a puppet show by Varun Narain themed 'Queering Hans And-Her-Sons'.
Over two days, Digital & One will see over 50 leading authors, poets, activists, scholars, filmmakers, artists, performers, and business leaders discussing a variety of topics. The online series is supported by organisations such as the British Council (as its cultural partner) and Oxford Bookstores besides community groups such as Ya All, The Q-Knit, Naz Foundation and Pride Circle.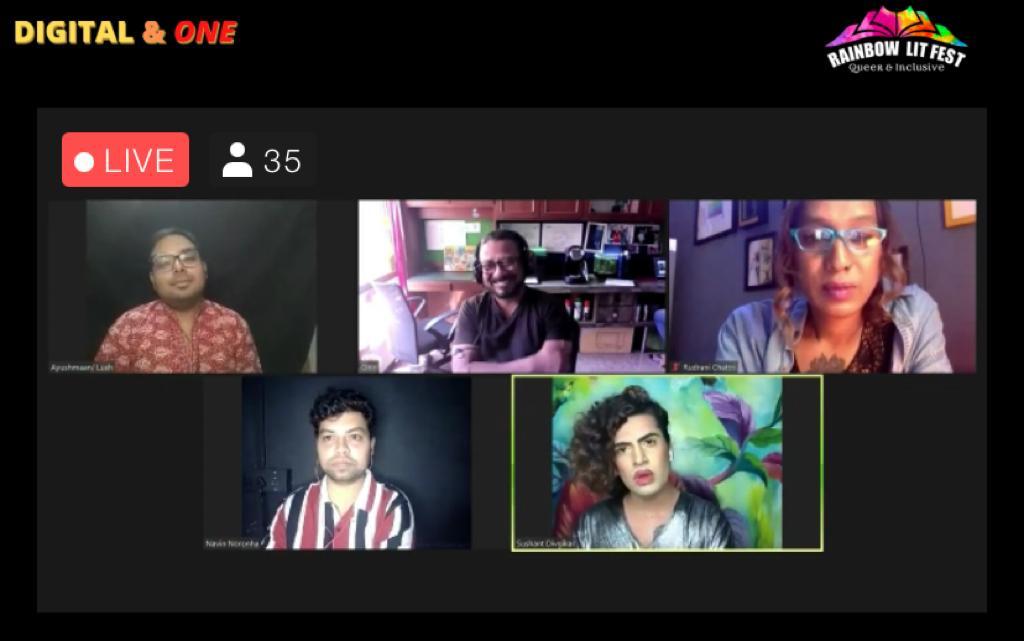 The Rainbow Lit Fest – Queer & Inclusive started its journey last December with a two-day festival at Delhi's Gulmohar Park Club. With its success, having footfalls crossing over 1200, the platform went on to release a short film – Breaking Notions – involving over 15 voices on the importance of storytelling to break notions and phobias. It included influencers such as Devdutt Pattanaik, Anjali Gopalan, Sandip Roy, Avatari Devi and Suneeta Rao, with several others. In June, the Festival organized Rhyme & Reason – a national poetry competition in partnership with Gaylaxy Magazine and The Q-Knit.