The Supreme Court of India has listed the Curative Petition on Section 377 for a hearing on 8th September by a five judge bench. The composition of the bench has not yet been disclosed on the website of the Supreme Court.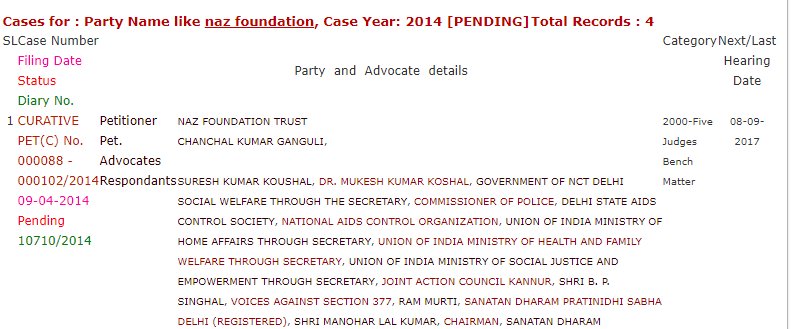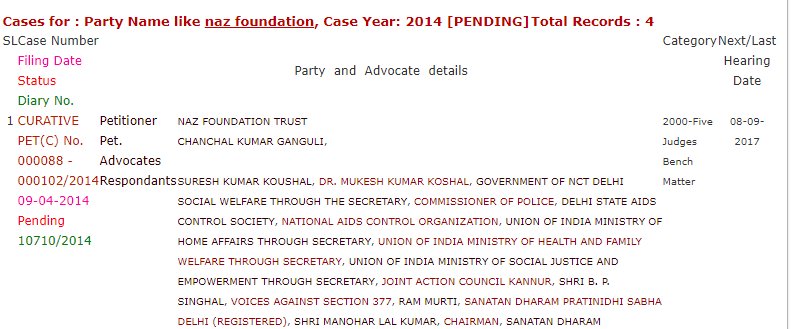 The case pertaining to Section 377, which criminalises sex against the "order of nature", received a fresh impetus recently when the nine judge bench of senior judges hearing the Right to Privacy case declared sexual orientation as a fundamental right. Commenting adversely on the judgement of the same court in 2013, which reinstated Section 377, the judges had said, "Sexual orientation is an essential attribute of privacy. Discrimination against an individual on the basis of sexual orientation is deeply offensive to the dignity and self-worth of the individual. Equality demands that the sexual orientation of each individual in society must be protected on an even platform. The right to privacy and the protection of sexual orientation lie at the core of the fundamental rights guaranteed by Articles 14, 15 and 21 of the Constitution."
Section 377 had been read down by the Delhi High Court in 2009 and consensual same-sex activity between adults was decriminalised. However, the Supreme Court had reversed the 2009 Delhi High Court judgement and reinstated Section 377.
A curative petition was then filed in the Supreme Court, and the court had agreed to hear the matter and assigned it to a five judge bench. The recent comments of the Supreme Court against Section 377 in the Right to Privacy judgement was being seen as a positive sign in the fight against Section 377.
Update: It is not clear as of now if the Supreme Court will hear the case this friday, or if the Chief Justice will just constitute the five judge bench on Friday. According to barandbench.com, things will only be clear on Thursday evening when the final Causelist will be published.

Latest posts by Sukhdeep Singh
(see all)