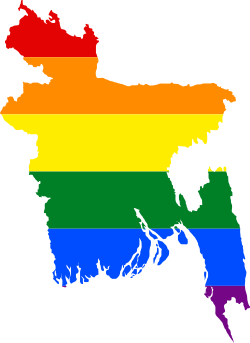 In the 24th Regular Session of the United Nations Human Rights Council's Universal Periodic Review (UPR), Bangladesh Government has rejected the recommendation to abolish Section 377 which criminalizes consensual same-sex relationship. The government already has an extensive HIV/AIDS program including men who have sex with men (MSM) and Hijras. Hence, this rejection indicates that the unwillingness to avoid acknowledging human rights violations of sexual and gender minorities.
This is the second time after 2009 that the Government of Bangladesh has rejected the recommendation to decriminalize Section 377. In the review session, Md Abdul Hannan, currently serving as Permanent Representative (PR) to the UN Office in Geneva said, "Bangladesh considers that the law of the land should be in conformity with the prevalent socio-cultural norms and values of the country. Activities subject to the concerned article in the panel code are not generally accepted norm in the country."
Bina D'Costa on behalf of Ain o Salish Kendra (ASK) said, "We are dismayed to note that Government of Bangladesh has not agreed to accept several key recommendations on abolishing death penalty and repealing Section 377 of the penal code." A joint statement released by International Lesbian and Gay Association (ILGA) and Boys of Bangladesh stated: "Despite the government accepting recommendation of UPR 2009 to train law enforcers in sexual orientation and gender identity, we are concerned about how Sanjida and Puja, a lesbian couple, have been treated recently. We also ask the Government of Bangladesh to proactively stop intolerant groups from making inflammatory homophobic remarks, which have often resulted in violence towards LGBT community."
Pooja Badarinath from Sexual Rights Initiatives (SRI) said, "Section 377 of the Penal Code of Bangladesh is colonial legacy in all South Asian countries and hence does not necessarily reflect Bangladeshi society. Section 377 is invoked by the law enforcement agencies to harass and incite many forms of violence to Hijra, Kothi and LGBTI identified communities. Gross violations of rights have been reported in the forms of abductions, arbitrary arrests, detentions, beatings and gang rapes administered by the law enforcement agencies and local thugs."
The Universal Periodic Review (UPR) aims at improving the human rights situation on the ground in each of the 193 United Nations (UN) member states. What makes UPR important for Bangladesh, or any state for that matter, is the opportunity for stakeholders to submit their own reports along with the one from the government. The mechanism has hence proved to be very popular and powerful in upholding the human rights of marginalized or disenfranchised groups.