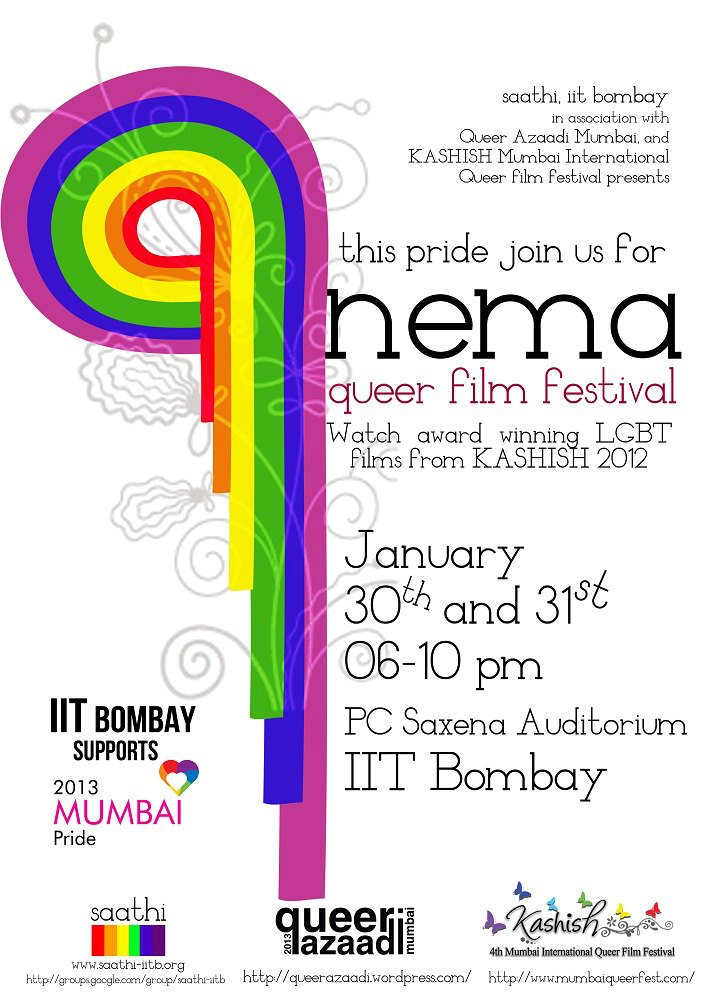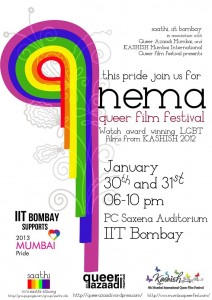 One of the most prestigious institutes in India is ready for a dash of rainbow colours.
Saathi- an LGBT student group at Indian Institute Technology – Bombay is holding a screening of award winning gay & lesbian films from KASHISH Mumbai International Queer Film Festival at their campus as part of the on-going Queer Azaadi Mumbai – LGBT pride week celebrations in the city. The two day-screening to be held on Jan 30th& 31st 2013 aims to create awareness and sensitization on LGBTQ issues.
"Saathi is pleased to host Q'nema at IIT Bombay as a part of the pride week for QAM. This is our first event open to the general public and we hope to continue serving the community by hosting more events and awareness drives," said Nivvedan, a student of IIT-B and the main force behind Saathi.
The two day screening will include award winning short films, documentaries and feature films from last year's KASHISH 2012 festival as well as feature a panel discussion on censorship. Yang Yang, filmmaker and festival curator from China, will be a special guest at the event. There will also be a Q&A with young filmmakers Pradipta Ray and Nakshatra, who won awards at Kashish 2012.
"We are sensitive to the audience and specially showing films that appeal to the youth," said Sridhar Rangayan, festival director of KASHISH and an IIT Alumni himself. "In the 1980s when I was studying at IIT, there was a complete shroud of silence around this topic. I'm glad that my Alma Mater is now helping to raise awareness and sensitize people. It is time to sensitize the youth to be accepting of diversity".
Harish Iyer, a member of the Queer Azaadi Mumbai collective says, "Cinema has been a reflection of the society. In a nation that consumes cinema enormously, it is imperative that we use it as a medium of advocacy. I have seen more people mustering the courage to come out after watching queer themed films with their family."
The curated package of films from around the world is meant to show that gay, lesbian, transgender persons are no different from any other persons and that they too have the same emotions, aspirations which have to be respected. The program is mixed – with funny animated shorts to sensitive power-packed features to even a film about an Indian gay professor!
"Being a film festival, it's our way to affirm solidarity with the community and also to underline queer expressions through cinema. The films that will be screened at Q'nema are meticulously chosen representing LGBT lives around the world. They reflect the varied hues and emotions of the community and yet are so mainstream. It was really encouraging to get the support from all the filmmakers who happily agreed to be part of this initiative," said KASHISH festival programmer Saagar Gupta.
[cincopa AICAPH7zgxLh]