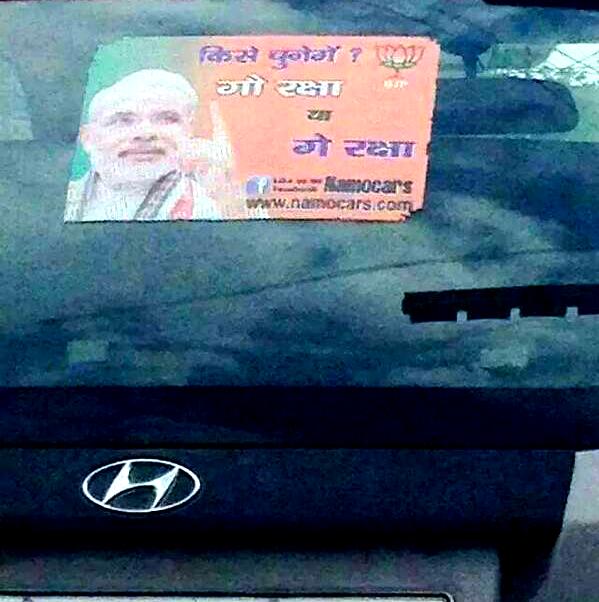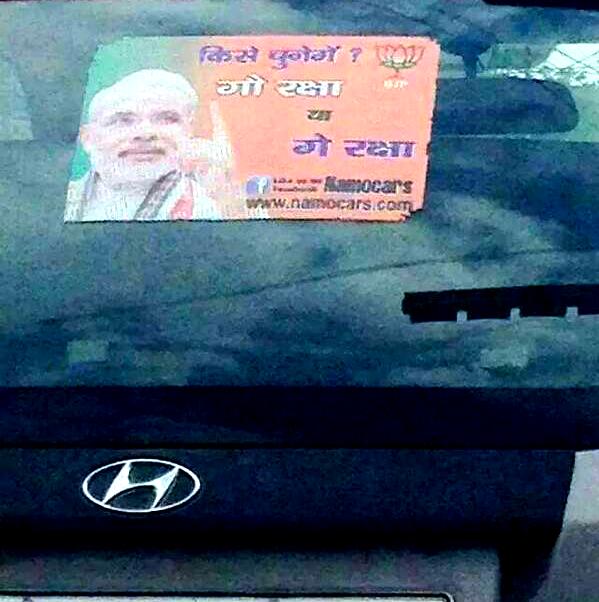 New car stickers taken out by a group called Namocars asks people to vote for Narendra Modi, BJP's prime ministerial candidate, with the question, "Kisey Chunenge? Gau Rakhsa Ya Gay Rakhsa" meaning, "Who will you choose? Cow Protection or Gay Protection". The sticker carries the picture of Narendra Modi as well as the BJP's party symbol Lotus.
Namocars describes itself as an independent youth group that is campaigning for Narendra Modi and BJP in the Lok Sabha elections. Previous poster and stickers by the group had quotes like "Nayee soch nayee umeed" and "Vote for India, Vote for Modi" along with Modi's picture. Namocars is a Jaipur based group and had even set up a promotional stall at the BJP's national council meet to launch itself in Delhi. The campaign is a copy of AAP's auto-rickshaw campaign in Delhi.
While BJP and its party leaders have opposed gay rights in India, its prime ministerial candidate Narendra Modi has maintained a silence on the issue. BJP party president Rajnath Singh had said that the party supports criminalization of homosexuality in India. Its parent organization RSS had also come out with anti-gay posts in its mouthpiece Organiser and made it clear that it will oppose gay rights. The use of his image on such anti-gay stickers and poster though hints at the stand that he is likely to take, given that he also shares the dais and has support from Baba Ramdev, who has never hidden his anti-gay stance and has consistently made anti-gay comments, including claims of having a gay-cure.
The anti-gay sticker has received sharp criticism on twitter, where users have expressed their disbelief and disgust with comments like, "Because cows are important to our economy and humans aren't. Abki baar anti gay sarkaar." And "a preview of whats coming.. no more vdays no pubs no short dresses for girls no freedom.. kyunki abki baar."
Reacting strongly to the stickers, queer rights activist Harish Iyer said, "If Narendra Modi doesn't approve of this hate mongering by his party members, he should come clean against it. A prime ministerial candidate who cannot take a stand for minorities, when his own partymen make caustic homophobic remarks is a threat to humanity. His silence implies that he stands against the tenets of equal rights for all citizens of the nation. "

Latest posts by Sukhdeep Singh
(see all)