Bangalore bore witness to the tenth edition of its queer film festival which was held from the 1st of August till the 4th.
What began as an idea and a thirst for bringing something new into the city, at Koshy's, has now grown to be a fierce element in the queer world of Bangalore.
Over the ten years that BQFF has existed, it has evolved and adapted in numerous ways to bring several movies that wrench both the gut and the heart in its own little ways.
"There's nothing markedly different about this year, we try to always show films that have a point of view. Films that speak to experiences of being queer and occupying the world. Films that show us that choices aren't all terrible, or provide another way of living. And this philosophy of "showing, not telling" about queer lives drives our choices, I assume, or at least mine," said Joshua Muyiwa, one of the organisers.
To me the 10th edition was special and beautiful in a number of ways. The film festival began with a curtain raiser on the 31st of July featuring Manjamma Jogathi and her troupe.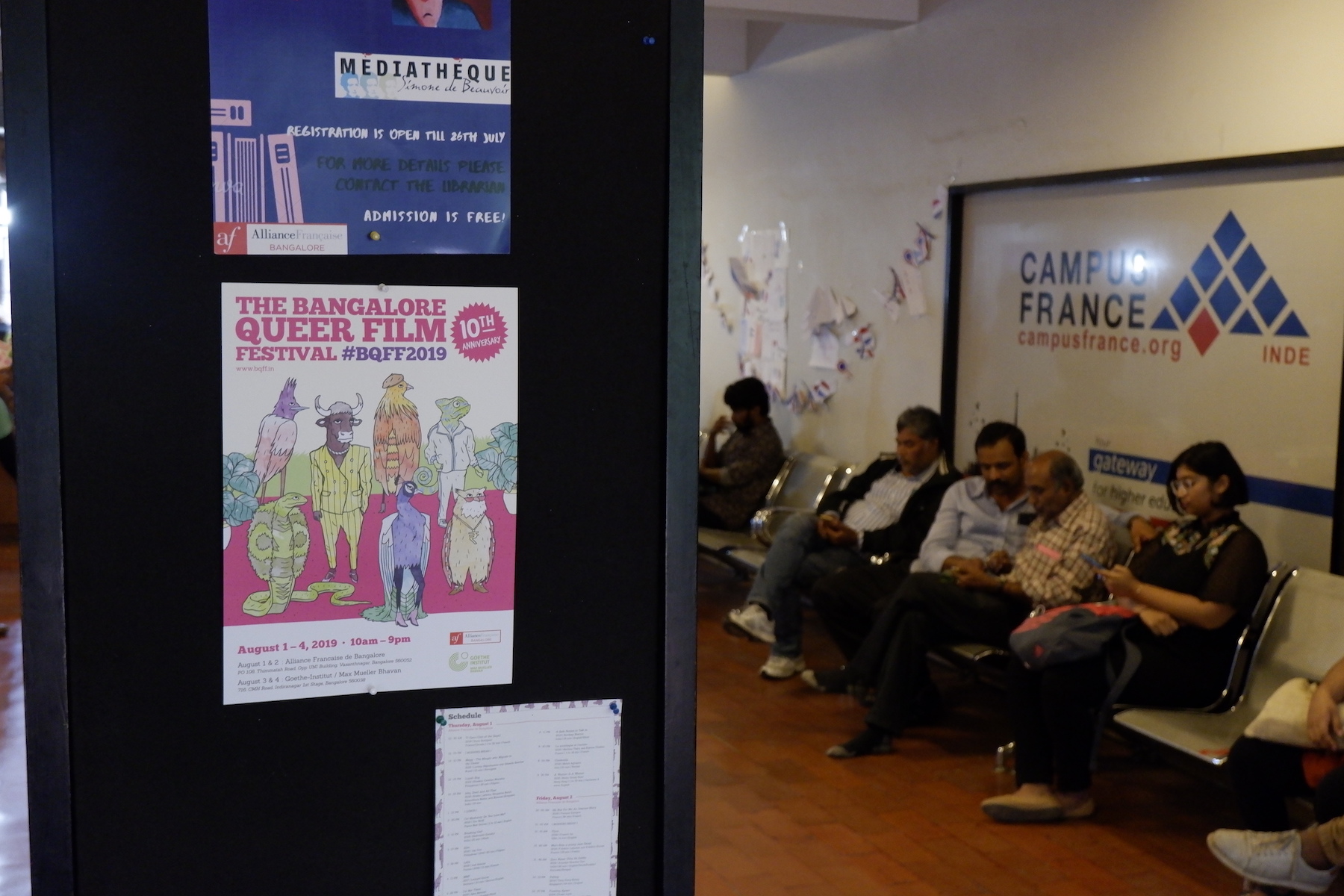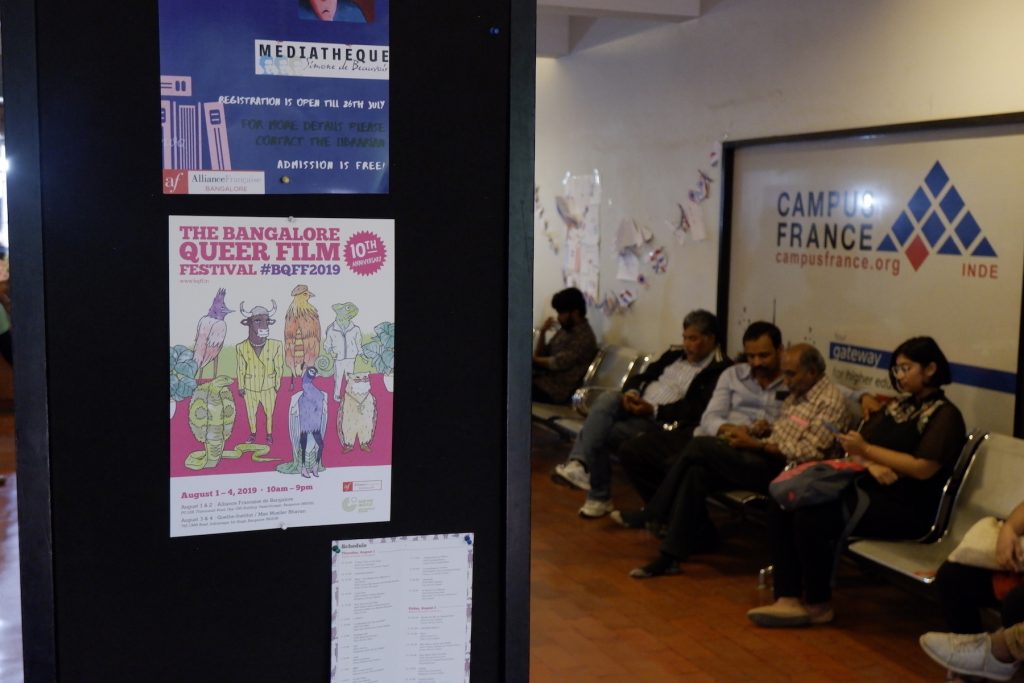 For everyone who's oblivious to who Manjamma is or who the Jogathis are, they are a section of the trans community in North Karnataka who serve the Goddess Yellamma, believed to be the wife of Jamadagni, a saptarishi and the mother of Parashurama.
Manjamma the chief matriarch of her troupe is a staunch believer in the power of performative arts and she transforms nataka or street drama into a magical dimension of frolic.
Although Yellammanataka (the drama) and Jagathi Nruthya is performed throughout the night like Kathakali, Manjamma gracefully pulled together the entire show in under two hours.
Those who had the fortune of watching her first hand would aptly define her on stage as the most efficient and manipulative queen who with a flick of her expression knew when to make the audience roar with laughter and how to make them pause and concentrate.
Draped in a gorgeous white sari and simple jewellery, she narrated the life of Renuka Devi in her nataka in fluent music, strumming her instruments and shaking her hips.
Manjamma at the curtain raiser of the film festival was just the right kind of energy needed to set the next four days in hype.
BQFF was spaced out in two different venues beginning from Alliance Francaise on the first two days and then, taking the turn to offer it's hospitality was Goethe institute, also known as Max Mueller Bhavan.
Numerous films from various spectrums of the linguistic world were featured across all four days. The featured films were all carefully curated with great expertise and varied intensely in the emotions it portrayed.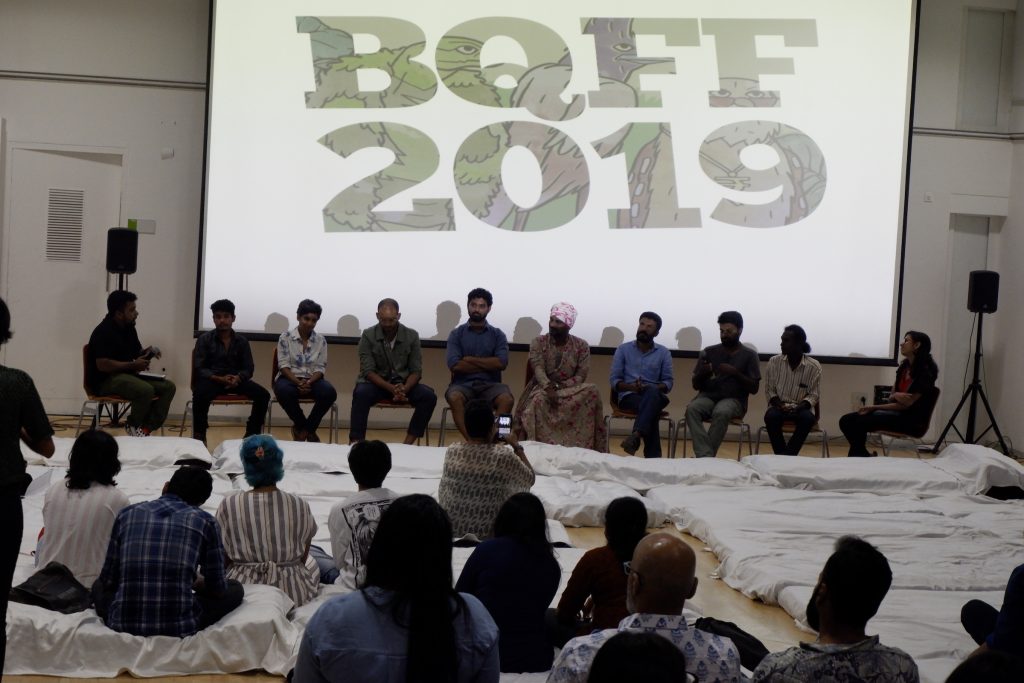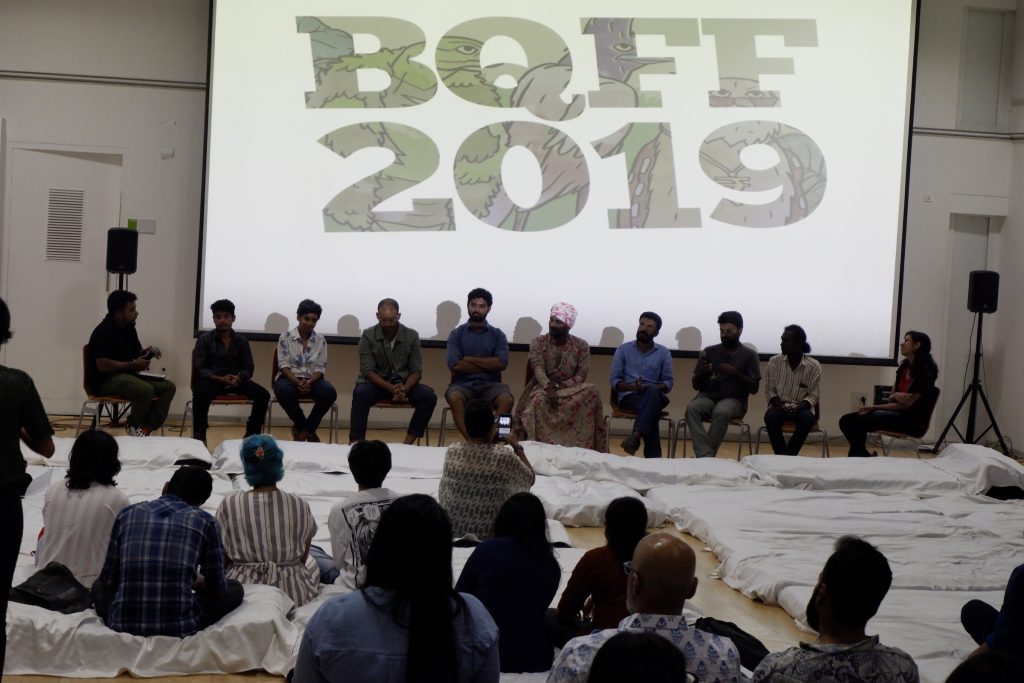 The theatre space at Max Mueller Bhavan featured an array of artworks by a series of talented artists like Aryakrishnan, Sandip Kuriakose and Renuka Rajiv. On paper and cloth, the artworks touched a variety of subjects like black money and body politics.
The second day of BQFF was blessed by a heart touching monologue by Revathi from Namakkal. Wrapped in an exquisite pattu selai, she brought emotions in a box and unleashed it on stage like Pandora and her pithos. She left an auditorium full of people wiping droplets of tears while pouring out tributes to the life she's lived for herself and others.
Dotting graceful adornments at the festival was a pop-up bookstore by Champaca books on the last two days. It was no surprise that their books sold like hot cakes on a cold morning, after-all, they did bring an amazing collection of queer works to the festival. They even featured a glorious book in Rekhti poetry by Ruth Vanitha.
The last day of BQFF was something that saw large crowds flow in. After all, it was Hoshang Merchant reading his poetry, his life. Hoshang was welcomed by large gatherings of young queer people and folks mesmerized by his life, years of experience and knowledge.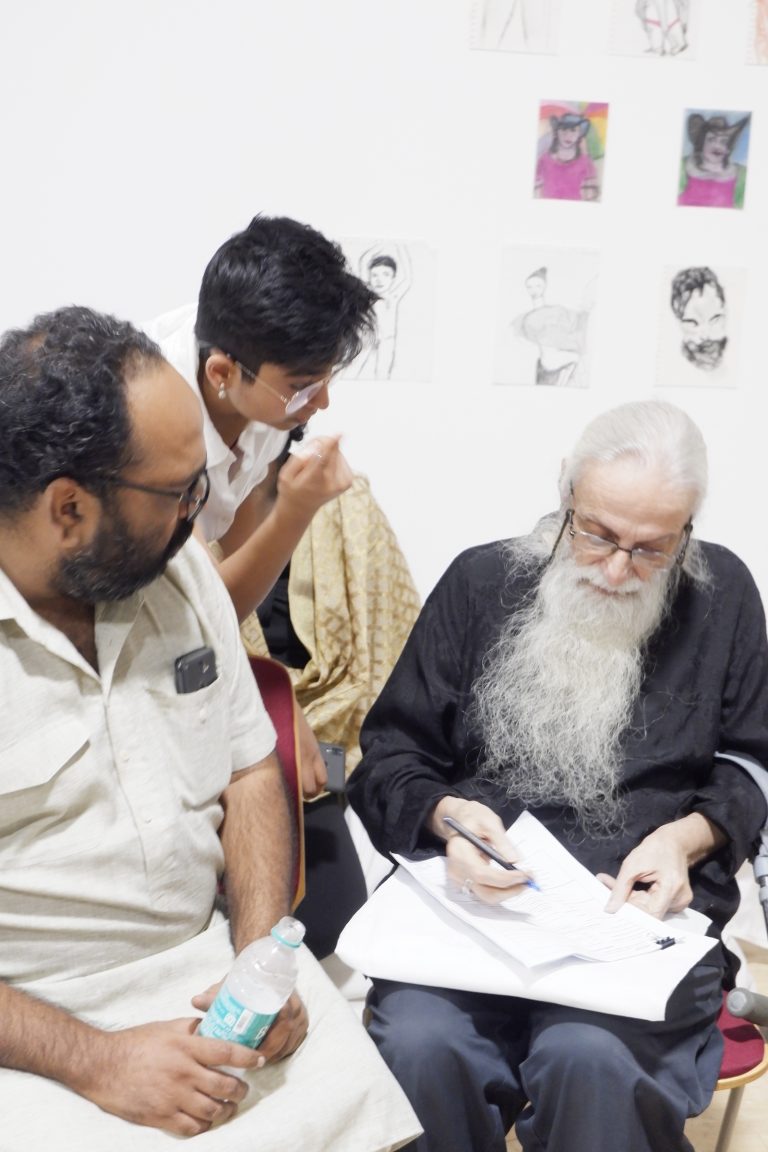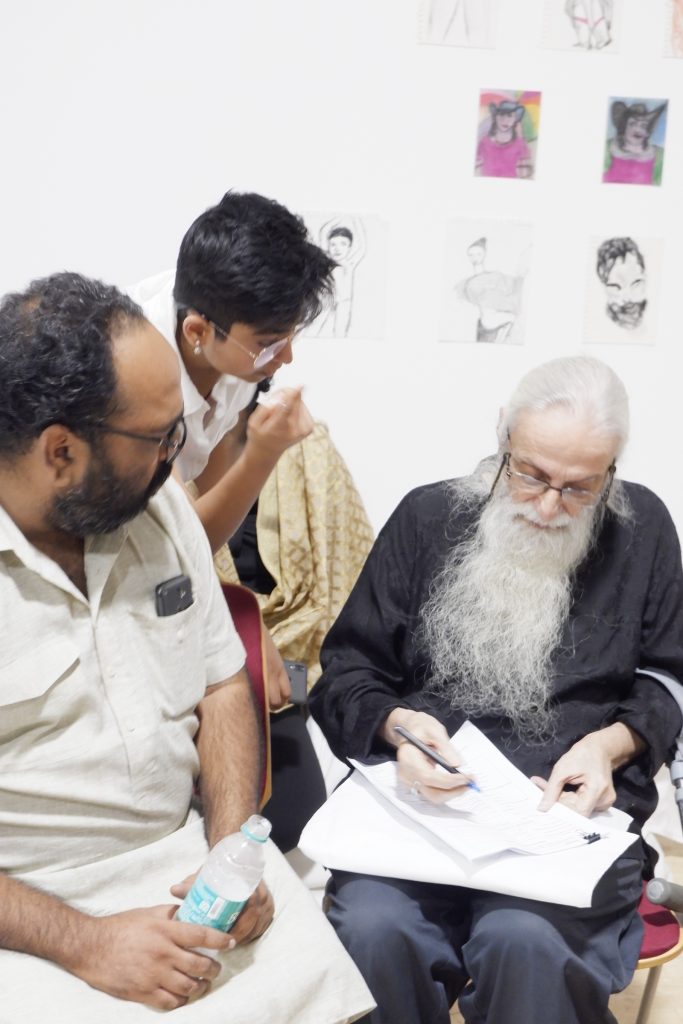 The poetry evening was further beatified with Vikram's eye-watering poem on their grandmother. Joshua Muyiwa and Namita Aviriti also read from their poetry, inciting a little laughter, a little joy and a lot of emotion.
All-in-all, the tenth edition of the Bangalore Queer Film Festival was a powerful reminder of paying tributes to those who've paved ways for today's community, through literature, art and life.
Latest posts by Rohan Mathews
(see all)