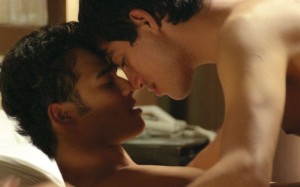 -Dibyendu Paul
Before entering into the details, I would like to tell you that "Broken Sky" is not your run of the mill movie. Mexican filmmaker Julián Hernández made this movie with the intention of approaching gay love from a totally different perspective. He has used a unique way of presenting emotions; rather the flow of emotions. There is hardly any dialogue. The framing is so flawless that one can feel the warmth of the characters.
Being a Spanish movie, you might need subtitles, but the flow of the story is so smooth that there is no difficulty in understanding.
The characters live in a world where there is no distinction between GAY love and so called STRAIGHT love, where everything is open- no restrictions, no obligations. All the places are gay friendly; from the university campus to disco, everywhere people aren't opposed to the public display of emotion of the two guys Gerardo (Miguel Ángel Hoppe) and Jonás(Fernando Arroyo), the protagonists of the movie. Their kissing each other in the library, campus and even in the university corridor is just heavenly.
The fresh April air and the transition begin. Jonas starts averting his face when Gerardo tries to caress or kiss him. And yet they're still regularly living together. Gradually a third guy enters the scene – Sergio (Alejandro Rojo), a slightly older, tall, dark, brooding fellow. Sergio has wanted Gerardo for a long time, or so he says when they finally get together after one of several encounters. Sergio had seen them kissing and playing hide and seek in the library when he was installing a light bulb. But the end is a happy and romantic one for Sergio. When Sergio and Gerardo are together, Jonas begins to long for Gerardo again, and in the final scene, they patch up.
Broken Sky is more like a dynamic song or a poem. General audiences are not accustomed to watching such a movie. It will compel you to think of the unspoken words in a relationship. The music is mind blowing with Spanish pop songs. The rhythm is so passionate and the cinematography so perfect that one can actually feel Gerando and Jonas trying to live the Song. Overall, the movie is highly recommended and a must watch irrespective of your orientation.