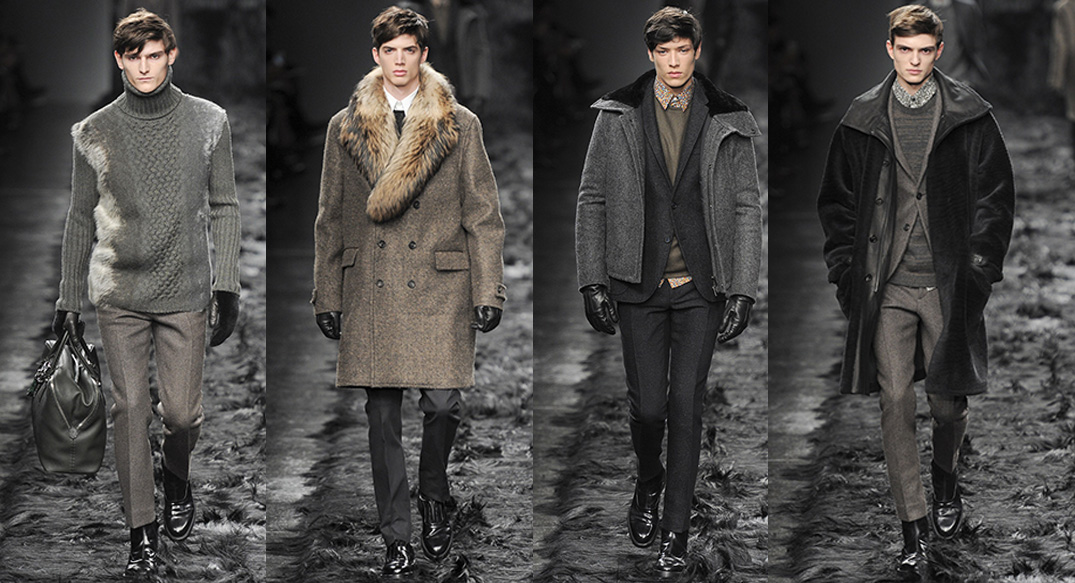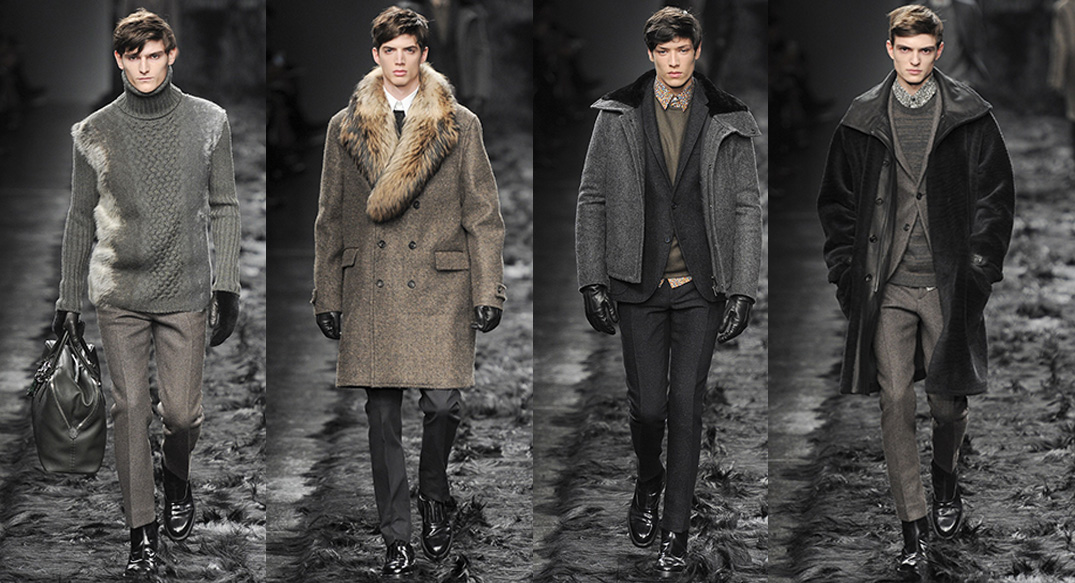 Men's Fashion week Autumn (Fall) Winter 14is officially over. With the changing perceptions of industry people about men's prêt-à-porter, Men's Fashion Week is growing season by season . Irrespective of my personal Tastes & Preferences, here is how I will sum up the AW 14 men's runway trends from the New York, London, Milan and Paris Fashion Week that took place earlier this month. For London Fashion week, as quoted by GQ's Dylan Jones, "It really was the best season ever!"
Coats: "Looks like A/W '14 will be the season of plaid" as stated by one of fellow fashion blogger, It truly was season of plaid. Burberry, Alexander McQueen and John Galliano had coats full of stripes. Full length coat were major at Burberry, Cerruti, Dries Van Noten, Lanvin and Ferragamo. Black Leather coat were major at Trussardi and Versace. Raf Simons had abstract yellow and red prints over full length coat.
Suits/Blazer: The cut of the suit was amazing at Lanvin, Ferragamo, Louise Vuitton and McQueen. Printed blazer at Givenchy was representative of the collection's inspirations, a sport team. Motorcycle printed suit in shade of yellow was exquisite at Versace. The studded details were found on the suit at Galliano and Versace.
Jacket: Leather jackets were spotted at most of the show. Black Leather jackets were part of collections at John Galliano, McQueen, Burberry and Lanvin. Green and Grey sleeveless jacket were spotted at Salvatore Ferragamo. The shorter version of Trench Coat was worth noticing at Louis Vuitton. Backlash's Black and Green Leather jackets take inspiration from their factory workers. Versace repeated Metal studded black leather jacket.
Shoes: At Ferragamo, it was all about Red, Green, Grey and Blue Formal shoes that seem to be made up of crocodile skin. At Raf Simons, Rick Owens, Givenchy, Dries Van Noten, it was sport-luxe. High ankle sneakers were major at Sibling. Leather shoes at Cerruti, Versace, Trussardi and Mcqueen were utterly classy. At Lanvin, the shoes with details that looked like fish wings were spotlight, Apart from that, white sneaker and leather sport-luxe were major at Lanvin.
Shirts: At Burberry, Oversized shirts had prints of Central London streets all over. Animal print shirt was spotted at Lanvin. Raf Simons boys walked ramp in water color print shades of green, blue and orange.
Bags: At Burberry Oversized bags get the reference from 70s. There is tote, backpack and clutch at Lanvin. Louis Vuitton men walked with business folios, messenger totes, clutches and luggage bag. Raf Simons has slim case suitable for business man.There is exquisite bug bag inspired bomber jacket, assured to make a bestselling piece this season.
Head Gears: John Galliano has unique collection of hats in black for the season. Rick Owens boys walk the ramp with head covered with a fabric in way a nun would. Sibling has knit caps in the collection.
Scarves: at Burberry Prosum, Central London printed scarves are placed on model's shoulders. At siblings, fur and knit scarves are major.
Knitwear: All I can say is SIBLING. Knit revolution continues at Sibling. The Sibling makes Knit more demanding and desirable season by season. Major knit shades were green, black, blue and red.
The Polo Neck : Polo neck has been repeatedly making appearances on Men's and Women's prêt-a-porter. This season, models have been spotted wearing full sleeve polo neck sweatshirt at Versace, McQueen, Fendi, 3.1 Phillip Lim and Hermès
Pictures Source: Fashionising.com
Latest posts by Chirag Parmar
(see all)