Those of us who had gathered outside August Kranti Maidan for Mumbai Pride last Saturday chanted: 'Kaunsa law hai sabse badtar? Teen sau satattar, teen sau satattar,' ('Which law is the worst? 377, 377'). Like every year, attendees of diverse genders and sexual orientations were dressed in saris, high heels and make-up to drive home the point that gender is indeed a performance.
In this joyous space, even as people gathered around the stage and wished each other a happy pride, what stood out to me was that this was the first time in history that Mumbai Pride was made accessible for people with disabilities.
This year, we at Sexuality and Disability collaborated with Queer Azaadi, a collective of LGBTQI organisations and individuals, to ensure that Mumbai Pride and related events were disability friendly. The idea was to enable more people with disabilities to become part of this collective celebration and conversation about sexualities.
Arrangements were made to include a ramp so that people could access the stage, a sign language interpreter was present, and there were free pick up and drop services with the wheelchair friendly company Mobicab. A group of volunteers, mostly students from KJ Somaiya College and medical students from another Mumbai college were also present to assist people with disabilities during the march.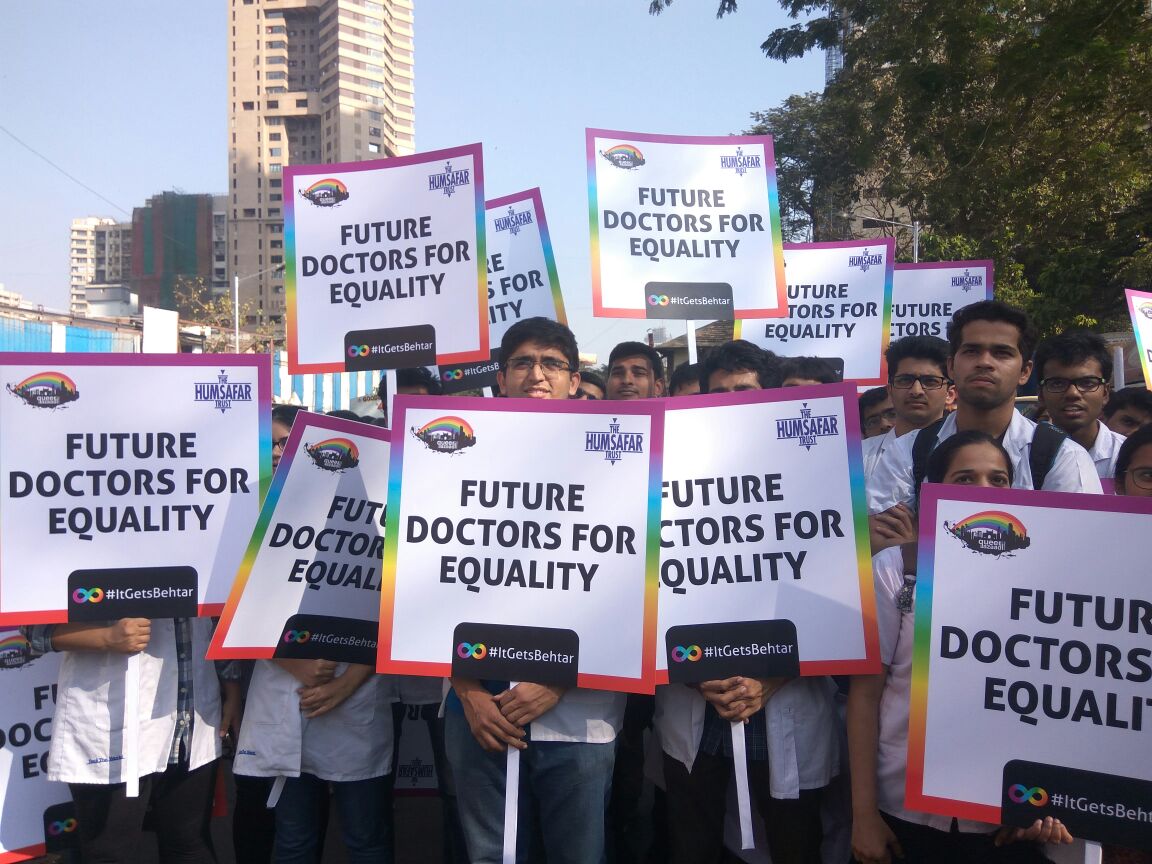 A workshop was organised at the Point of View office a few days before Pride to ensure that volunteers were sensitised. Nidhi Goyal, Program Director of Sexuality and Disability, and gender and disability rights activist, led this conversation. She began by asking volunteers what they knew about different disabilities.
Some common myths cropped up in the volunteers' responses, such as the belief that people with disabilities 'may need sympathy', or that their other senses are 'more active.' These were debunked in the course of the conversation. In addition, Nidhi gave the volunteers some pointers, such as remembering to always ask before they offered help to wheelchair users, and avoiding the tendency to over-describe posters while reading them out for attendees with visual impairment.
Mumbai Pride usually begins with attendees gathering around a stage outside the Maidan. Here, as equal rights activist Harish Iyer called for the repeal of Section 377 of the Indian Penal Code, which effectively criminalises queer and transgender people, people raised their rainbow flags up in the air in solidarity. Sabina, a sign language interpreter, made every word that was spoken accessible for people with hearing impairment.
This was Sabina's first Pride, and she lauded the initiative to make liberating spaces such as Pride, which attracts thousands of attendees, more accessible for people with disabilities.
Sonal Giani, a Queer Azaadi organiser said, 'We looked at the Bangalore and Delhi Prides (which were both accessible), and thought that this is a good lesson to learn. We wanted to be disability friendly this year and hopefully we will be friendlier next year.'
The turnout of participants with disabilities was modest, but this was still a positive start to what will hopefully become a thoroughly accessible space in the years to come.
As participants joyfully marched down Grant Road to the beat of the dhol, I spoke to Parag, a content writer who has cerebral palsy. For him, this was an opportunity to gain a deeper understanding of LGBTQ activist spaces and issues. 'For work purposes, I have researched LGBT issues. My participation in Pride is (because I want to) explore this space (and) become a part of this celebration.'
Nisar Sarode, who works at the Humsafar Trust and has hearing and speech impairment, said: 'Even from (within) the crowd, I thanked the interpreter for being there. I danced a lot, and I had three other friends (with me) who also enjoyed (themselves).'
With this first step, Mumbai Pride foregrounded the fact that we can't think of queerness and disability separately. It affirmed the need to highlight the voices and stories of queer and trans people with disabilities, people like Kiran, a transman with a disability who lives in Karnataka, and who was forced to leave home because of his gender identity and sexual orientation.
In a short video about his experience, Kiran says, 'When I married a woman and came out, that's when a major crisis happened (…) My partner's family harassed us, and my own family harassed us.' These experiences of harassment almost led the couple to commit suicide, but thankfully the Sangama Crisis Team in Bangalore intervened before this could happen. This is only one in a sea of similar stories, many of which are not heard at all.
The organisers of Mumbai Pride have announced that from now on, the event will be as accessible as possible for people with disabilities every year. I hope that these actions will lead many more queer spaces across the country to become open and accessible so that people with disabilities can reaffirm their gender identities and sexual selves.
This post wasfirst publishedon theSexuality and Disabilityblog and has been republished here with permission
Latest posts by Niharika Pandit
(see all)