15 Transgender women got married at a mass wedding ceremony that was held in Raipur, Chattisgarh on 30th March. The wedding was organised by Maati, an organisation that fights for LGBTQ rights in Chhattisgarh, and was financially backed by Suresh Sharma, producer of Hansa, a film on transgender rights.
Siddharth, a member of Maati, told Indian Express that they had invited applications for couples who wanted to get married, and had received over 100 applications, from which they selected 15 couples after speaking to them and counselling them. "The men getting married today are extraordinarily brave, and have faced brickbats from their families for being in love with someone who doesn't have social acceptability. The 15 couples were decided on based on their compatibility and other factors. Today, what is extremely beautiful to watch is that the families are here too," he told Indian Express.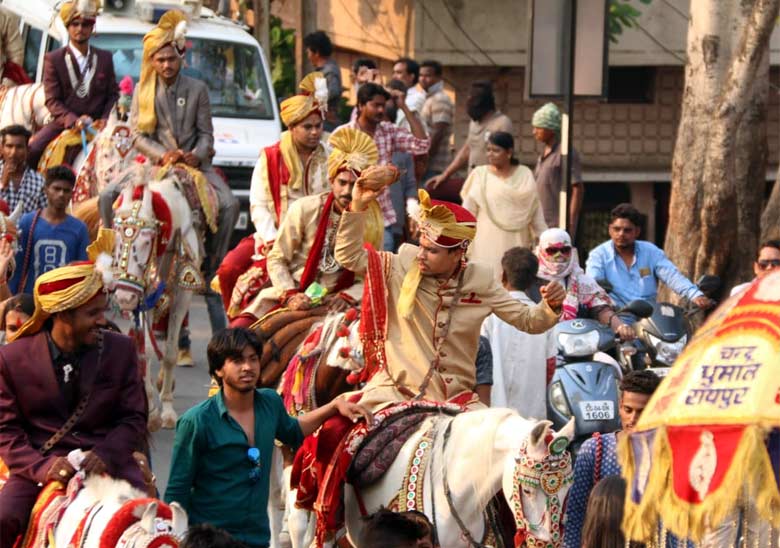 The wedding rituals were held according to Hindu Rituals, and there was a Sangeet, Haldi and Mehendi ceremony on Friday. The Baraat started at around 3pm from Civil Lines, and reached the marriage venue at Pujari Park after moving through Ambedkar Bhavan, Ghadi Chowk, Kalibari and Tikrapara. The couples who tied the know were from across India, with seven belonging from Chhattisgarh, two each from Gujarat, Madhya Pradesh and Bihar, and one each from Maharashtra and West Bengal.
Chattisgarh Chief Minister Bhupesh Baghel, along with a number of his ministers including Home Minster, Health Minister, Agriculture Minister and Women and Child Minister, attended the wedding. Other dignitaries who attended the wedding included BJP MP and former minister Brijmohan Agrawal and Raipur Lok Sabha candidate Sunil Soni.

Latest posts by Sukhdeep Singh
(see all)