"We are not criminals anymore" – read a placard held high by Riya, a 30-year-old woman, who identifies herself as a lesbian. This was Riya's and her partner's first time at the Namma Pride March and they were not alone.
Over hundreds of members from the LGBT community and allies had congregated opposite the Kempegowda Majestic Metro Station on a sultry Sunday afternoon to participate in Bengaluru's first Namma Pride March since the decriminalizing of homosexuality.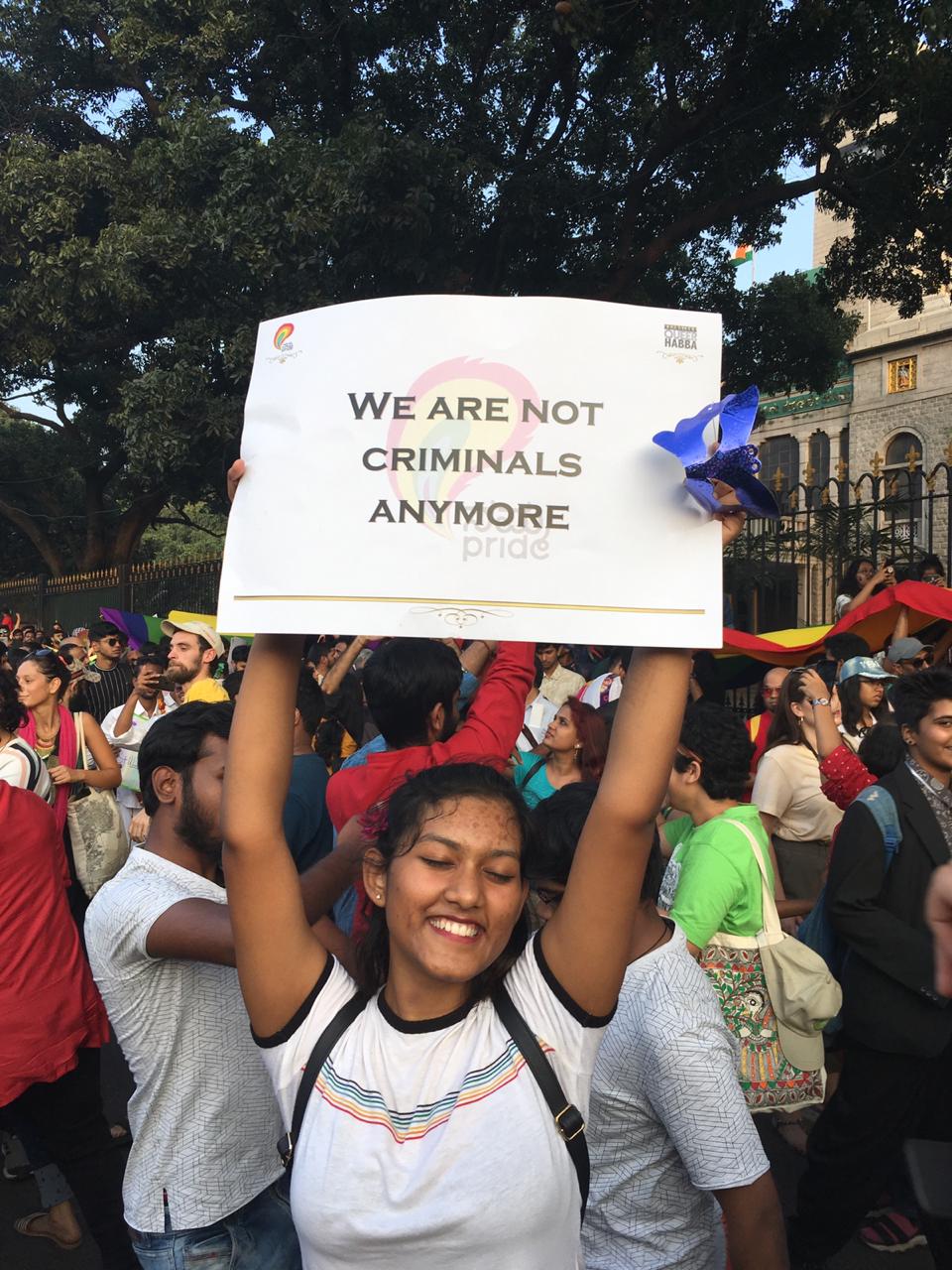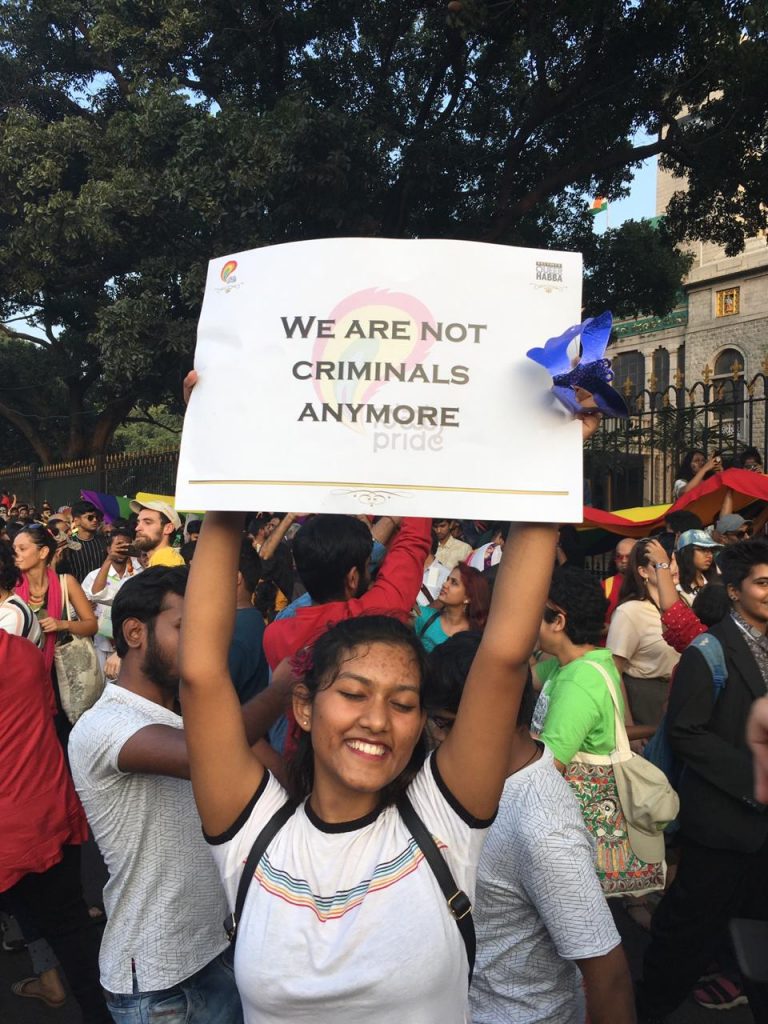 The Indian Supreme Court had decriminalized homosexuality in September this year. It was a great move supporting the LGBT community in India. The Pride this year was quite festive with many newcomers marching boldly under the majestic rainbow flag.
People were dressed flamboyantly in rainbow sarees, exotic outfits, holding up banners and placards that promoted LGBT rights. Allies were seen waving rainbow-coloured flags as a means to support the cause.
"This is my first time at the Namma Pride. I have been in Bengaluru for the last four years but could not make it. This year I am confident because homosexuality has been decriminalized," said Siddhartha Das, who was accompanied by his group of queer friends.
"I am here to celebrate freedom and very proud. We are free in this country. I have brought my mother along, who has always been supportive of the LGBT community," said Anthony dressed in a vibrant rainbow tiara. He participated in the march along with his mother Monica.
Another participant Subodh Divekar, 37, said, "After the 377 verdict was out, and I just feel free. I don't see any reason why I shouldn't come out and celebrate. I have come here to support the community."
Alok, 29, an MBA student in Manipal had visited Bengaluru the second time to attend the Pride. The Namma Pride 2018 was slated to happen on November 25 but due to the death of Kannada actor-turned-politician Ambareesh, the pride march was rescheduled to December 9. "I have come all the way from Manipal for the second time after missing out for the first time because of Ambareesh's demise. The Pride means a lot to me," Alok said.
Sandipta, 28-year-old transwoman, had come all the way from Kolkata to attend the Namma Pride. "This is my first time attending pride in Bengaluru. I am excited to meet new people and learn about their experiences. It is good to see a huge crowd here celebrating freedom and the victory of the LGBT community," she says.
Johnson, a 35-year-old Chennai-based French language interpreter has been attending Pride marches in all states across India. Wearing a tiara made from flowers they said, "After the verdict, the LGBT community is free. We are here to show our strength and solidarity to society. I have been attending all pride marches held throughout the country. The community has suffered for all these years, now we see a light of hope."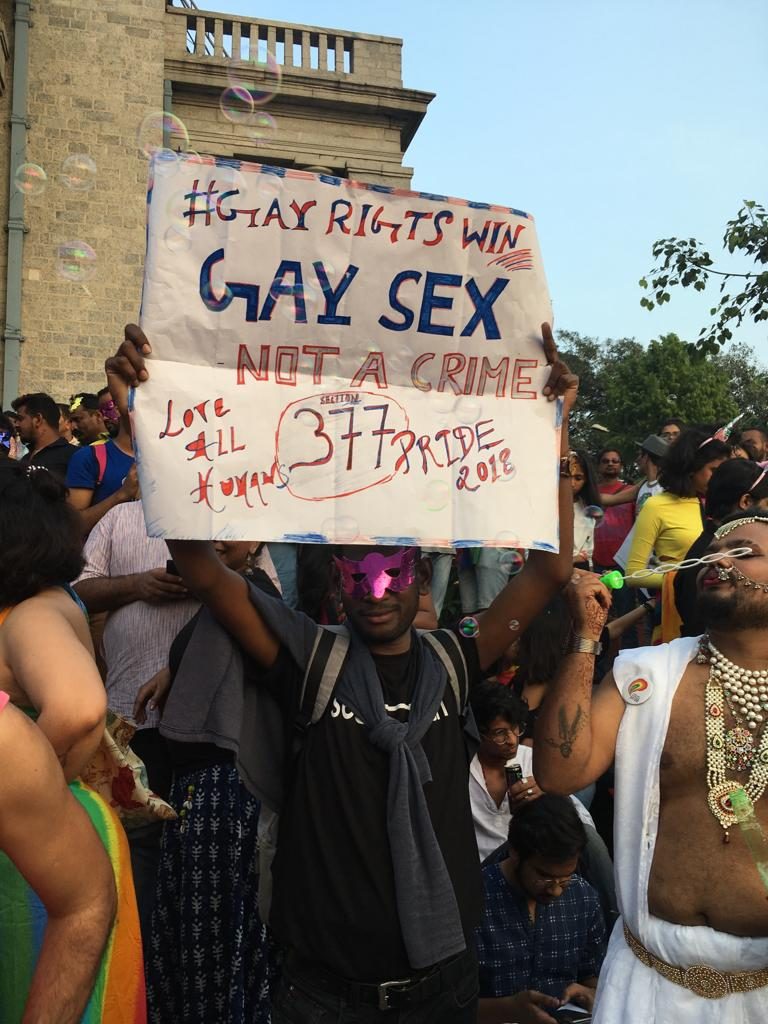 Like the previous year, the pride march this year was disability-friendly. The pride organizers had arranged special vehicles and made alternate arrangements for the visually impaired and to those who had difficulty walking.
Apart from scrapping Section 377, there are a few other demands that are yet to be met by the government of India. Some of the demands from the community are the implementation of the Karnataka State Transgender Policy 2017. The LGBT community also demands implementation of sensitization programs in colleges, hospitals, and workplaces, granting unequivocal rights to civil union or marriage, surrogacy, adoption, inheritance, IVF etc.
"I am so happy this move from our legal system happened so early because India is known for delaying certain important issues legally. I hope civil rights are granted soon too," said Alok.
The pride march culminated at the steps of the Town Hall where the LGBT community and allies raised slogans of freedom, equality and celebration.
The Namma Pride march this year was celebrated with immense energy and enthusiasm. Besides, it was also a reminder that the much-awaited journey towards granting LGBT rights and total equality has just commenced.

Latest posts by Abhishek Kamat
(see all)