The Kannada film Naanu Ladies (by Shailaja Padindala) won the Best Narrative Feature Award, two Gujarati language films Muhafiz (by Pradipta Ray) and Dal Bhat (by Nemil Shah) won the Best Indian Narrative Short Award and Riyad Wadia Award for Best Emerging Indian Filmmaker respectively. Muhafiz also won the Best Screenplay for its writers Pradipta Ray and Ashutosh Pathak.
Other Asians films to win awards were Warsha and Beirut Dreams in Color from Lebanon (West Asia), The Third Solar Term from China (East Asia),The Fish With One Sleeve from Japan (East Asia), and special mentions for Coming To You from South Korea (East Asia), Wet Sand from Georgia (intersection of West Asia and Europe) and Dal Bhat, Her Canvas and Kinaara from India (South Asia).
"As South Asia's biggest LGBTQ+ film festival, we are thrilled by so many Asian films winning awards at this year's festival. Indian LGBTQ+ cinema has truly come of age, and can stand up against any international films. This was evident by the brilliant film Naanu Ladies winning the Best Narrative Feature, competing against another film from India, two fabulous films from Georgia and a film from Brazil that was nominated by that country for the Oscars last year! Even the short films Dal Bhat and Muhafiz that won the awards deal with such diverse topics, such as adolescence, sexuality, religion and politics. We were really happy to present 30 Indian LGBTQ+ films at this year's edition, and we now hope to take these films beyond the festival to audiences", said festival director Sridhar Rangayan.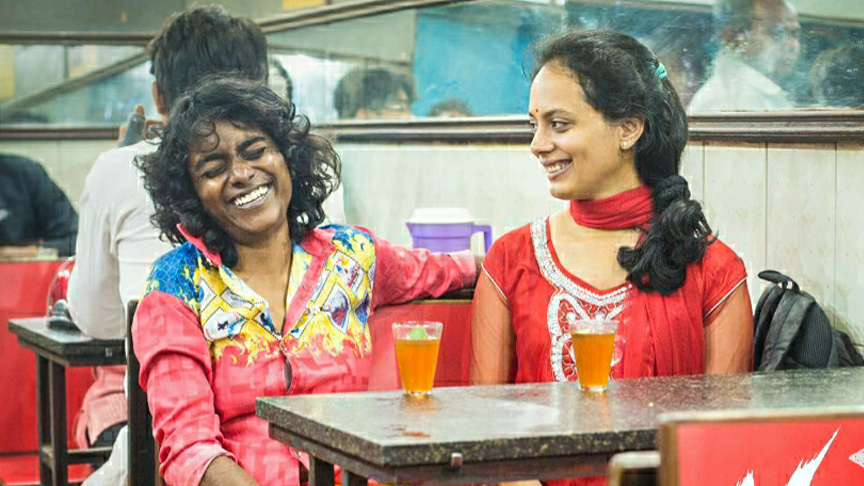 Exulting over the win Shailaja Padindala, director of Naanu Ladies said, "Naanu Ladies is a film attempting to identify cis-het culture weave itself into queerness of everyday life. The film attempts to re-understand uses of reproductive sciences for a queer life style. I thank KASHISH Mumbai International Queer Film Festival and its jury members of the 13th edition for choosing Naanu Ladies as the Best Narrative feature. I'm delighted to dedicate this award to every crew member of the film who have strived with me in making the film possible. I look forward to making more queer content with queer folks, across as many regional languages as possible. My next film is going to be a Tamil feature, in which queerness is also going to be a part of the story, of a bigger picture."
Pradipta Ray, director of Muhafiz said, "I am humbled at the love and reception that Muhafiz got at the biggest South Asian LGBTQ+ film festival and it was an honour to play at KASHISH and bring the film home to its audience. The entire team is grateful for the two awards and recognition and I personally thank the organizers and the Jury for supporting a film with a worthy message, amplifying the voices of South Asian transgender communities."
Nemil Shah, director of Dal Bhat said, "All the credit goes to the wonderful and lovely kids who motivated us all with their raw kindness, passion and hardwork – Jinay Haria, Darsh Vithlani, Vanand Khyal, Sameer Kumbhar and Moseem Kumbhar. I can't express enough gratitude to KASHISH for making us reach our audiences. The vibe, the people, all were wonderful. Thanks for making me fall in love with everything!"
The other winners were La Queenciañera (by Pedro Peira) as Best Documentary Feature, Beirut Dreams In Colour (by Michael Collins) as Best Documentary Short, The Third Solar Term (by Zhanfei Song) as Best Student Short, Warsha (by Dania Bdeir) as Best International Narrative Short and Yu Ishizuka (in The Fish With One Sleeve) as Best Performance in a Lead Role.
The super eminent jury members who announced the award winners were Hardik Mehta, Leena Yadav & Sameera Iyengar (Narrative Jury); Anjali Panjabi, Priti Chandriani & Ramanuj Dutta (Documentary Jury); Anupam Barve, Prathush Parasuraman & Raga D'Silva (Student Shorts Jury); and Nargis Wadia & Roy Wadia (Riyad Wadia Award).
The festival partners were Morgan Stanley, Axis Bank, IBM, General Mills, Consulate General of Sweden, Consulate General of Canada, the Québec Government Office in Mumbai, The Humsafar Trust, Impulse Mumbai, Whistling Woods International, KelpHR and CPP Investments.
The award partners were Lotus Visual Productions, K.F.Patil Charitable Trust, Wadia Movietone, Whistling Woods International, Anticlock Films, Renuka Shahane, Abhay Kulkani and Jerome Marrel.
KASHISH 2022 screened 184 LGBTQIA+ films from 53 countries out of which 42 films were in competition for a total cash award of Rs.2.25 lacs. The festival's award ceremony was hosted by Rohini Ramanathan and Niki Ray, and included performances by trans dancers Navya Singh and Samira Khar, a stand-up comic sketch by transgender performer Ritushree Panigrahi and a scintillating song performance by pop singer and composer Shalmali Kholgade.
The festival was held at Liberty Cinema and Alliance Française de Bombay from June 1-5th and online from June 3-14th. The theme of the festival was Flights For Freedom.