The much awaited South Asian Heritage Month (SAHM) UK began on 18 July and will continue till 17th August this year. SAHM was founded by Jasvir Singh OBE, a barrister and activist, and Dr Binita Kane, a respiratory consultant at University Hospital of South Manchester. This is the second year it is being celebrated, having had its inaugural launch in 2020.
SAHM was purposely founded to celebrate and commemorate South Asian culture and history in the United Kingdom. It highlights the influences and achievements of South Asians that can be found in everyday life in the UK including in education, sports, music, dance, food and communities in the streets.
The idea for SAHM came about after discussions between Jasvir and Binita, following their collaborative events in 2017 marking the 70th anniversary of the partition of India in 1947. It took a lot of discussions and groundwork to lay the foundations for SAHM before it came into existence in 2020.
The dates for SAHM coincide to a large extent with the South Asian month of Saravan/Sawan, which is the main monsoon month when the region's habitat undergoes renewal. This period also includes several independence days connected to South Asian countries.
Laks Mann, SAHM LGBTQ+ Lead and the Founder of Gaysians UK, explained to Gaylaxy Magazine about the dates and said, "SAHM begins on July 18th, the date the Indian Independence Act 1947 gained royal assent, and ends on August 17th, the date the Radcliffe Line was published in 1947, which finally set out where the border between India, West Pakistan and East Pakistan (now Bangladesh) would be."
SAHM is celebrated through various events including panel discussions, workshops, film screenings, poetry, articles, blogs, talks and much more. Topics are wide-ranging and cover everything from e.g. food, music, sports, culture, heritage, gaming, and activism.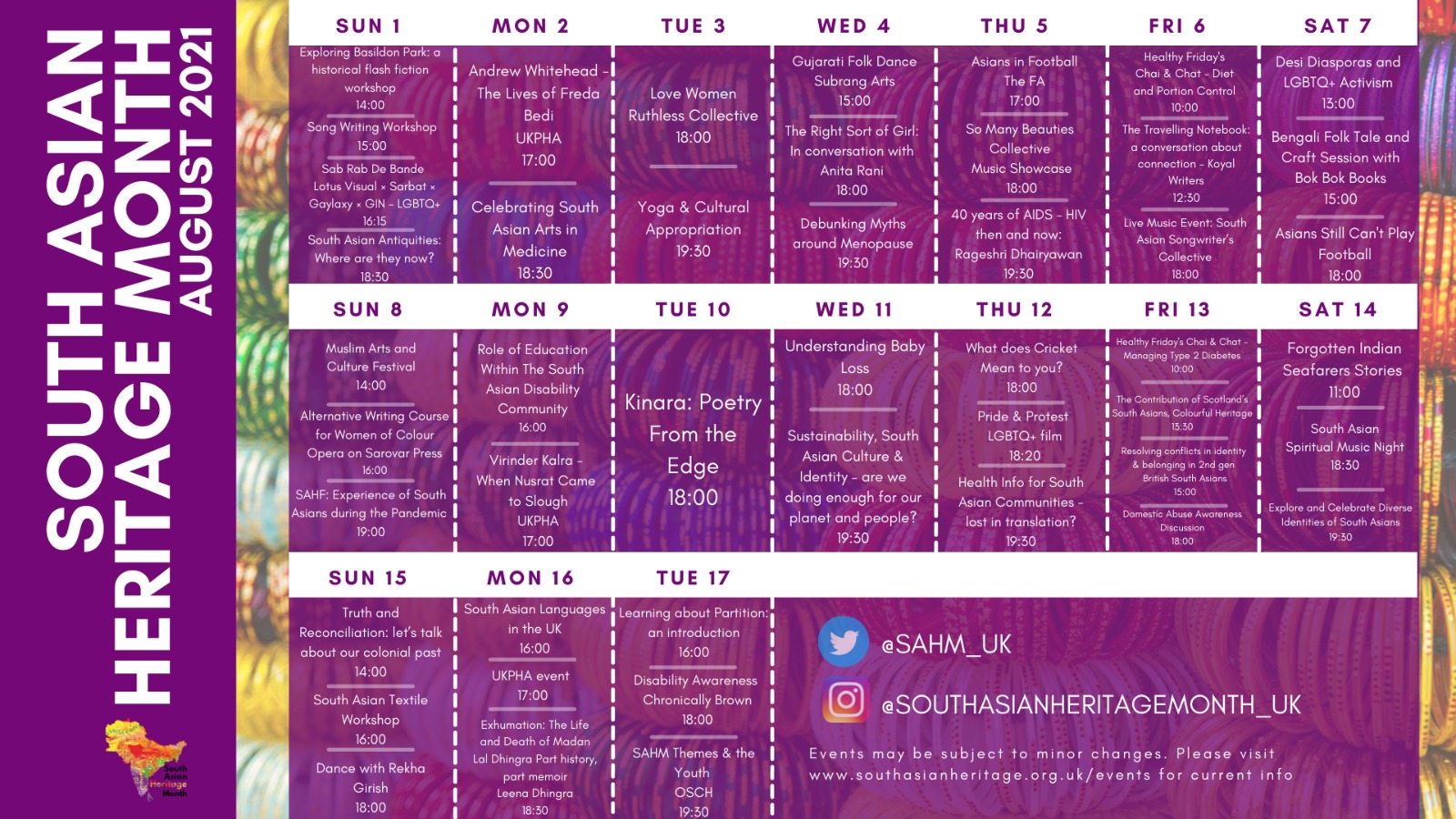 The events connect speakers, artists and communities across the UK and South Asia, as well as the wider South Asian diaspora. SAHM focuses on celebrating the South Asian countries of India, Pakistan, Bangladesh, Afghanistan, Bhutan, Nepal, Sri Lanka and the Maldives.
Included throughout the main events calendar are an eclectic mix of LGBTQ+ themed events. A key highlight is screening the UK premiere of the ground-breaking documentary Sab Rab De Bande, a film about five LGBTQ Sikhs living in India. The film highlights the discrimination they face from other LGBTQ people as well as fellow Sikhs. It was directed and produced by Sukhdeep Singh, a software engineer who is also the Editor-in-Chief of Gaylaxy magazine. The screening will be followed by a panel discussion and is being held in collaboration with Lotus Visual Productions, Sarbat LGBT Sikhs, Gaylaxy and GIN (Gay Indian Network).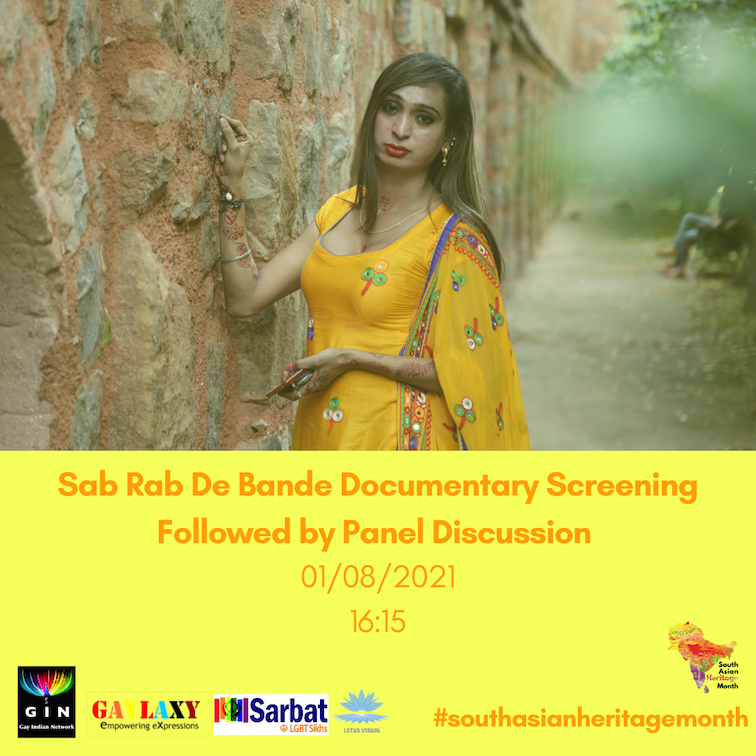 Other highlights include a panel discussion on Conversion Therapy in South Asian communities and safeguarding LGBTQ+ people, jointly organised by the Ozanne Foundation and the Naz & Matt Foundation. It will be chaired by Laks Mann, and will feature Jayne Ozanne, Dr Jagbir Jhutti-Johal, Saima Razzaq and Matt Mahmood-Ogston.
There are many other LGBTQ+ events including the screening of the critically acclaimed film Pride & Protest, directed by Blaise Singh, Student Spaces workshops being run by the Open Minds Project, and a talk about '40 Years of Aids – HIV then and now' in collaboration with Aids Memory UK. There is also a discussion centred on 'Desi Diasporas and LGBTQ Activism', as well as an in depth conversation with Professor Ruth Vanita organised by BritishAsianLGBTI.
Laks said, "SAHM 2021 is largely online due to the global pandemic, and has already become a huge phenomenon attracting audiences and digital interactions which have surpassed 2020 milestones of 87.2 million impressions, 31.1 million reaches with more than 100 events online across social media and other platforms. It has become so impactful that 2021 is on track to smash last year's figures and we're less than a week into the month!"
Laks also said that "the increasing audiences and participation from organisations far and wide, big and small, shows that SAHM is increasingly inspiring people to share their stories and to celebrate, commemorate and educate others about South Asian heritage".
For more details about the events and registration, visit this link
Latest posts by Bilal Khan
(see all)