The Supreme Court of India will start hearing the Section 377 case from July 10th. A notice published by the Supreme Court states that a five judge constitutional bench will start hearing the case from Tuesday July 10th. It is not clear which five judges of the Supreme Court will be hearing the case.
A number of petitions have been filed in the Supreme Court against validity of Section 377. After the Supreme Court reinstated Section 377, a curative petition was filed in the court, which was accepted by the Supreme Court, and is pending before it. Then in 2016, two write petitions were filed against Section 377 – one by transgender activist Akkai Padmashali, and another by highly accomplished gay people led by Navtej Singh Johar. The Supreme Court had taken up the Navtej Singh Johar petition in January 2018 and referred it to a Constitutional bench of 5 judges. It is this petition which the court will be hearing from July 10th.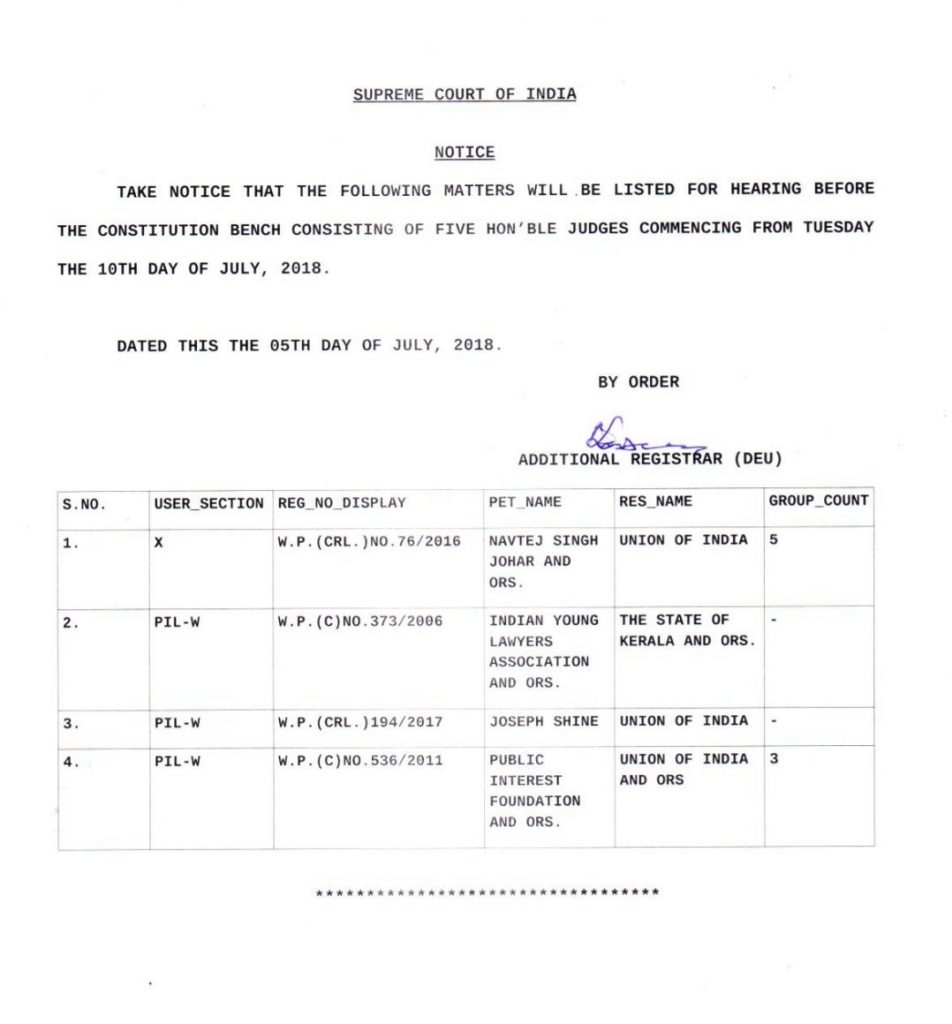 Other petitions too were filed in the Supreme Court, including by hotelier Keshav Suri, Humsafar Trust, Arif Jafar, a group of LGBT IITians.
(Also Read:From a Silver Lining To a Sunny Future – Queers, Section 377 and Hope)
The notice posted by the Supreme Court reads: "The following matters will be listed for hearing before the constitution bench consisting of five hon'ble judges commencing from Tuesday the 10th day of July, 2018."Apart from Section 377, the court will start hearing challenges to denial of menstruating women to Sabrimala Temple, validity of adultery law, and disqualification of legislator upon filing of chargesheet.
Notice the listing before Constitution Bench, on 10th July begins with the challenge to Section 377 , next the denial of temple entry to women, next the challenge to the criminal law is Adultry https://t.co/BmJNFpv6jr

— indira jaising (@IJaising) July 5, 2018

Latest posts by Sukhdeep Singh
(see all)