Three years ago when Radhika, Rumi and Sunil started working on Freedom Mahal, what started out originally as a research project, also began exploring the possibilities of taking research into theatre.
Theatre as a medium of conveyance has immense power of penetrating the coldest hearts and moving the firmest stereotypes. The sheer combination of music, an endearing script and pure talent has the strongest hand of power in leaving it's viewers muddled with emotion and newer perspectives of life.
When the history of Bangalore was recorded and locked within the amalgams of literature and poetry, there have been several stories that have been deliberately avoided, hastily discarded and strikingly silenced. One such is the story of Begum Akhtar and her Mahal.
This is the story that Rumi, Sunil and Radhika have been working their hearts off to retrieve and retell.
Freedom Mahal initially began as a research project at the Tata Institute Of Social Science's under their Advanced Centre Of Women Studies. The project boldly titled, "An Exploratory Study On Discrimination On Non-Normative Sexualities And Gender", the deeper they were researched, Sunil realised that theatre was the best way to take their research to the world.
The research delved into understanding what Begum Mahal was, explored new dimensions of the ostracized lives that surrounded the Mahal and found a collective of beautiful stories that must not go untold.
Presented by Rahi, a queer organisation in Bangalore, Freedom Mahal is a beautiful coming together of people from various backgrounds, diverse sexualities and gender identities. The play shows no discrimination in any of its representation and leaves no one out. The young and the old, the community and its allies all play substantial parts in the play and proves how well researched and organised the performance is. Most importantly, it does away with a lot of stereotypes one tends to impose upon people from the community.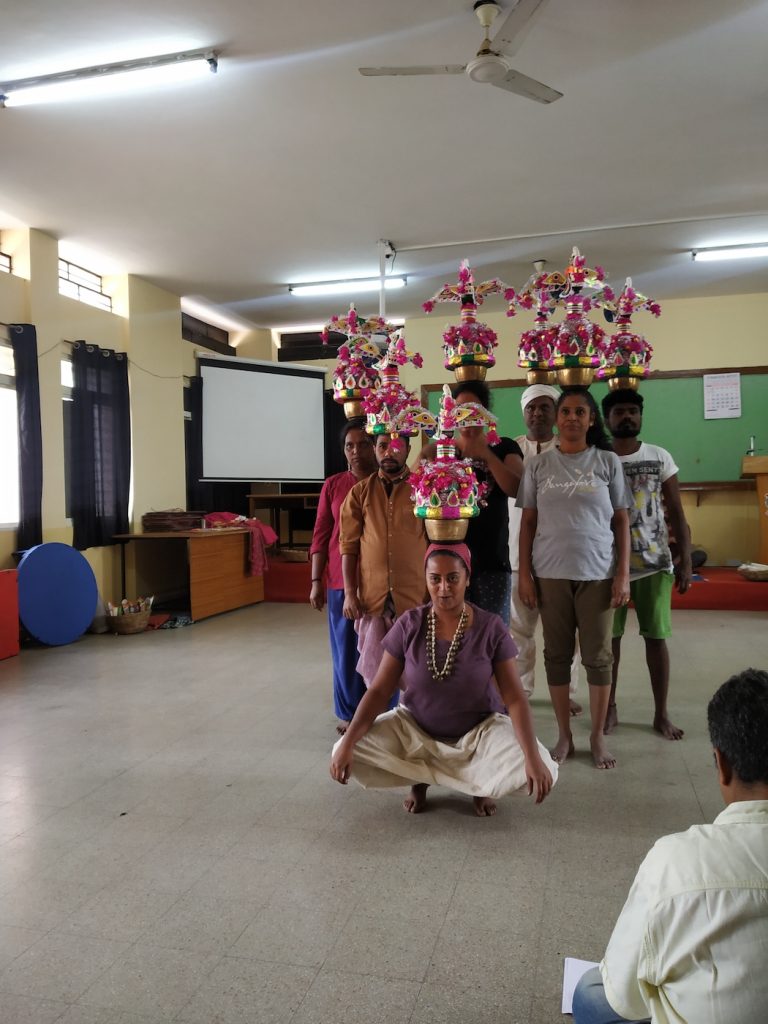 The play lusciously crafted in six languages (Kannada, Tamizh, Malayālam, Dākhni Urdu, English and Hindi), delves powerfully into the lost stories of Begum Mahal who's worst fate was not being consumed by a vicious fire, but by being silenced by moral gate keepers who never wanted the limelight to ever shift upon the sex-workers or the people to whom Begum Mahal was home and its inhabitants, family.
In a myriad of intense and gut-wrenching ways, Freedom Mahal conveys so many messages of inclusivity and how none of the discrimination is mutually exclusive of the other and how intersectionality raises the degree of discrimination to callous platforms of self-righteousness.
"Theatre is one of the most powerful mediums to reach the community unlike the written reports and books where access becomes a problem along with the limited audience it will reach. We are community people occupying all spaces available in the play and have tried to keep both the theatre process and the research process alive with this production," said Rumi who's been working within the community for decades and holds a treasurehold of experience.
The play is directed by noted Tamizh theatre personality, Mangai who's known for her directorial passion across the state.
"The bus stop named after the Begum as Begum Mahal in Bengaluru perhaps stands testimony to the truth-value of all these stories. Cutting across class, caste, religion, gender and sexuality, shunned in hushed voices by hypocritical, self-righteous, moralistic society around, memories re-sound through repetition, songs, possessions and by sheer dreaming of the possibility of such inclusivity," shared Mangai in her directorial note ahead of the play which was staged on the 30th of July 2019 at the Ravindra Kalakshetra, Bangalore.
Freedom Mahal is currently supported by India Foundation For Arts under its 560 programme which is partnered with City India. They hope to collect enough funds by the end of this month so that each of the artist who have poured in their heart and soul and have spent their flesh and bones to bring us an extraordinary play, can be paid a substantial renumeration and ensure further production continues.
Freedom Mahal has its own Facebook page called, 'Freedom Begum' and Ketto page where one can come forward and donate as much as they can to support and ensure a smooth production.
It is rare for stories such as Begum's to turn into magnanimous plays and is something to be savoured with a heart that sees the pain behind each veil and each mask.
Donate to what deserves to be told in all its glory. After all, theatre is the hand of God in drama.
Latest posts by Rohan Mathews
(see all)