It all started when multiple countries closed their borders, endorsed the "Nationality" campaign; when people closed their doors to their neighbours. Drag opened to bring people together blurring boundaries of the world. Drag is one of the most celebrated art forms around the world with diverse practices, strong voices and unique cultures. However, over time, the way people looked at drag became predominantly associated with a certain section.
Brown drag artists have always been kept on edge it comes to opportunities and spaces due to cultural and social disparities within these countries. A recent article published by a leading micro reading site listed around 100 drag performers one must follow, out of which not even a single drag artist was from the South Asian region. Does that mean South Asian drag artists lack the skillset?? No. It's the diaspora itself which keep them away from such lists. In order to call out this stigma and discrimination attached to South Asian Drag artists, Asifa Lahore, UK's first out Muslim drag artist, came up with an idea to galvanize south Asian drag performers together and create a huge collage video to display the diversity of South Asian drag scene.
Soon the message spread to Canada, India, USA, Philippines and across the world, bringing more than a dozen artists to create a video collage. The idea was to include more than 30 drag performers from vivid styles including Drag Queens, Drag Kings, Androgynous queens, Androgynous Kings, Non-binary Drag, Tranimal Drag and Cultural drag. Eminent Drag performers across the globe such as Humzer, Bijuriya, Laila Gulabi, Minara el waters, Karma Sutra, Masala sapphire, Rotiboi, Sachit, Seemaa Butt, Kamani Sutra, Bon Abhijeet, Jawan Chokra, That Caribbeangirl 25, Currytingz, Lucky Roy Singh , Prophet drag, Chutney Chataranga, Cratolathequeen and Legendrary NB were part of this video collaboration.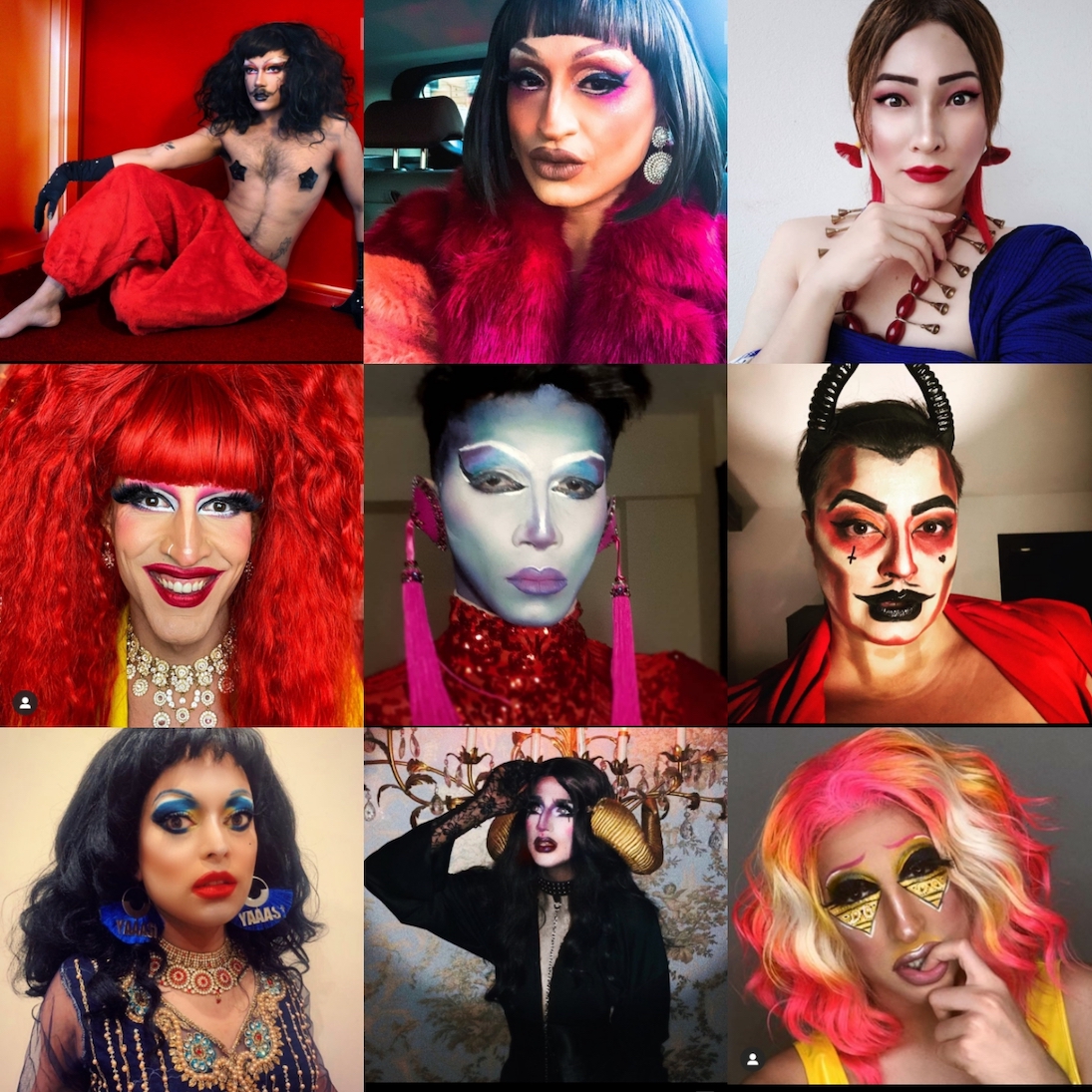 Indian drag performers have also been a part of this wonderful campaign. Celebrated drag queen Miss Bhenji aka Nilay Joshi, Drag Barbie Tyrandrama, Madamoiselle, Tranimal Drag performer Patruni Sastry aka S.A.S and Bio Queen Samyukta Bharadwaj aka Neon were the ones who represented India.
Responding to the collaboration, Asifa Lahore said: "Unfortunately, this is a trend prevalent in mainstream drag and LGBT+ communities, be them virtual on social media platforms, or in physical spaces such as bars, clubs and Prides where few or no South Asian drag performers are featured talent. This is the harsh reality facing those from a South Asian background and wanting to follow a career in drag. To suggest that queens from a South Asian background don't exist internationally is to be a perpetrator of erasure."
Even in India, drag is seen through a western lens. Though Indian Drag performers constantly thrive to bring regional flavors to drag, they are always seen from the lenses of Ru queens, questioning their ethical style as a prism of class. Though India has been making steep progress in creating more and more drag spaces in multiple cities like Hyderabad, Delhi, Bangalore, the county still lacks acceptance to empower Indian drag styles.
"The idea was to showcase how diverse drag is and bring out the uniqueness of South Asian drag performers and their originality towards the approach of drag. We compiled around 27 artists across the globe to put up a message that South Asian Drag exists across the globe," said Karma Sutra, a wonderful drag artist who coordinated in compiling the videos.
The video has been released on all major social media platforms like YouTube, Instagram and Twitter. In the time of a pandemic breaking international dependencies, this video indeed passes a message of international drag-hood and makes a stronger statement that art can indeed bring people together, again and again.